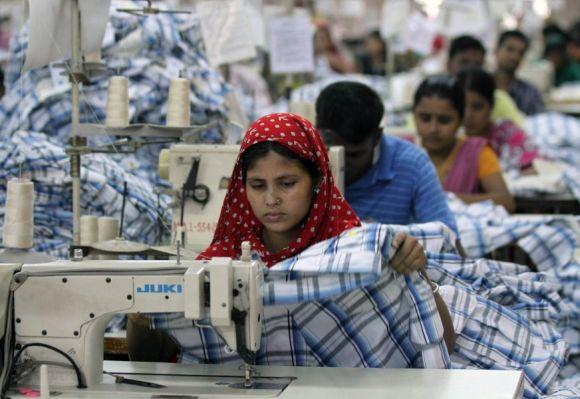 Despite the recent Western criticism on Bangladesh's labour standards, India has a long way to go before it overtakes the neighbour in global exports.

There is a lot of recent cheer in Indian textile industry about being able to take advantage of Bangladesh's various recent setbacks in the sector

Bangladesh's huge advantage in costs, particularly in wages paid for this labour intensive sector, had led to the bulk of the developed world's major brands and retailers having outsourced orders to its garment factories, which have surged in numbers to more than 5,000.

However, a series of catastrophes has led to much adverse publicity on labour standards there; the latest was the Rana Plaza collapse in a Dhaka suburb on April 24, killing a little over 1,000 workers. It evoked worldwide condemnation; a number of leading brands said they were withdrawing or reworking the arrangement with Bangladesh factories.

And, last week US President Barack Obama all duty free trade access benefits to the US markets from that nation.

Coming after the cheery textile output and export data for April and May, this has had Indian industry enthused, says Ajay Kumar, economist with the Confederation of Indian Textile Industry, "We are much into publicising the building collapse in bangladesh." Adds Ajay Sahai, director-general of the federation of Indian export organisations:"If the US and the European Union really impose sanctions against Bangladesh, the place vacated could be captured by India." Not by China, he added, as that country was moving out of textiles and into exploring higher value items such as electronics.

The March and April data came as quite a contrast to the lacklustre figures of the earlier 12-odd months. In March, the output of wearing apparel was 159 per cent, against a fall of 59 per cent in March 2012. Textile production rose 3.3 per cent in the month, against 2.2 per cent in march a year before.

Garment export rose 12 per cent and overall textile export by 15.7 per cent. In April, wearing apparel production rose 87 per cent , against a 10 per cent contraction in april 2012.

Textile production, overall, rose
five per cent, compared to three per cent a year before. Garment export rose 8.6 per cent and the entire textile sector saw export grow 6.6 per cent.
The explanation for this change, after a dull performance through the 2012-13 financial year through February, is not clear. However, it is clearly unrelated to the after math of the Rana Plaza collapse, which had taken place in April. The US suspension of trade benefit access for Bangladesh would raise duties on an array of its export there.
On garments, the US takes 25 per cent of our outbound shipments and the EU 40 per cent; the latter imposes around none per cent tax on textile import from us and zero on Bangladesh.
Not only is there no move from the US to cut access to Bangladesh; among the top 10 garment items imported by the US, Bangladesh has evolved into knitted garments, too, to both the EU and the US.
Moreover, even if one excludes the US' as differential rates, India still has a 10-20 per cent cost disadvantage in terms of unit cost of output against bangladesh. If one includes the tariff, there's a 20-30 per cent advantage for our neighbour.
In India, labour cost is going up, high interests are raising cost of working capital, labour laws are sticky, power cost is increasing and the industry is not getting up on scales, explained Kumar.
For instance, Gokaldas Exports Ltd is one of the largest garment exporters of India. It has a plethora of small units in and around Bangalore because of labour laws concern, instead of having a few large units, kumar said.
The $85-billion Indian textile industry (including domestic and exports) is surviving because of raw materials. "We are surviving due to domestic-produced cotton yarn produced by modernised spinning industry and also due to abundant availability of man-made fibre based staple fibres and filaments," Kumar explained.
Reliance Industries Ltd is the world's largest synthetic staple, fibre and filament producer, having the world's five per cent capacity. Then, Indo Rama is bringing viscous manufacturing in India, he said.
On the other hand, Bangladesh imports yarn from India, and also cotton, fabrics from India and China. It still supplies finished products like garments to world market cheaper than India and China.