Over the past one year, number of dollar millionaires in India rose from 196,000 to 250,000.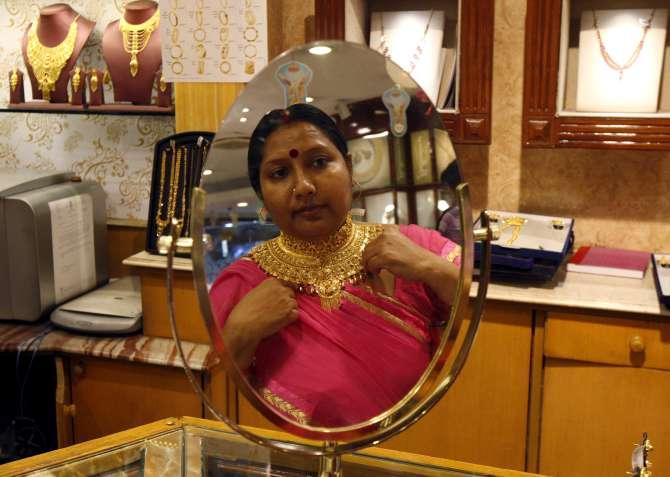 Image: A woman is reflected in a mirror as she tries on a necklace at a jewellery showroom in Kolkata. Photograph: Rupak De Chowdhuri/Reuters
India will be home to 437,000 millionaires by 2018 with the count doubling by 2023.
A rapid rise is expected in the ultra-rich population over the coming 10 years -- making it 'India's Decade' in terms of wealth creation, a new study says.
According to August 2014 data, India was home to the eighth largest group of super rich people in the world, as there are as many as 14,800 multi-millionaires in the country.
Moreover, the country's financial capital Mumbai with 2,700 multi-millionaires then, was among the top 25 cities globally for multi-millionaires.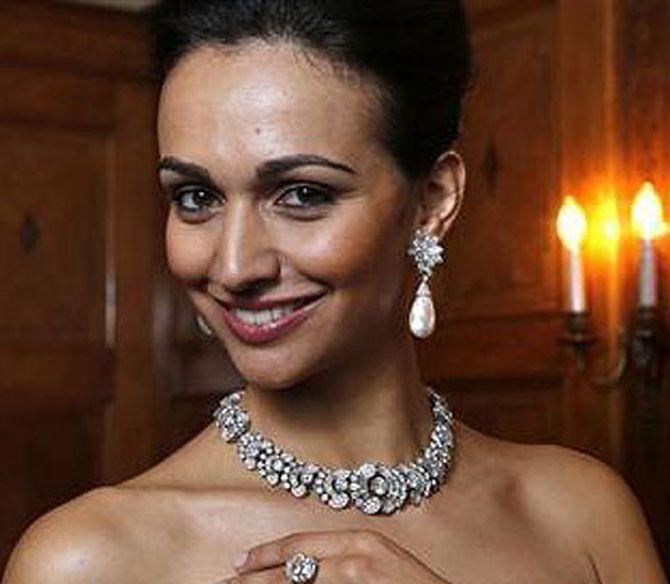 Image: A model wears a diamond necklace by Cartier, estimated at $412,777-$515,923. Photograph: Stephen Hird/Reuters
This year, India enjoys a decent 8th position globally, but Mumbai is the only Indian city in the top 30 cities in the world for multi-millionaires.
Stating that a 'long-standing caste system' makes the wide gaps in incomes and wealth more acceptable in India, the study by Wealth-X found that wealth creation and luxury consumption are relatively hampered by 'social inequality or austerity agendas' in other emerging markets like Brazil and China.
It has also credited a 'renewed economic optimism and performance, further propelled by the election of a new, reformist government' for the sharp growth in India's ultra-rich population.
Over the past year, the number of millionaires in dollar terms in the country rose from 196,000 to 250,000, registering an increase of 27 per cent.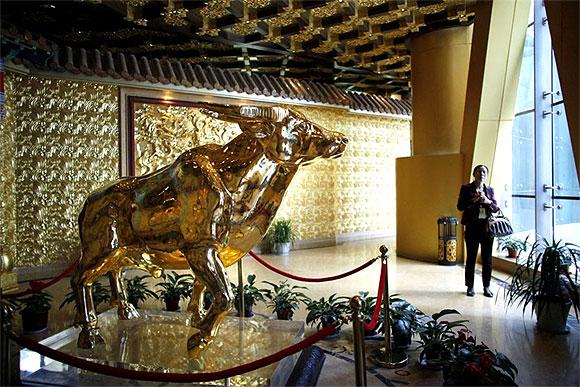 Image: A woman stands next to a gold statue of an ox. Photograph: Carlos Barria/Reuters
Media reports have it that the recent stock market rally has made India's top 100 billionaires richer by 40% in the last one year.
As many as 32 have more than doubled their wealth, while 6 have more than tripled it.
One hundred Indians became richer by Rs 4,64,067 crore (Rs 4.64 trillion) between January 2014 and January 2015, media reports say.
However, reports also indicate that while wealth has been rising strongly in India, and the ranks of the middle class and wealth have been swelling, not every one has been part of this growth story and there is still a great deal of poverty.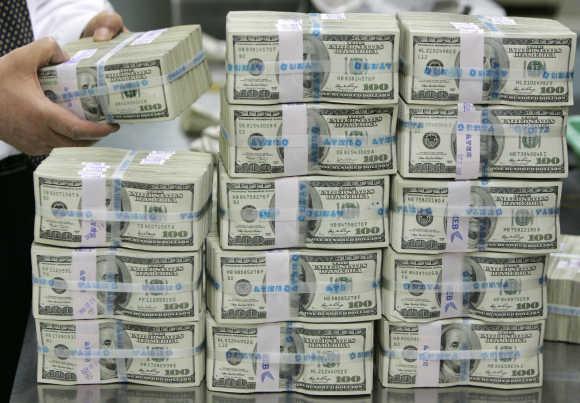 Image: US dollars. Photograph: Reuters
"Looking forward, India will continue to generate new millionaires at a rapid pace; we forecast 437,000 millionaires by 2018, and potentially double that number by 2023," Wealth-X said in its report titled 'Decades of Wealth: The Next 10 Years In Wealth and Luxury'.
According to the report, emerging markets such as India and South Africa would see their millionaire populations rise significantly in the coming decade.
"We may be now entering 'India's Decade', Wealth-X said, adding that over the last year, the rise in Indian wealth and the number of wealthy has been "impressive".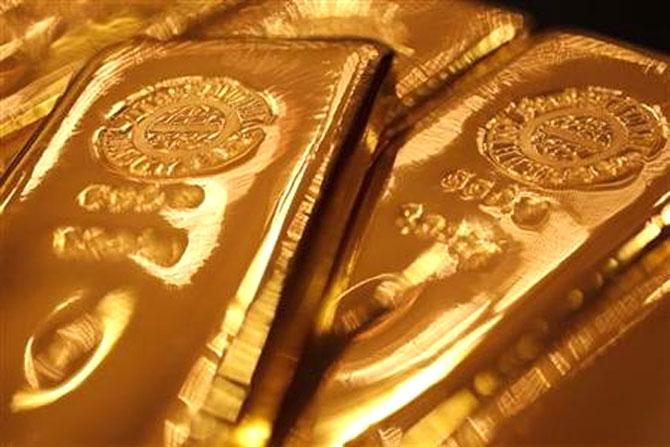 Image: Gold bars. Photograph: Reuters
Moreover, the nation also has a young, well-educated population with high levels of entrepreneurship and business ownership, underpinned by a well-developed legal system that in turn would help in wealth creation, the report said.
Aligned to this wealth growth will be an equally substantial increase in luxury consumption, the report said.
"The rise in discernment amongst the world's wealthy will not only affect the brands they buy, but it will also affect what they buy.
"Increasingly, the wealthy will spend more on experiential luxury and less on physical luxury, as has already become the case amongst the wealthy in Europe and North America," It added.