Make no mistake, Reliance's entry into Indian e-commerce cannot be taken lightly. It is akin to a combine of AT&T and Wal-Mart challenging Amazon on its home turf, says Shailesh Dobhal.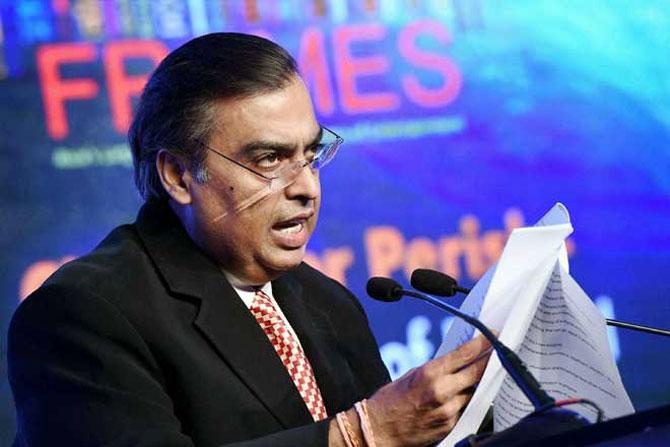 Image: Reliance Industries chairman Mukesh Ambani. Photograph: PTI Photo.
After telecom, Mukesh Ambani-led Reliance Industries is reportedly planning to disrupt the country's Rs 2 lakh-crore e-commerce market.
Reliance is already the country's largest brick-and-mortar retailer, with a footprint that spans 750 cities, 3,679 stores and profitable industry-leading sales of Rs 33,765 crore.
Should the current e-commerce leaders in home-grown Flipkart and the $136-billion global e-commerce giant Amazon be worried?
A cursory look at new technology disruptors and markets it has created shows that incumbents have usually missed the bus.
So Google's dominance in search helped it little to spot the new wave in social media, and it needed new blood in Facebook and Twitter to discover and dominate the scene here.
Wal-Mart's staggering sales and stranglehold over global manufacturers and supply chains were hardly a barrier for Amazon's rise and rise in online retail.
"The Bully of Bentonville", as Wal-Mart is often derided, is still playing catch-up in online commerce.
However, make no mistake, Reliance's entry into Indian e-commerce cannot be taken lightly.
It is akin to a combine of AT&T and Wal-Mart challenging Amazon on its home turf.
With over 130 million telecom subscribers already under its belt, it aims to reshape e-commerce much like what it did to telecom in the last year or so.
To be sure, all this is from media reports with no official word from the company yet.
Thanks to Reliance's aggressive pricing, wireless data prices crashed almost 50 per cent, consumption jumped tenfold and new and existing users signed up in droves for its new telecom service in Jio.
It plans to leverage its base in telecom and physical retail to upend the nicely laid out e-commerce oligopoly.
Reliance's e-commerce plan is reportedly not just omnichannel, but truly hydra-headed.
It combines digital couponing -- in tie-ups with expendable and durable marketers to target the 1.3 million unorganised mom-and-pop or kirana stores -- leveraging its telecom and retail distribution networks to reach goods faster to even small-town consumers, to its shopping engine coming as a pre-loaded app in the millions of low-cost, data-bundled feature and smartphones it is pushing to add the next 100 million telecom subscribers.
Incidentally, the country's emerging Internet demographics is also playing to Reliance's strength.
Over three-fourths of the over 355 million Indians who access Internet do so over the mobile, according to Mary Meeker's Internet Trends 2017 report.
In addition, almost two-thirds of all data usage is happening on the mobile, according to another report by consultant Deloitte.
Though currently just one in six Internet users shops online, and under 5 per cent of the 28 hours an average Indian spends on the mobile in a week is taken by online shopping, this figure will go up as new-to-data users get comfortable to start buying online.
Riding on data and by tearing down the boundaries of retail and telecom the company intends to become the e-commerce leader in three years, a truly ambitious goal.
But then it did what it said it would in telecom, even while incredulous competitors virtually ignored its years-long preparation to rewrite the rules of the data market at their own peril.
Is Reliance's move into new areas -- and possible dominance -- a cause for bigger concern?
After all, if data is the new oil, as Ambani has oft repeated, should anti-competitive laws be reworked for this new emerging data-based economy?
Will a pre-loaded shopping app in a phone bundled with the telecom service sold by a single firm be seen as discriminatory under the existing competition rules?
Will its data-connected march into new businesses call for more government and regulator intervention?
To be fair, Reliance's entry into telecom has been good for consumers as it has brought down prices and upped service quality across the industry.
Moreover, there are no signs yet of abuse of "dominance", either in retail or in telecom, where it still remains the third biggest player behind Bharti Airtel and the in-the-making Vodafone-Idea combine.
And do not expect the Bansals and Bezos to sit quiet too.