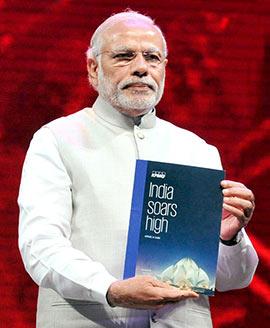 It rained investments at the Make In India initiative, envisioned by Prime Minister Narendra Modi with a focus on the manufacturing sector.Rs 15,20,000 crore from 2,924 MOUs in committed investments during the five-day event that was attended by 890,000 visitors, representatives from 102 countries and 215 exhibitors.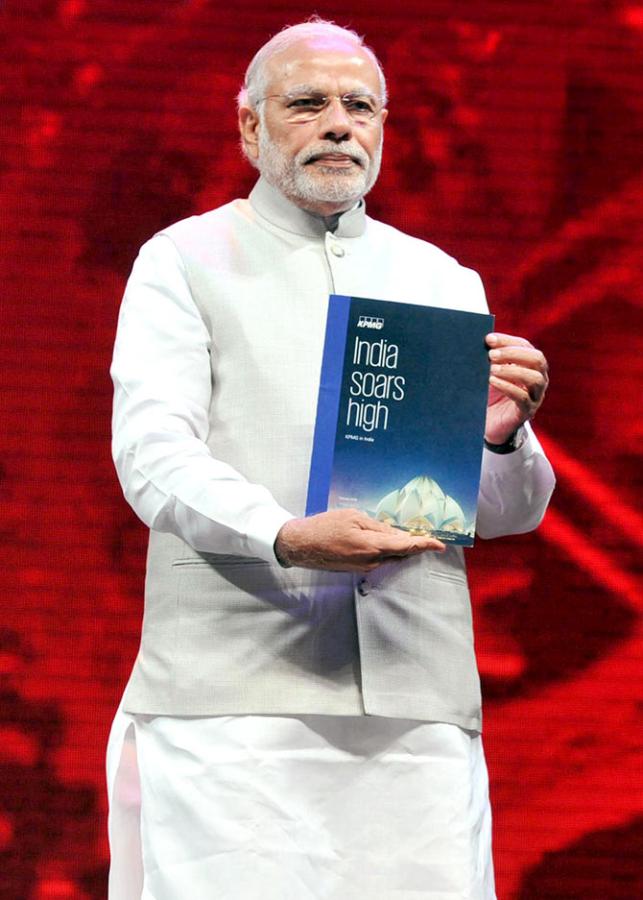 IMAGE: Prime Minister Narendra Modi at the inauguration of the Make in India Week in Mumbai, February 13, 2016. Photograph: Press Information Bureau
Amitabh Kant, Secretary, Department of Industrial Policy & Promotion, is confident that at least 85 per cent of the Rs 15,20,000 crore ($223 billion) memoranda of understanding signed between investors and various state governments will materialise into actual investments on the ground.
That's Rs 12,92,000 crore ($189 billion) of investments into the manufacturing sector!
The DIPP secretary, who has been promoted as chief executive officer, NITI Aayog when he retires from the Indian Administrative Service on February 29, did not commit a timeframe when these investments will flow into India.
When Rediff.com asked if he believed at least 50 per cent of the MOUs signed will come into India as actual investments, a beaming Kant said, "I'd expect much, much higher. I'd say 80 to 85 per cent (of all the MOUs signed will get converted into actual investments on the ground)."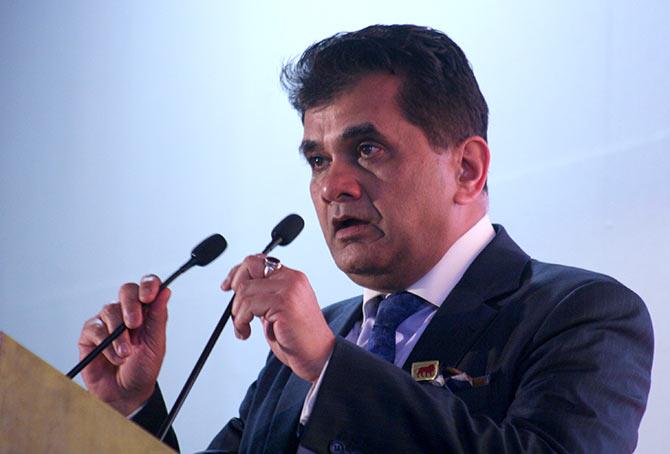 IMAGE: Amitabh Kant, Secretary, Department of Industrial Policy & Promotion, addresses the media on the concluding day of the Make In India Week; Photograph: Sanjay Sawant/Rediff.com
When Prime Minister Narendra Modi first envisioned Make In India from the Red Fort last year, Kant and the DIPP -- that reports to Nirmala Sitharaman, the minister of state (independent Charge) for commerce and industry -- took it upon themselves to execute it on the ground.
"Make In India will spur investments across the country. Maharashtra will emerge as the gateway for the rest of India," Kant observed as Maharashtra Chief Minister Devendra Fadnavis and state Industries Minister Subhash Desai, who were seated alongside, nodded in agreement.
Kant emerged as the 'Man of the Moment' throughout the Make In India Week, as chief minister after chief minister (barring one who said he didn't know who Kant was when asked if Kant would accompany him for a media briefing the next day) praised the 1980 batch IAS officer from the Kerala cadre.
"Amitabh Kant is a man of energy, positivity and optimism," Nara Chandrababu Naidu, the chief minister of Andhra Pradesh, told Rediff.com when asked about what impressed him most about the DIPP secretary, a Chevening Scholar who did his graduation in economics from Delhi's St Stephen's and an MA from the Jawaharlal Nehru University.
As Kerala's tourism secretary, Amitabh Kant created the 'God's Own Country' brand, and as India's tourism secretary, the 'Incredible India' brand.
"He works very hard and inspires awe in his team," DIPP Joint Secretary Atul Chaturvedi said. "He has lot of energy."
Ask the man about what is it that he did right to receive such fulsome praise from chief ministers and bureaucrats and Kant humbly says, "We believe in partnerships. We work together as a team with everyone. We worked in partnerships with state governments, they worked with us as partnerships.
"The state government supported us, the CII (Confederation of Indian Industry) supported us, the private sector supported us, the start up movement supported us, the media supported us... everyone supported us. And that really shows. Everybody wants Make In India to succeed."
Kant assured this correspondent that "This government (the Modi-led National Democratic Alliance government) believes in 100 per cent transparency. All the MOUs signed between various parties will be in the public domain in one or two days."
"Every inch of what you want will be available in the public domain. We want 100 per cent transparency."
During the media briefing, responding to a query from Rediff.com about non-participation of even one state from the North East at the Make In India Week, Kant said, "We don't want forced industrialisation. Why should they spoil the nature surrounding the North East? Every state has its own strength and they play according to their strengths and core competencies."
Here's Make In India in a nutshell picked from the power point presentation Kant played during his briefing: