While Reliance has the clout to negotiate prices with suppliers for its e-commerce, not to forget the cost advantage of integrated warehouse and supply chains, Amazon and Walmart are no pushovers, they too have deep pockets.
All this suggests that Indian retail will be in for interesting times, says Surajeet Das Gupta.
Illustration: Dominic Xavier/Rediff.com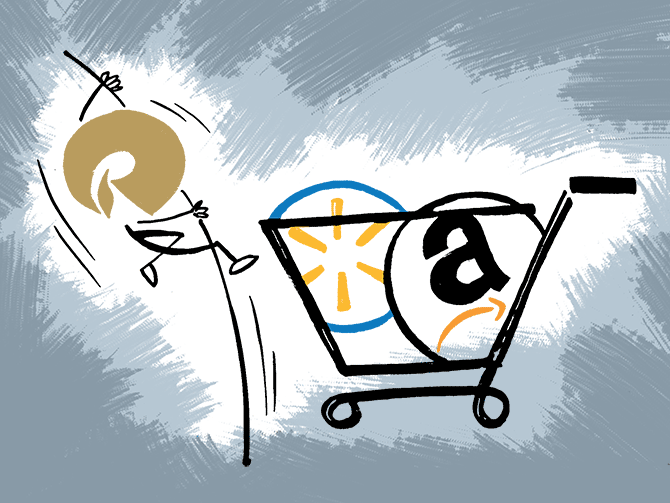 Late last month at a "Vibrant Gujarat" event Mukesh Ambani announced that Reliance Retail and his telecom venture Jio would collaborate to launch an e-commerce platform that would involve 12,00,000 small retailers in the state.
The announcement, which offered more detail on Reliance's e-commerce plans announced in July last year, marked a shrewd understanding of the politics of the business.
The spectre of deep-pocketed foreign e-commerce giants wiping out the kirana community has long haunted the political establishment.
Co-opting the kirana community -- Reliance aims to rope in 20 million kiranas and small retailers -- to ensure last-mile delivery is not novel.
Chinese giant Alibaba launched this model in 2015.
This is part of a larger plan to integrate the group's businesses into a structure that would own, as Ambani has long intended, a larger share of the consumer wallet.
So Reliance will be mobilising Jio's 4G network and its specially designed Point of Sales (PoS) machines to enable small retailers to take orders from consumers, get credit lines to expand their business, book orders from its warehouses, do inventory management, generate GST bills and become part of the organised retail network.
"No e-commerce model can work without the last-mile retail outlets being part of the chain, because it is not sustainable," said a source with knowledge of Reliance's strategy.
"Global e-commerce players are spending over 23-24 per cent of their operating cost on delivery in India; the Reliance model reduces this to 6-7 per cent, providing a large arbitrage opportunity that would be passed on to customers," he added.
Brands can benefit too -- companies can leverage the data analytics on consumers and promote products accordingly.
Technopak, a retail consultancy, estimates that in 10 years merchandising (e- commerce and physical) will be a $2 trillion business (currently $750 billion), and Reliance could garner 5 per cent of this market.
The core to the e-commerce business is to create an ecosystem offering a bundle of services and products. Amazon's value proposition has been subscriptions to Prime, which offers free delivery, video and music and shopping benefits at its offline retail offering Whole Foods (in India, it has taken the first steps by acquiring More).
Similarly, China's Alibaba straddles e-commerce and physical stores under Hema and Ling Shou Tong, long-form video and a payments offering in Alipay.
But Reliance has a huge competitive edge in its telecom services business with 300 million customers who are using huge amounts of data, providing both a captive market and consumer data.
Jio is also putting in place a content offering -- a bouquet of OTT channels, from music, movies, original programming plus a broadcasting channel -- to provide more choices than Amazon Prime.
It has an unmatched physical retail business, with over 7,500 stores (plus 3,700 Jio touch points).
Nearest competitor Future group has 11 million square feet of retail space against Reliance's 21 million.
This means Reliance has the clout to negotiate prices with suppliers for its e-commerce, not to forget the cost advantage of integrated warehouse and supply chains.
"The question is whether anyone else can be Reliance of India.
"It has an unmatched physical retail presence which generates Rs 35,000 crore a quarter with presence in multiple formats from the smallest stores to hypermarkets and in diverse categories from grocery, and consumer electronics to gold," says Arvind Singhal, chairman of Technopak.
Most significant of all is the favourable regulatory regime.
Last year, on December 1, the commerce ministry passed rules stipulating that an entity in which an e-commerce company has a stake cannot sell on the same online platform, players cannot get into exclusive deals with sellers and also cannot stock more than 25 per cent of their inventory from a single vendor.
These rules do not apply to Indian companies, only those with foreign direct investment.
Does Reliance need such protection?
Some say such mega-integration could lead to concentration of market power, which may not be customer-friendly.
Others say competition rules will avert that possibility.
They also argue that Reliance is being overly ambitious: Companies like Unilever and ITC took decades to build a relationship with small retailers, and even they have not reached these magic numbers.
Also unlike in telecom, where heavily indebted competitors conceded Jio a 26 per cent revenue market share, Amazon and Walmart have deep pockets.
Amazon has a $7 billion war-chest for India and Walmart did not have any problem rustling up $16 billion to buy Flipkart.
And if Amazon goes ahead with its planned strategic stake in Future group -- it is reassessing this plan after the December 1 rules -- with More retail and grab Spencer's, it will have a formidable physical retail presence.
Amazon and Walmart could also tie up with competing telcos to leverage their mobile base, similar to what Airtel and Vodafone-Idea are doing in the OTT space.
All of which suggests that Indian retail will be in for interesting times.