The big advantage that Jio is able to garner currently is its low cost of operations.
Surajeet Das Gupta reports.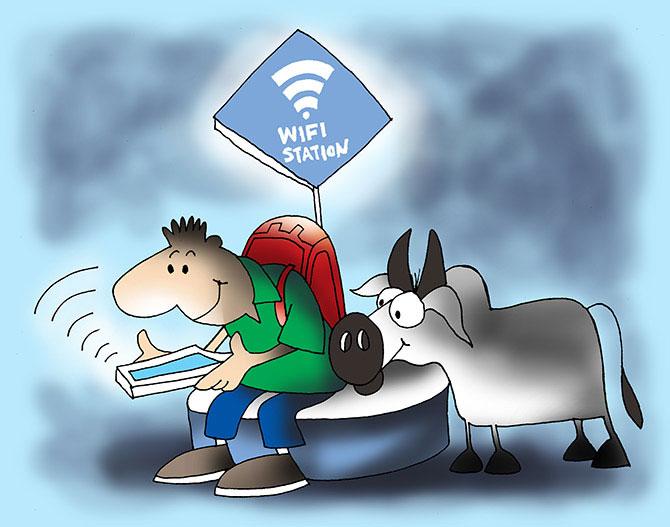 Illustration: Uttam Ghosh/Rediff.com
Reliance Jio's goals are unambiguous.
It wants to grab 50 per cent of the revenue market share in the mobile business, which roughly comes to getting around 400 million customers and achieving a multifold increase in data usage.
But currently with an over 22 per cent of the revenue share and about 162 million customers, that target is still far away.
That is why Jio has unleashed yet another price war starting January.
And this time, its focus is on wooing the over 500 million 2G users who hardly use any data.
Jio recently announced an offering at Rs 49 that includes unlimited calls and 1 GB data for a month on its feature phones.
This tops its announcement on January 18 which cumulatively reduced the effective tariffs across the board by 42 per cent to 50 per cent.
With the subscriber market growing slowly, Jio has no choice but to wrest market share from its competitors.
Sources close to Jio say the rock bottom tariffs that have kicked off a price war are meant to encourage customers who are not using data to sample it for the first time without an additional burden on their monthly upfront spends.
So the low packs are priced well below the Average Revenue Per User (ARPU) that customers are paying.
Idea, for instance, which has the most 2G customers, has a pack for Rs 119 a month.
The company hopes that once customers get hooked to data, they will migrate to higher packages.
Unlike Jio, which only has 4G customers, the incumbents -- Bharti Airtel and Idea-Vodafone combine -- are sitting on over 250 million 2G customers, of which only 20 per cent use data.
But together they have only 150 million 3G and 4G customers, which is not only lower than that of Jio, but their customers use half the amount of data.
Jio is looking at wooing these 2G customers as well from the smaller players.
With Aircel deciding to go for bankruptcy proceedings, its 84 million subscribers will be in the market to be grabbed by incumbent operators.
And the new telecom policy on predatory pricing announced recently clearly benefits Jio, say analysts.
Under the new regime, operators with over 30 per cent subscriber or revenue share in a circle cannot offer tariffs lower than their variable cost.
The move, say experts, will impact Idea-Vodafone combine in as many as 11 circles and Bharti in nine circles.
"What it means is that we cannot match tariffs of Jio in these circles, and if we want to, we have to give up our subscribers so that we are below 30 per cent. It is like offering them new subscribers on a platter," says a senior executive of one of the leading telcos.
To combat Jio and ensure that these customers do not leave but migrate to their own broadband data, incumbents have no choice but to rely on a twin strategy -- to respond to the price war and match the offers.
And that they seem to be doing till now -- like Airtel recently matched the Rs 98 offer from Jio in which it offers 1GB data and unlimited calls for 28 days.
All this will dent their margins and profitability as the bloodbath continues.
Idea Cellular made its highest-ever losses of Rs 1,285 crore (Rs 12.85 billion) in the quarter of December last year, making it its fifth consecutive quarterly loss.
And Bharti saw its net profits fall by 39 per cent due to relentless pricing pressure from Jio and also the loss of interconnect usage charges income.
But analysts say that with a large customer base, Jio will see a dent in its margins even though it has declared profits in the quarter ending December 2017 -- because by pushing tariffs, its ARPUs will drop and so will its margins.
Secondly, incumbents, according to analysts, have to put in over Rs 100,000 crore (Rs 1 trillion) in the next two years to migrate their customers on to 4G LTE, rather than have varying networks (2G and 3G), which increases cost of operations.
An LTE network also helps improve spectrum utilisation by freeing up more airwaves to handle the huge explosion of data.
Bharti has already announced that it will move to 4G completely in the next two years, and Idea-Vodafone executives say it could take two to three years.
The big advantage that Jio is able to garner currently is its low cost of operations.
That is primarily because it is running on a more efficient technology (4G LTE) unlike incumbents, which have 2G, 3G and 4G.
Of course, incumbents have the advantage of having a higher addressable market, but that is what Jio is now attacking, trying to push customers to 4G with rock bottom tariffs and cheaper devices.
According to Kotak Institutional Equities, Jio's network operational expenditure per site per month is much lower than its competitors like Bharti or Idea.
Jio is also going to need continuous investments in infrastructure to keep pace with the explosion of data usage from its customers.
It is already investing Rs 6,000 crore (Rs 60 billion) to Rs 8,000 crore (Rs 80 billion) every quarter on increasing the depth of its coverage by putting in more towers and expanding the fibre backbone.
Jio will need to fork out Rs 21,000 crore (Rs 210 billion) to buy the assets of RCom -- towers, fibre and 4G spectrum -- that will further help them in increasing their coverage.
The question is, where will the incumbents get their money from at a time when their profits are coming down?
They can leverage their companies even further, they are saddled with huge debt. Idea, for instance, has a net debt to EBITDA of 11.40.
A big chunk could come from monetisation of tower assets.
Bharti has a 42 per cent stake in the country's largest tower company, Indus Towers, which could fetch it around $4.2 billion.
Listed company Bharti Infratel, in which Bharti Airtel has around 72 per cent stake, has a market capitalisation of around Rs 62,000 crore (Rs 620 billion).
The company also has decent cash reserves and its net debt is currently at around three times of its EBITDA -- well below the industry average.
Vodafone and Idea, which together hold 53 per cent stake in Indus Towers, could rustle up well over $5.3 billion.
The two companies have recently sold off their captive tower business to the American Tower Corporation for over $1.2 billion.
In fact, Idea has already announced that the promoters would be raising over Rs 65 billion for capital expansion.
However, tower monetisation will depend on whether Bharti and Vodafone-Idea want to get out of the tower business altogether when Jio is set to increase its control on a large part of this key asset by buying Anil Ambani's tower assets.
Either way, incumbent telcos say they are prepared for a battle in the next 12 to 18 months.