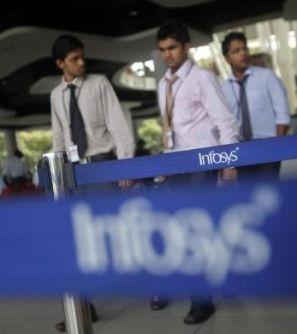 Shares of Infosys today closed nearly 1 per cent higher after the company forecast a revenue growth of 7-9 per cent in dollar terms for current fiscal -- way below industry body Nasscom's projection of 13-15 per cent.
The IT major's stock ended the day 0.76 per cent higher at Rs 3,260.45 on the BSE. During the day, it gained 4.2 per cent to Rs 3,371.80.
At the NSE, Infosys' scrip settled at Rs 3,268.15, up 1.02 per cent from its previous close.
On the volume front, 5.03 lakh shares of the company changed hands at the BSE, while over 25 lakh shares were traded at the NSE.
"Infosys results were good and better than market expectations. But revenue guidance forecast was slightly below expectations," said Ashika Stock Brokers Research Head Paras Bothra.
Infosys today reported a 25 per cent jump in its consolidated net profit at Rs 2,992 crore (Rs 29.92 billion) for the quarter ended March 31, 2014, helped by large deals and an uptick in client spending.
Revenue for the reported quarter rose 23.2 per cent to Rs 12,875 crore (Rs 128.75 billion) from Rs 10,454 crore (Rs 104.54 billion) .
However, the country's second largest software services exporter said it expects its US dollar revenues to be in the range of 7-9 per cent for the 2014-15 fiscal, which is way below industry body Nasscom's projection of 13-15 per cent.
Even in rupee terms, the firm gave a revenue guidance of 5.6-7.6 per cent for the current financial year.
Buying was also seen at other IT counters as well, with TCS surging by 4.06 per cent, Wipro by 3.71 per cent and HCL Tech by 1.71 per cent.
Following the gains in these stocks, the BSE IT index rose by 2.16 per cent to settle at 9,025.64 and was the top gainer among 13 sectoral indices.