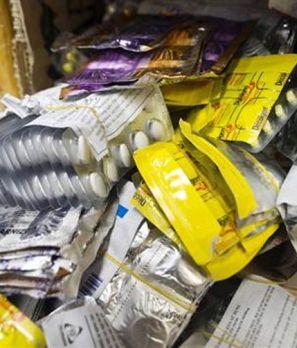 While bulk drug exports from India have been on a slow lane last fiscal, the domestic market, nonetheless, is likely to see some price rise this year.
The industry feels that prices of active pharmaceutical ingredients (APIs) can go up in the range of 5-15 per cent primarily to factor in inflation, and also because these have now been freed from price control.
The domestic bulk drug industry, however, also points out in the same breath that thanks to stiff competition in the domestic market between local players as well as imported bulk drugs from China, the price rise would not be very high.
Anand Khullar, resident director (NCR), Bulk Drug Manufacturers Association (India), pointed out that makers are likely to raise prices to factor in the inflationary pressures. "However, in the wake of stiff competition from China, Indian makers have to be cautious. In the case of very high prices formulators would go to Chinese counterparts," he said.

Analysts feel that as bulk drugs have been freed from price control under the new Drug Price Control Order (DPCO) 2013, there was scope for price rise this year, especially for the 72 bulk drugs that were under price control under the DPCO 1995. "The rise in prices would be in the range of 5-15 per cent," said Ranjit Kapadia, pharma analyst with Centrum Broking. Khullar too felt the range of price rise should be in that range.

As for imports from China, these APIs already account for nearly 50 per cent of the total requirement of the domestic industry.
As per Manish Doshi, chairman, bulk drug sub-committee of the Indian Drug Manufacturers Association (IDMA), Indian bulk drug players make around 500 different types of APIs, and nearly 50 per cent of the current domestic requirement from formulation makers is catered to by Chinese imports. The domestic bulk drug industry is expected to be around Rs 12,000-15,000 crore, Khullar claimed.

The Chinese competition in the API pertains to bulk vitamins and fermentation products where there are few Indian manufacturers. "Chinese companies have an edge over Indian API manufacturers due to the economy of scale and incentives from the Chinese government. Many of the Indian API players have moved to high-end niche products where competition is limited and margins are high. Most of the commodity APIs are imported from China," Kapadia said.

Leading API players in the country like Dishman Pharmaceuticals and Chemicals Ltd have adopted a similar strategy and are also taking all measures to de-risk their business.
A senior official of Dishman said that, "In the initial years, we were concentrating more on large pharma companies and big order sizes. However, it was taking a lot of time for these contracts to materialise and there were other uncertainties. If we depended only on big pharma, our cashflow would go down." He added that, hence the company made an effort to take smaller players on board to ensure a predictability of income, and the strategy has worked well for them.

In FY15, Dishman expects Rs 100-125 crore of additional revenues from these mid-sized companies.

Besides, the company has also tried to move away from high-competition and low margin products. For that matter, before entering a new segment it also weighs if there is competition from China or not.

Such strategic changes are likely to enable Indian players to raise API prices this year. Doshi, however, also pointed out that the quantum of price rise would depend a lot on market forces, demand-supply dynamics as well as rupee-dollar fluctuations.