While demonetisation fans in India felt vindicated that Venezuela too had gone down the note ban path, their triumph was short-lived.
Unlike Indians -- who have largely been unnaturally patient about the many inconveniences of the note ban -- the South American country spiralled out of control, leading to a temporary roll back in less than a week.
Here's how the two demonetisation drives have played out.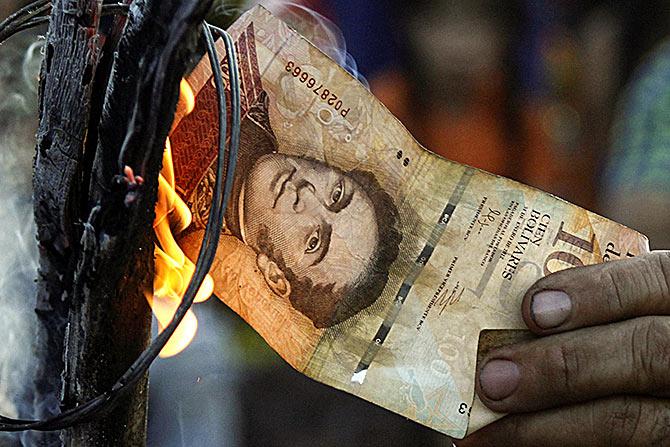 A man burns a 100 bolivar bill during a protest in El Pinal, Venezuela, December 16, 2016.
Venezuela's inflation rate has been estimated to touch 475% this year and north of 1,500% in 2017, the highest in the world.
To cope with this, the Nicolás Maduro-led government announced December 11 that it had demonetised its most valuable note -- the 100 bolivar bill.
The government gave citizens a 72-hour window before withdrawing the currency, which accounted for 77% of the nation's cash in circulation.
Photograph: Carlos Eduardo Ramirez/Reuters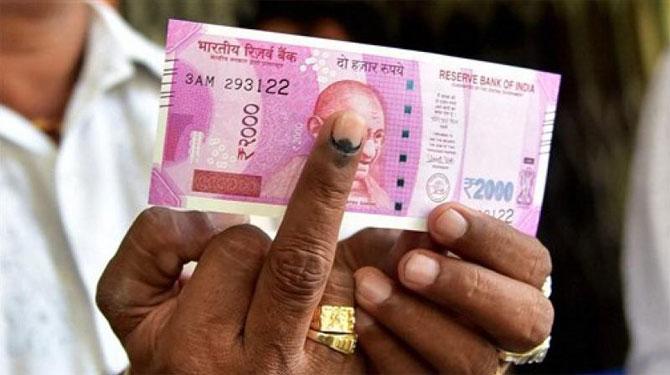 In comparison, India announced demonetisation on November 8, withdrawing Rs 500 and Rs 1,000 notes within 4 hours of the announcement.
The government gave Indians up to December 30 to deposit or exchange their old currency notes at banks and post offices, but made people's lives miserable with a new notification or a U-turn practically every day.
Among them, briefly, was the idea of applying indelible ink used during elections to stop people from exchanging their currency more than once.
Photograph: PTI Photo
---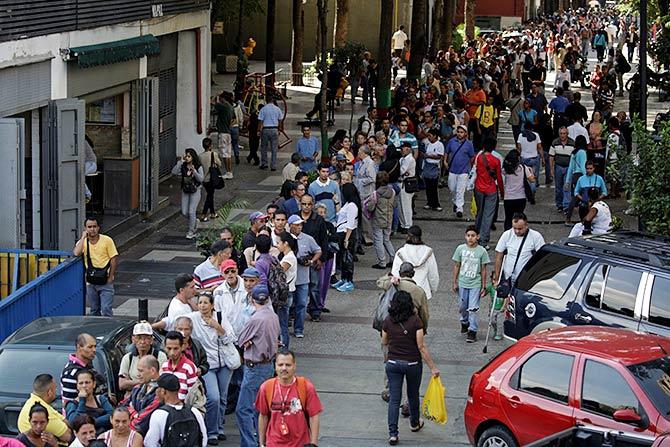 People queue to deposit their 100 bolivar notes near Venezuela's Central Bank in Caracas, December 16, 2016.
The government said old notes would be replaced, at some point, with new ones in denominations between 500 and 20,000 bolivars.
The situation quickly spiralled out of control due to a serious shortage of currency, leading to violence and looting.
Photograph: Marco Bello/Reuters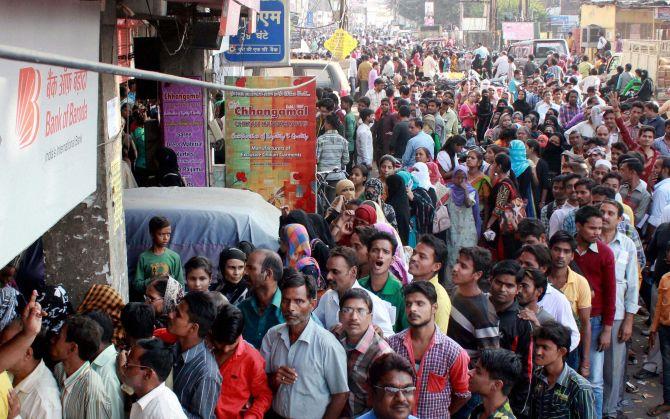 Since November 8, India has witnessed similar shortage of cash and similar queues that have killed many people, brought many industries to a grinding halt and left thousands of people jobless.
Photograph: Nand Kumar/PTI Photo
---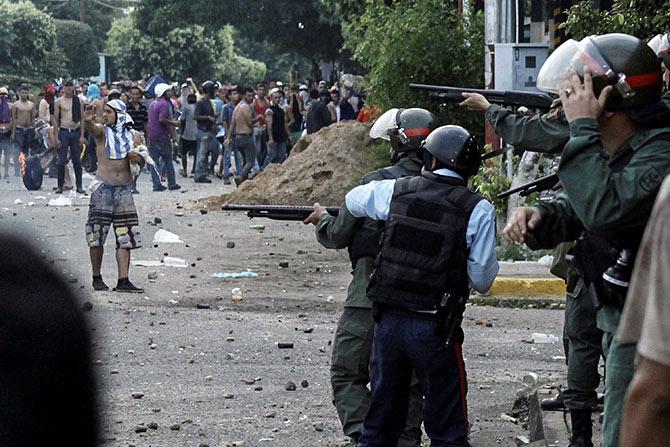 Venezuelan National Guards clash with demonstrators in La Fria, December 17, 2016.
The violence on the streets led to many confrontations like these.
Photograph: Carlos Eduardo Ramirez/Reuters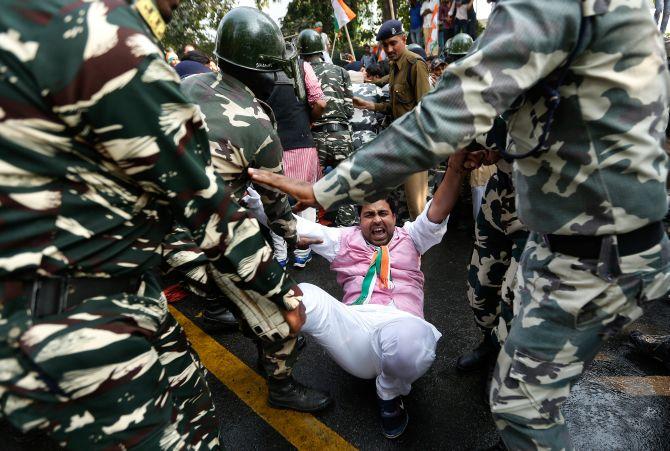 However, in India -- barring sporadic outbursts of frustration outside banks when people couldn't withdraw their own money after standing in queues for hours or even days -- the protests were largely led by political parties and mostly contained.
Photograph: Adnan Abidi/Reuters
---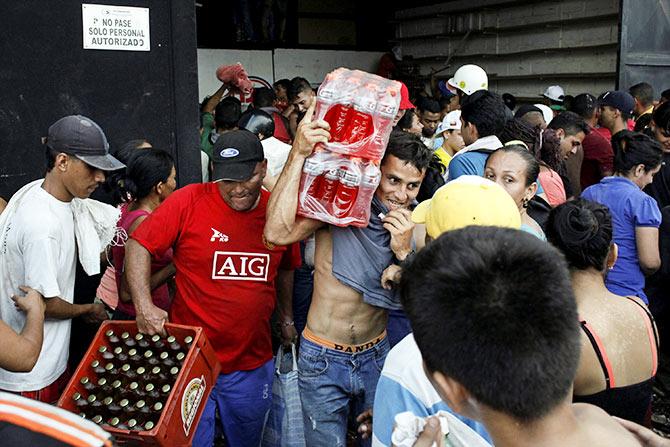 Apart from the violence on the streets, Venezuela's effort at demonetisation was marked by massive looting of shops like at this one in La Fria on December 17, 2016.
The cash crunch had left many without food.
Photograph: Carlos Eduardo Ramirez/Reuters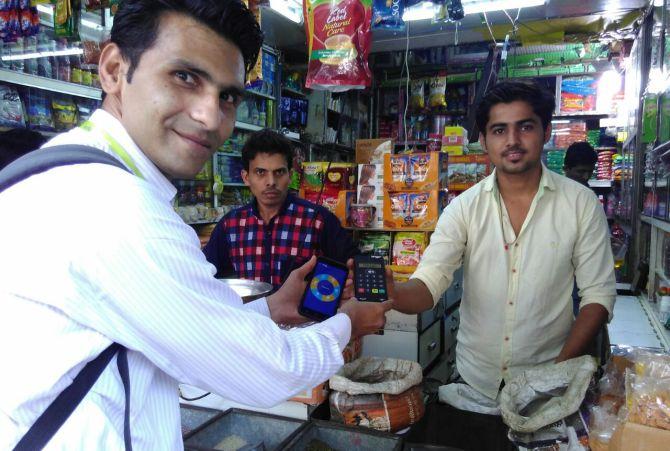 Even though retailers have suffered massive losses due to the sudden demonetisation and drive to make India 'cashless' and there were reports of many being unable to find the cash to buy food, the demonetisation transition here mostly saw shopkeepers and customers trying to find middle ground.
Photograph: Syed Firdaus Ashraf/Rediff.com
---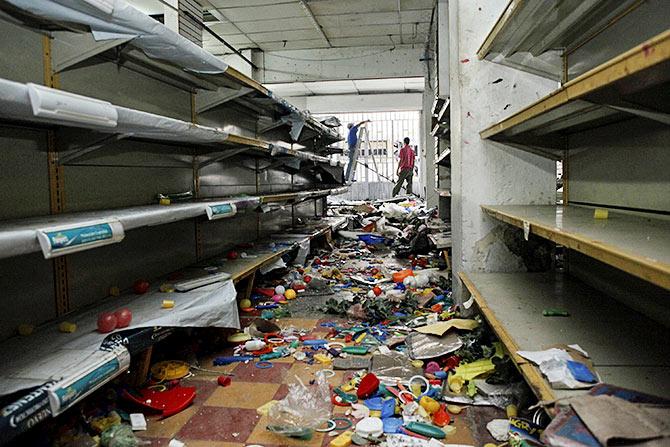 Workers repair damage to a store after it was looted, in La Fria, Venezuela, December 19, 2016.
The looting and the protests turned so violent in the country that within days the government was forced to give citizens an extended deadline for the use of the 100 bolivar bill.
Photograph: Carlos Eduardo Ramirez/Reuters
Now, in the last week of Prime Minister Narendra Modi's 50-day deadline on the demonetisation transition India lives with reports of restrictions and problems to continue for months.
Video: Hitesh Harisinghani and Satish Bodas/Rediff.com