12-million sq. ft development will transform the micro markets of Worli and Lower Parel into a mid-market affordable housing settlement, Dev Chatterjee & Raghavendra Kamath report.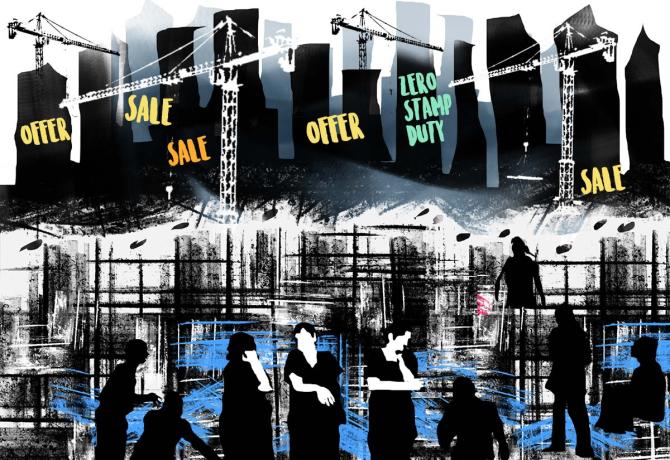 One of Mumbai's biggest real estate redevelopment projects of Bombay Development Directorate's (BDD's) chawls (large buildings divided into many separate tenements, offering cheap, basic accommodation) has taken off in Central Mumbai, opening up a Rs 20,000-crore opportunity for real estate companies.
It is expected to drive down real estate prices in Central Mumbai by up to 25 per cent, forecast real estate experts.
Spread over 92 acres in Central Mumbai's prime localities of Worli, Lower Parel, and Dadar and consisting 195 four-storey houses, the BDD chawls were constructed in the 1920s.
The over-a-century-old chawls are one of the largest cluster redevelopment projects led by the government in Asia.
They were used as prisons to house freedom fighters.
Later, they were used as accommodation for textile mill workers.
Now, tenants live cheek by jowl in 160-square (sq.) feet (ft) cramped spaces.
These chawls have remained trapped in time, even as swanky office buildings got constructed on textile mill lands next door.
Sunil Shinde, former Member of Legislative Assembly (MLA) from Worli constituency, says the BDD redevelopment is a win-win deal for all stakeholders.
"The Worli chawls will be redeveloped by the Tatas.
"Shapoorji Pallonji Group will redevelop the chawls on NM Joshi Road.
"Larsen & Toubro will redevelop the chawls in the Naigaon area.
"We have promised to hand over the keys within three and a half years to the present-day tenants, with only Rs 100 as registration fee," says Shinde, who worked on the redevelopment project since 2007 as a municipal corporator.
Meanwhile, the tenants have been given free housing in the government's transit camps till they are given the keys to their brand new 500-sq. ft home.
As an additional incentive, the new highrises will not attract maintenance fees for the next 10 years after possession, exults Shinde.
Unlike the redevelopment of Dharavi — Asia's biggest slum —- which needs a larger master plan dealing with various classes of occupiers, including commercial establishments, the BDD redevelopment is more likely to see the light of day, say realty experts.
"Given that smaller structures will be replaced by nearly 40-storey buildings, the entire landmass will significantly decongest these areas, bringing in elements of recreation, retail, and open spaces," says Amit Goenka, managing director, Nisus Finance Services Co., a real estate fund manager.
Experts say over the next decade, 12-million sq. ft development will transform the micro markets of Worli and Lower Parel into a mid-market affordable housing settlement.
Worli is currently a luxury destination, with prices ranging from upwards of Rs 50,000 per square feet on carpet area.
With the BDD development, prices are likely to significantly come down to the Rs 30,000-40,000 per square feet on the carpet area, adds Goenka.
Carpet refers to the area within the walls of an apartment. It is the actual usable area.
To make the project successful, experts say the civic infrastructure needs to be overhauled.
The area is infamous for its congested roads, traffic bottlenecks, and overcrowding.
"The final outcome will inevitably put more burden on the civic infrastructure.
"Infrastructure growth has to happen alongside project redevelopment.
"Work on water supply, stormwater drainage, and health care has to be expedited to make this redevelopment meaningful," says Gulam Zia, executive director of real estate advisory firm, Knight Frank.
The possible addition to the housing stock, after settlement of all the project-affected people, may run into over 25,000 apartments of various sizes.
These apartments can completely redefine the housing market of South-Central Mumbai, adds Zia.
Shinde credits Chief Minister Uddhav Thackeray and local MLA Aditya Thackeray for fast-tracking the venture.
"This is for the first time people living in 160-sq. ft space in Mumbai will get houses constructed by well-known private companies, thanks to the Maharashtra government's initiative," says Shinde.