The key element of high-tech highways will be their ability to converse with vehicles.
Pranjal Sharma reports.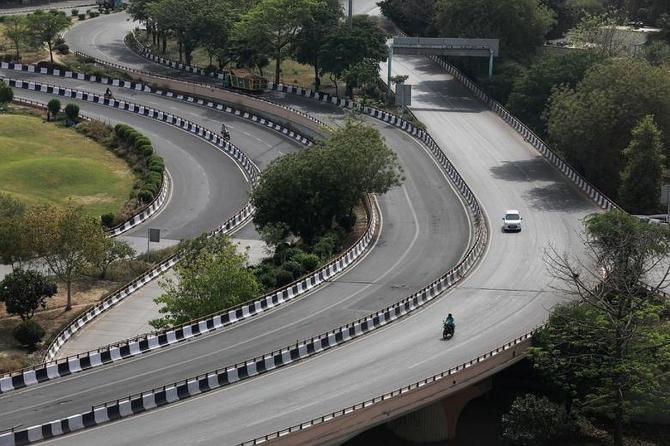 Roads are becoming smarter even if the people driving on it are not.
A set of smart technologies is making construction, maintenance, and traffic management much more efficient.
"Few of the enabling technologies for smart highways include wireless communication technologies; Internet of Things (IoT); artificial intelligence; telematics; and smart/connected cars," a report by ResearchandMarkets.com says.
As a result, the market for such technologies is expected to reach $62.6 billion in the next four years.
Several interesting new technologies are being tested across the world.
For instance, smart roads and highways can help charge electric vehicles.
Power cables embedded under the roads can charge an electric vehicle driving over it.
This will help overcome the issue of limited battery charge for long-distance driving.
While roads can energise a car, another experimental technology is exploring how to trap energy from passing vehicles.
Also possible are sensors embedded in roads that can monitor traffic, weather conditions and the status of the road.
In case of a breach or damage, the sensors can automatically alert highway management authorities.
The key element of high-tech highways will be their ability to converse with vehicles.
Smart vehicles with their own set of sensors can share constant information with roads.
This can help drivers take better decisions on navigation and traffic management while also allowing highway management authorities to plan better.
India met its highway construction target for last year and is aiming to build 40 kilometres every day in 2021-22.
More importantly, the National Highways Authority of India (NHAI) is infusing the use of technology in various activities.
These include construction, road condition surveys, electronic toll systems and project team management.
NHAI is now using a "cloud based and artificial intelligence powered Big Data Analytics platform — Data Lake.
"The entire project management workflow of NHAI is transformed from manual to online portal based.
"All project documentation, contractual decisions and approvals are now being done through [the] portal."
All contractors and projects teams are mandated to work on the portal.
The key advantage of such an approach is the regular flow of information on its various projects.
"With advance analytics, the Data Lake software forecasts delays, likely disputes and gives advance alerts," NHAI says.
The system can also predict the financial outcomes.
Automated toll management is the key to financial margins and improved efficiency for drivers.
The FASTag that deploys Radio Frequency Identification technology has been made mandatory and is expected to roll out across the country in the next few months.
Experts say that the data generated from automated toll collections will be a goldmine for planning and designing highways in the future.
NHAI's subsidiary, Indian Highways Management Company, is embarking on a global navigation satellite system-based tolling project.
Using global satellite-based technology implies that toll plazas will directly be in contact with the vehicle's navigation devices.
Once they are matched with tolling and payment systems, effectively the vehicle will pay the toll plaza directly every time it will pass a check point.
To make the most of satellite-based toll or parking charges, vehicle makers will have to include an onboard unit which is compatible with the relevant systems.
Roads and highways are at the intersection of two sectors: Smart cities and smart mobility.
Best results can be obtained with a view of the interconnectedness of mobility and city life.
As policy makers and entrepreneurs deploy technology across sectors, keeping the big picture in mind would be useful.
Smart roads will work best with smart vehicles.
Both sectors will have to work together to achieve the most out of technological innovations.
Image used for representation purpose only.
Photograph: Anushree Fadnavis/Reuters