'The Chinese outdid them in the price game and turned the competitive dynamics at the lower end of the handset market from price to value.'
Arnab Dutta reports.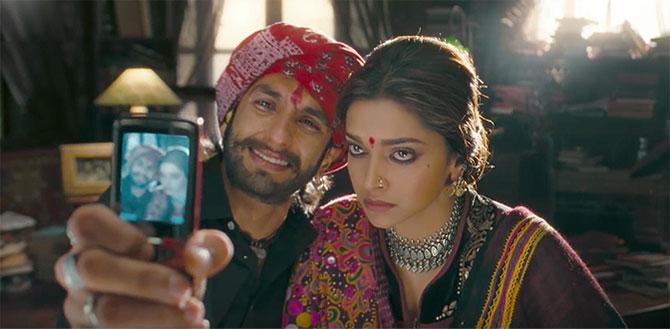 In mid-2016, Keshav Bansal, then 24 and a director at India's third-largest smartphone firm Intex Technologies, was gung-ho about the firm's future.
Sitting in his luxurious family residence in Delhi's Sainik Farms, Bansal was revealing his plans on taking the company public soon.
Also in focus was his effort to make his newly acquired franchise rights for the Indian Premier League team Gujarat Lions finally join "the big league".
Bansal, freshly returned from the UK's Alliance Manchester Business School, was yet to anticipate the roadblocks to his ambitions.
Close to three years later, both his dreams, of taking Intex public and crowning his team with an IPL trophy, remain in the realm of aspiration.
And Intex Technologies's fortunes have since dwindled in its own field -- the local smartphone market.
The company's sales have more than halved between 2015-20 16 and 2017-2018 (please see graph).
Intex Technologies's fortunes was no exception among the Indian handset makers that once offered some feisty competition in a fast-growing market.
Micromax Informatics, the poster boy of local handset industry during the early years of the decade, is in no better shape.
The Gurgaon-headquartered firm's sales have shrunk, according to filings with the Registrar of Companies -- from a peak of over Rs 10,000 crore in 2014-2015.
And its share in the country's bustling smartphone market has come down to less than 5% in 2018 from a high of 18% in early-2014.
In fact, it remains the only Indian brand to cross the respective marks in revenue and market share ever.
Since its heydays in the handset market, when it used to challenge the mighty multinational market leaders Nokia and Samsung between 2010 and 2014, Micromax, like Intex, has tried its hand at other businesses too.
Both of them entered the low-margin white goods business by 2016.
But success in their new endeavour has been hard to spot.
Both managed to come out with competitively priced air conditioners and washing machines, but they never made it to the top five brands.
In fact, their most ambitious venture -- to foray into the fast-growing smart LED television market -- was fiercely challenged by new entrants.
Xiaomi -- the current leader in the local smartphone market and a Chinese brand with a diverse consumer electronic portfolio -- rattled the entire TV market with its low-cost smart TV sets.
After entering the local market in early-2018, it not only decimated the fringe players but is also challenging the very dominance of the top four of India's TV market -- Samsung, LG, Sony and Panasonic.
Further, brands like VU, Thomson, Kodak and Iffalcon from TCL, nipped the dreams of Micromax and Intex in the bud.
The fortunes of the other two major Indian handset brands -- Lava and Karbonn -- together the big four of the Indian handset industry -- have run on similar lines.
Together, the share of these four and other Indian brands' fell below 10% in 2018 -- for the first time since 2010.
In 2018, the share of Indian brands in smartphone market stood at 9.1% from a peak of over 45% in 2014.
While, investment proposals to the tune of thousands of crores to ramp up the local manufacturing base and upgrade their respective portfolio were made in recent years, none of the four have managed to increase their clout over India's handset market since the slide began in 2015.
Why did they lose market share so quickly?
Principally because the Chinese outdid them in the price game and turned the competitive dynamics at the lower end of the handset market from price to value.
From being fringe players offering inexpensive phones to price-sensitive consumers, Chinese handset firms have risen to dizzying heights, shedding their humble image to corner an unprecedented 60% share of the smartphone market in 2018.
And that has come at the expense of Indian firms.
According to Karn Chauhan, research analyst at Counterpoint Research, Indian brands could not match the innovation that their Chinese counterparts brought in in recent years.
Their failure to adopt to the fast-changing market realities played an important role too.
"The growth of Chinese brands and the slow adoption of industry trends led to this decline. One of the key reasons for the growth of Chinese brands is their affordable offerings with stand-out features including strong design language and their ability to leverage deeper access to the Shenzhen-based manufacturing and supply chain ecosystem," Chauhan says.
"Chinese suppliers are now experts in hardware design, software and user interface integration. They have built a robust original design manufacturer and supplier network," he adds.
Further, the Chinese brands have also been aggressive in terms of their device launches and capturing key marketing trends to offer well-designed products at competitive price points with clever marketing and robust channel strategies.
Also, factors like big war chests of Chinese players that are mostly having the advantage of 'economies of scale', years of expertise in product design, backing of strong research and development capabilities and marketing budgets have only acted against the local players, analyst point out.
Despite their decimation by Chinese rivals, the big four Indian brands still have a chance to bounce back, says Prabhu Ram, head-industry intelligence group, CyberMedia Research.
"If these four brands are able to come-up with attractive product offerings, with the latest specs and the right pricing and promotions, they can recover some lost ground".
The wide offline retail network, set up by the Indian brands years ago, can also be leveraged to reach the hinterlands.
Relatively down-market overseas regions such as Africa and Eastern Europe also offer a glimmer of hope to these companies.
"For Lava and Micromax, it makes sense to exploit and leverage such opportunities. It would complement their domestic focus," says Ram.
However, given the hyper-competitive nature of the Indian market, only those brands that are able to build their R&D capabilities and offer new and exciting value propositions on-time will stand out from the crowd.
*Kindly note that the image has been posted only for representational purposes.