T E Narasimhan finds out how the hub of India's firecrackers industry is reeling after more than a month of the note ban.
I: Cash crunch pain hits Dharavi's leather goods hub
II: Demonetisation silenced the looms in this 150-year-old town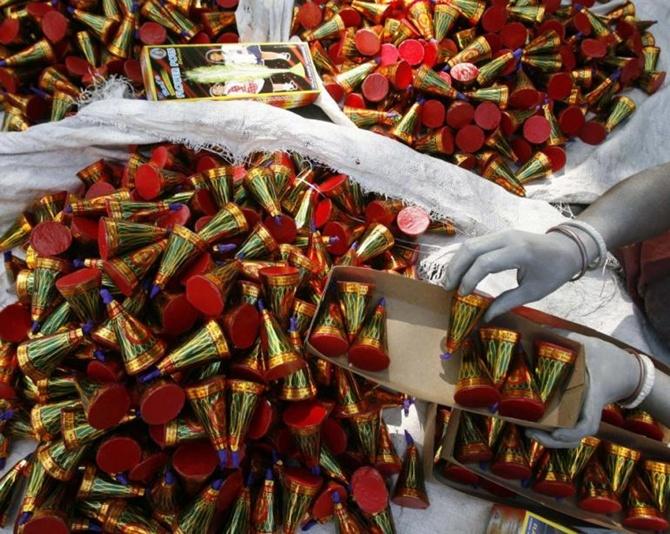 IMAGE: With demonetisation being announced soon after Diwali, the firecracker units of Sivakasi didn't have a chance to resume post-festival operations. Photograph: Reuters
Firecracker units of Sivakasi have not been able to resume work following the two-weeks after Diwali. It has been nearly two months since the festival.
Demonetisation, which was announced a little more than a week after Diwali, has given the town, which produces 85 per cent of the country's firecrackers, little chance to resume operations. The crash crunch triggered by the ban on high-value notes has crippled the Rs 4,000-crore firecracker industry in this town.
Of the nearly 820 units in Sivakasi, located around 480 km from Chennai, just about 200 units are up and running now as workers stay away from factories. They fear not getting paid their weekly wages since cash is the dominant form of payment here. Besides, units are not able to procure raw materials and customers are not placing new orders, manufacturers say.
On average, a firecracker unit in Sivakasi employs about 300 people. The units have more than 200,000 people in their employ, apart from 200,000 indirectly employed by these units. Paying wages to this huge workforce then is becoming difficult, increasing the possibility of labour unrest.
There have been labour discontent in Sivakasi over pay, working conditions and fire safety measures. "But this event (demonetisation) is unprecedented," says K Mariappan, general secretary and senior member of the advisory council for the Tamil Nadu Fireworks and Amorces Association. "If the situation doesn't improve by January, dealing with labour unrest will be difficult."
"Even if we put aside everything else, wage payment cannot be ignored," Mariappan says. "It is the most challenging task for us at this point."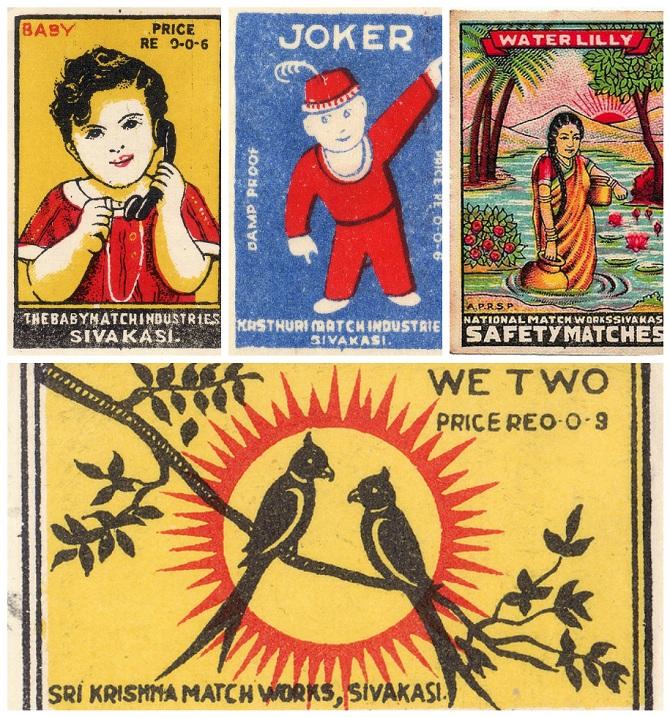 IMAGE: Sivakasi's firecracker industry supports allied industries like matchbox makers and printers.
Then there are the allied industries such as printing, which began as suppliers for firecracker units much like matchbox makers, who came into existence as lighting-device suppliers to the firecracker factories.
Matchboxes and printing units of Sivakasi earn Rs 1,500 crore each, with both categories employing 50,000 people. Printers, for instance, have diversified into making calendars and diaries for both domestic and international clients, in addition to supplying printed paper to firecracker units.
All of this has suffered because of demonetisation.
According to Hariram Sundaravel, president, All India Chamber of Match Industries, around 40 per cent of matchbox sales have been hit because bulk buying has come down.
For an industry that has been competing with inexpensive Chinese-made firecrackers for the past few years, demonetisation, manufacturers say, could not have come at a worse time. Some admit, when contacted, that they were looking at a good season ahead after the two-week break, since the good monsoon and salary hikes for the government employees this year had created a positive sentiment. Order flows remained good during Diwali.
Being discretionary in nature, it is not difficult to gauge why a positive sentiment is a must for buying firecrackers.
Mariappan says bursting firecrackers is symbolic, implying individuals are happy: "So, every occasion that one celebrates also becomes a reason to burst crackers."
While Diwali still remains the biggest occasion for Sivakasi's firecracker units, over time other events such as marriage, temple festivities and community celebrations have ensured round-the-clock order flows for these units.
IV: The cost of demonetisation: Jobless hundreds in Jalandhar
V: In Assam's tea gardens cash is perennially in demand
VI: Demonetisation has driven Solapur's beedi workers to loan sharks