It is not easy for an FMCG brand to make a comeback if it has been out of consumer's reckoning for some time.
Moreover, a protracted battle between the owners and then closure of a large number of outlets at one go might have sent some very negative signals to many, says Sneha Bhattacharjee.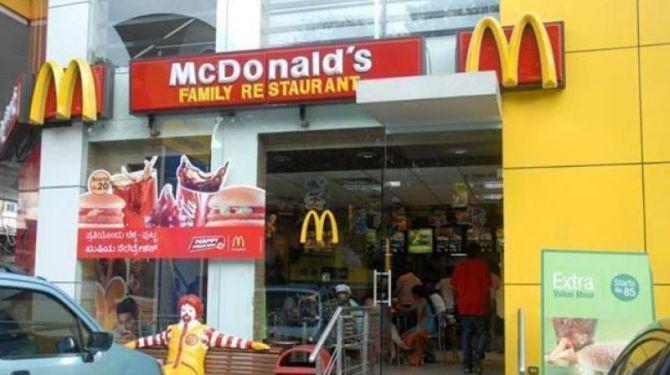 For many Indians who got their first taste of a hamburger at a McDonald's outlet, the shutdown last month of its outlets in the north and the east following a protracted battle with Connaught Plaza Restaurants, the entity that ran the global giant's operations in north and east India, would have been a major disappointment.
The good news is the brand will return full throttle - some outlets opened with a limited menu within 15 days of closure - in a refurbished avatar in a few months, probably under the aegis of a new licensee partner, say some reports.
India, one of the fastest-growing food service market in the world, is crucial for the Oak Brook, Illinois-based company, but its re-entry will be far from a cake-walk.
It's just like trying to find employment after dropping off the job market for some reason - finding the way back to a regular job is a mighty challenge, to say the least.
The good thing is, the firm has started opening its stores in a phased manner; in that sense McDonald's hasn't been off the market for too long.
So why are we saying a full-fledged return won't be easy?
"It is not easy for an FMCG brand to make a comeback if it has been out of consumer's reckoning for some time," says brand strategist and founder of brandbuilding.com, Ambi Parameswaran.
"You cannot just bank on residual consumer salience to create new demand," he adds.
Plus there is the issue of keeping the employees motivated.
A protracted battle between the owners and then closure of a large number of outlets at one go might have sent some very negative signals to many.
In any case, the going was getting tougher for McDonald's with every passing year.
Not just new competition, some old foes were nipping at its heels.
Take Domino's Pizza, for instance.
In 2013, its local business left McDonald's behind to become India's largest fast-food brand.
Around the same time, the feud with its former partner, Vikram Bakshi, scotched McDonald's India's expansion plans in the north.
Keep in mind that for any brand looking to make a comeback in a market after a hiatus, long or short, gaining the control it once enjoyed can be cumbersome.
Especially so in a category that is fast growing and non-sticky - in the sense that if the consumer doesn't find the brand, she has no qualms moving to the next one available - you simply have to be present when the consumer wants you and where she expects you to be.
"For example, soap brands like Liril and Cinthol have tried many times to make a big-bang comeback, but have met with limited success," adds Parameswaran.
Those who make a successful comeback are often the ones that waste no time.
For instance, SpiceJet came back from the brink in December 2014 when founder Ajay Singh returned to take over the reins from Kalanithi Maran of the Sun Group.
The airline was shut for just about a day to get its act together.
Another brand that made a tremendous comeback after disappearing while it still had almost 78 per cent of the category under its belt was Maggi noodles.
The June 2015 ban on the product however turned out to be a "blessing in disguise" for Nestle, the firm's chairman and MD Suresh Narayanan told Business Standard in 2018.
What did it do in the 18 months that it was out of the market?
It relooked at strategy, built and launched new products from scratch under the same brand name, in the process keeping the momentum going in the market.
"A come-back moment is a reality for every brand," says Harish Bijoor, founder, Harish Bijoor Consults.
While some need to stage a comeback after experiencing flagging sales or market share, some need to take a pro-active pause to assess the market's changing dynamics.
Fixing it before it's broke, in a manner of speaking.
"Look at PayTM. It made a big comeback on the back of demonetisation as a trigger and cashless behaviour as a sentiment," adds Bijoor.
So the secret sauce is salience and image recall.
"Yardley managed to do that with its deodorant, for instance.
"Colgate gave fresh wings to a value-priced Cibaca.
"Launched in the mid-seventies, Rasna came back as a soft drink concentrate powder in the eighties, at a time when the market was dominated by carbonated soft drinks like Thums up, Gold Spot and Limca.
"In the consumer durable space, brands like Crompton have made a good comeback after being out of action for a period.
"I suppose a brand like Sumeet mixer-grinder can still make a comeback if it wants to, given the residual consumer equity," says Parameswaran.
Experts also say trust is a key element that can revitalise a brand.
But trust is as valuable as it is brittle and enterprises "ought to be careful not to junk that asset", says Bijoor.
In sum, while putting together a comeback plan a brand must "assess the mind and mood of the consumer", as Shrenik Dasani, vice-president, sparkling category, Coca-Cola India & South West Asia, puts it.
The brand in question must not tie itself down in the past.
"The brand will have to let go of what worked last time, and what did not. A complete audit of the offering is important," he adds.
It has to be fresh and relevant and look as fashionable and as real as possible.
Photograph: PTI Photo