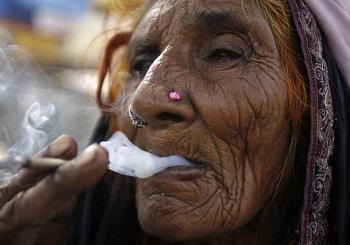 In the last of a six-part series Sanjay Jog discovers that if the government and beedi employers don't act now, there could be social unrest soon.
I: Cash crunch pain hits Dharavi's leather goods hub
II: Demonetisation silenced the looms in this 150-year-old town
III: How demonetisation stole Sivakasi's sparkle
IV: The cost of demonetisation: Jobless hundreds in Jalandhar
V: In Assam's tea gardens cash is perennially in demand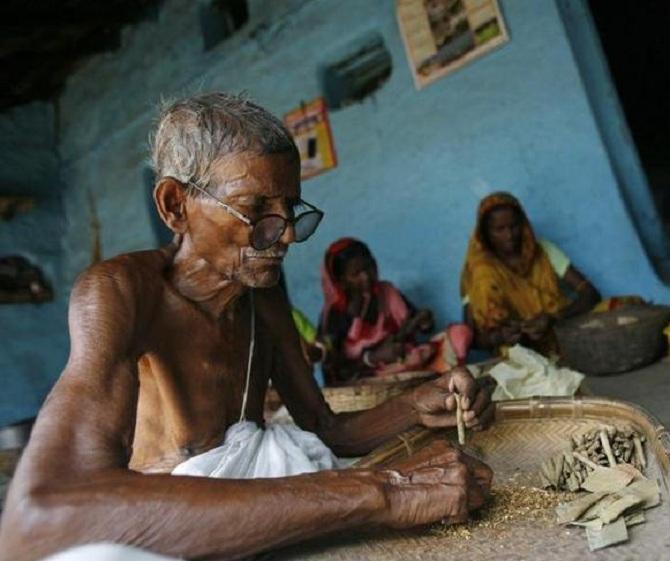 IMAGE: A clutch of states drives the beedi industry in India, including Karnataka, Tamil Nadu, West Bengal, Maharashtra, Gujarat, Madhya Pradesh, Andhra Pradesh and Telangana. Photograph:

Parth Sanyal/Reuters.

Geeta Inamote, a worker in Maharashtra's Solapur district, a beedi-making hub in India, continues to roll what is popularly called 'the poor man's cigarette' every morning. She does this despite not receiving her wages for the last month. The ban on high-value notes announced on November 8 has left the country's beedi industry, valued at nearly Rs 10,000 crore, in turmoil.
Inamote is part of a nearly 6 million workforce employed by contractors, sub-contractors or manufacturers to roll beedis, the major task in beedi-making after cultivation of tendu leaves, used to wrap the tobacco flakes.
A clutch of states drives the beedi industry in India, including Karnataka, Tamil Nadu, West Bengal, Maharashtra, Gujarat, Madhya Pradesh, Andhra Pradesh and Telangana.
Solapur, located 396 km from Mumbai in south-east Maharashtra, is a key hub owing to its proximity to other beedi-making states such as Karnataka and Telangana.
The nearly 70,000 workforce, comprising mainly women, in Solapur, is never short of work, putting in 14 to 16 hours daily in rolling beedis.
What they earn is meager -- just about Rs 150 for 1,000 beedis rolled. The more beedis women like Inamote roll, the better. But even that enthusiasm is dying as these women struggle without cash.
"Rolling beedis has been a source of livelihood for me for a while now as I have to support a family of six children. I can't imagine doing without this," says Inamote without lifting her head as she struggles to roll as much as she can in a day.
Cash is the dominant mode of payment for beedi workers in India, many of them doing it in their homes to save on time, money and energy travelling. The money earned helps women supplement household incomes, buy groceries, pay school fees and even repay loans taken from micro-finance companies and self-help groups.
All that has suffered though in the wake of demonetisation.
While some beedi workers do have bank accounts, it becomes cumbersome for employers, they say, to pay their wages via their bank accounts and the unbanked ones via cash.
With demonetisation, however, Solapur's beedi employers have no choice but to ensure that all transactions, including payment of wages and salaries, are through banking channels. That is becoming a huge task, however, since there appears to be no effort to open bank accounts for beedi workers by employers and the government, say experts.
Manufacturers have their own reasons for the lack of effort to improve banking channels in their business. "Beedi workers are used to payment in cash. That habit is not going to change overnight. Second, the process of opening and activating accounts takes time. And many of the workers are not literate enough to operate these accounts, which is why the reluctance to shift to a cashless mode of payment," says Balasaheb Jagdale, who manages operations at the Sable Waghire & Co, a beedi unit that produces of the popular Sambhaji beedi in Solapur.
Thanks to the note ban,
he's back!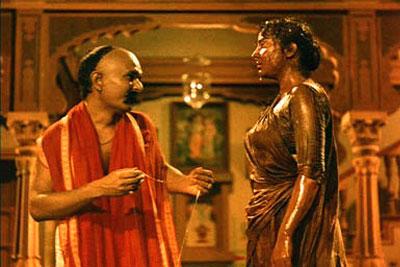 While one of the objectives of demonetisation was supposed to create a transparent economy by obliterating black money, it has created a parallel one led by informal money lenders, say bankers.
This lack of effort and no wages has driven many workers to the brink of desperation.
Devki Sangha and Kavita Shivragi, beedi workers in Solapur, say they were left with no option but to borrow money at exorbitant interest rates from local moneylenders. Most are aware of the consequences of dealing with moneylenders in the event they cannot pay. "They will snatch whatever little we have," Sangha says.
Beedi workers have so far organised two morchas to highlight their plight. Former legislator and union leader Narasayya Adam, who led the morchas, says the government needs to quickly intervene in the matter.
"Beedi workers should be paid in cash every week on the lines of tea-estate workers in Assam. The Reserve Bank of India had issued a special notification making available cash for tea-estate owners. Similar action is needed here," says Adam.
But has the state government here taken note of this?
Adam hints that the needle hasn't moved yet despite representations to both the Centre and state. "The situation is getting worse," he says. "If the government and beedi employers don't act fast, there could be social unrest soon," Adam warns.