The 100MB app casts the cricketer in a digital avatar that can be used in a variety of ways.
He joins a growing list of celebrities, including Salman Khan, Amitabh Bachchan, and Priyanka Chopra, who are leveraging their large and loyal fan base in the real world to build virtual empires.
Urvi Malvania reports.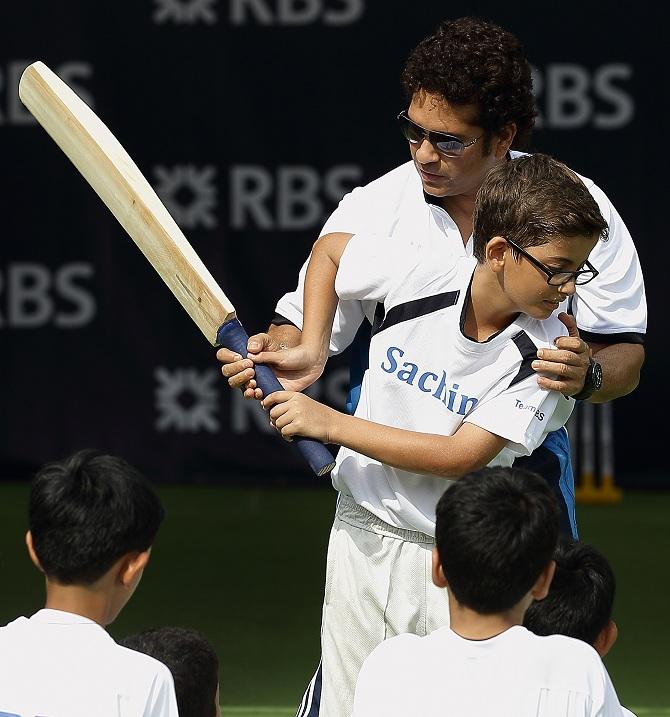 IMAGE:

Sachin Tendulkar conducts a masterclass with young cricketers at the Singapore Cricket Club

. The 100MB app has a game with Tendulkar's digital avatar and also lets players warm up for the game, where they clock up points/rewards to be used in the main game.
Photograph:

Suhaimi Abdullah/Getty Images

.
Sachin Tendulkar has for long dominated the real and chaotic world of cricket, but last month he launched a project that ensconces him firmly in the virtual realm too.
100MB, the mobile app launched by Tendulkar as part of a joint venture between SRT Talent Management and JetSynthesys is more than an online fan club; it casts the cricketer in a host of roles -- as coach, singer and even a digital avatar that can be used in a variety of ways.
Tendulkar is not alone. A small band of stars is leveraging the large and loyal fan following in the real world to build a virtual empire.
And helping them do that are companies such as JetSynthesys that has acquired exclusive digital rights to Amitabh Bachchan, Salman Khan and Priyanka Chopra, apart from Tendulkar.
The company will manage the digital lives of these celebrities, track and protect their foray into games, apps and other products and make sure that these are in line with their real-life personalities, says Rajan Navani, founder of JetSynthesys.
For Tendulkar, for instance, apart from the app, Navani's team has also created a game with his digital avatar. The 100MB app also lets players warm up for the game, where they clock up points/rewards to be used in the main game.
"Having an integrated system gives us more room to experiment with digital products," says Navani.
He believes that celebrities will have to look to their digital laurels as brands and customers increasingly conduct their business online.
With Salman Khan, the company is developing a range of games with different avatars of the actor, based on the popular characters he has portrayed on screen.
"Unlike a game pegged at the release of a film, a personality centred game has a longer life span and can evolve with the celebrity," says Navani.
With Bachchan, the company has launched a video blogging mobile app called Wakau.
Navani realised early on that digital media can be approached differently when it comes to managing celebrity relationships. Owning long-term rights to a personality is possible and profitable, he says.
"So, we have been at it for a while now. It's just that we have now got things in place and the infrastructure we have created can be used to utilise these rights."
The company is currently focusing on cricket, Bollywood, fashion fintech, analytics, e-commerce and gaming.
The company is structured around three core functions: content, technology and innovation and distribution and monetisation and intends to create a business model based on these three functions.
Navani describes his venture with Tendulkar as being one that uses the technology and innovation platform.
"It creates and disseminates content around the persona, could be real time content created by Sachin himself, innovative content like the song he sang with Sonu (Nigam), or it could be anecdotes from his playing days, narrated by him or others who travelled and played with him. Eventually, as the platform grows, we'll also look at monetising it through branded content and e-commerce. But it's too early to talk about that," explains Navani.
Creating digital products around real life celebrities is not new.
Team India captain Virat Kohli was one of the first in India to explore this route of image building and fan engagement. A couple of years back, the cricketer launched his digital avatar, which was later used by brands and his own team.
Kohli's digital avatar, an animated character, was leased out to a cereal brand for limited edition packaging and Nazara Technologies also developed and launched a game with it.
Undoubtedly, this opens up huge possibilities for brands and endorsers. But it does raise as many questions about the rules that will govern such relationships.
For instance, if advertisements use the digital avatar of a celebrity, will they be governed by the same laws as in the real world?
And what happens when fans transfer their real life ire over a star to the screen?
While these issues are acknowledged by those involved in developing the new virtual reality, they say that it is too early to be looking for answers.
Traditionally, the celebrity-brand relationship that has worked best is a direct one where a star endorses a product or service.
Brand extensions into categories such as hospitality (restaurants by Tendulkar, Zaheer Khan and Sourav Ganguly), to strategic investments (Salman Khan, Amitabh Bachchan, Sachin Tendulkar) to apparel and sports accessories (Virat Kohli, MS Dhoni and Hrithik Roshan) have had mixed impact. Customers have not always taken to these extensions wildly, nor has it been without reservation.
Internationally, the closest example of what could be attempted by Indian celebrities is what JK Rowling has done with the Harry Potter franchise through the Pottermore portal. Through this platform, Rowling releases new content related to the development of the story and updates fans about her work on the extended franchise.
Navani says that something like this could be tried, but it will take time.
However, he does have it in his sights as the scope of the digital rights that JetSynthesys holds includes development of payment platforms, e-commerce, loyalty programmes and branded content.
The company says it will ensure that all digital properties are managed in a manner that best suits the endorser and the brand.
But clearly the frontiers between real and the virtual are fast dissolving.