Still, the earliest India will get to experience Apple online will be early 2020 and the company's first fully-owned signature store should be up around 2022 -- almost two decades after it had opened its first store worldwide, writes Nivedita Mookerji.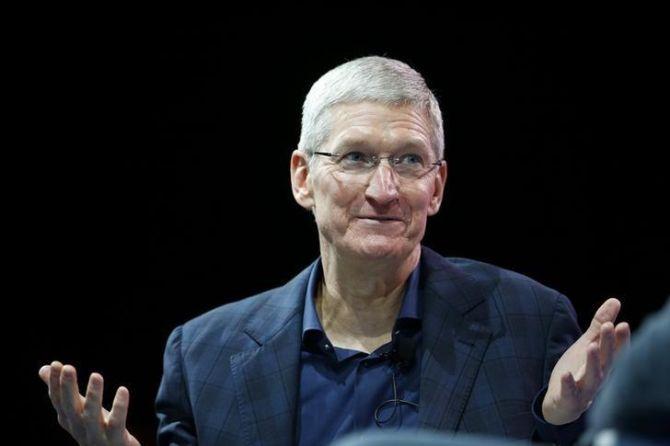 Apple was possibly in preparation mode for its Indian retail journey when the Union Cabinet recently passed two critical decisions that could remove long-standing policy hurdles for the Cupertino-based tech giant.
The Cabinet decision to ease sourcing norms will benefit not just Apple, but other foreign single brand retailers, too, such as Swedish furnishing major Ikea, which is already in India.
As for Apple, the earliest India will get to experience Apple online will be early 2020 and the company's first fully-owned signature store should be up around 2022 -- almost two decades after it had opened its first store worldwide.
In many ways, Apple and Ikea's India stories are similar, especially in terms of their patience for a policy that suits their business and their engagement with the government cutting across regimes to make things work.
For years, Apple Chief Executive Tim Cook's statements have been consistent on India, but he stopped short of a commitment on retail until policy was favourable. If in one quarter he would say the company's very bullish on India and its people, in another he would mention India as an important market for Apple.
When he visited India for the first time in 2016 with a packed itinerary -- meeting Prime Minister Narendra Modi to visiting Bollywood studios and taking a surprise break in Kanpur to watch an IPL cricket match -- he expressed similar sentiments, but without committing anything on setting up fully-owned Apple stores in the country.
Things changed during the May earnings call. Cook described India as "a very important market in the long term" and a challenging one in the short-term, adding "we plan on going in there (India) with sort of all of our might". He was talking about placing retail stores in India, with some confidence.
Less than two months later during the Union Budget in July, Finance Minister Nirmala Sitharaman announced that the sourcing norms for foreign single brand retail would be relaxed -- but without elaborating precisely how.
Subsequently, the Cabinet allowed single brand companies to factor in their local buy for export markets to meet the mandatory 30 per cent local sourcing condition.
There was another Cabinet approval that will make Apple's retail foray a reality, some 18 years after its first store was set up at Tyson's Corner, Virginia (US). The second approval was for 100 per cent foreign direct investment (FDI) under the automatic route in contract manufacturing.
A government statement clarified that manufacturing activities may be conducted either by the investee entity or through contract manufacturing in India under a legally tenable contract, whether on a principal-to-principal or principal-to-agent basis.
Since Apple products -- iPhone, iPad, Macintosh, iPod, and others -- are made by contract manufacturers such as Foxconn and Wistron, the company believes the two Cabinet approvals together have removed all the policy hurdles on its road to India, sources in the know said. The assembling of Apple products has already started in India, though yet to gain scale.
If in May Cook had signalled an all-out foray into India, last week, a day after the Cabinet decision, Apple gave its first confirmation on its India retail foray.
"We love our customers in India and we're eager to serve them online and in-store with the same experience and care that Apple customers around the world enjoy," the company said. "We appreciate the support and hard work by Prime Minister Modi and his team to make this possible and we look forward to one day welcoming customers to India's first Apple retail store," it said.
It added, however, that "it will take us some time to get our plans underway and we'll have more to announce at a future date."
High brand interest
While there's no word yet on how much Apple will invest in India or how many stores it could set up, there's much excitement around its possible entry.
Head of Industry Intelligence Group at Cybermedia Research, Prabhu Ram, says, "As a brand, Apple continues to be the most aspirational smartphone brand of choice for Indians. From a market positioning point of view, Apple's retail stores would enable it to attract and communicate to its target audience effectively.''
For Apple, India is equally and perhaps more important.
As Ram points out, "In the wake of the economic slowdown in China, as well as the outgoing trade war between China and the US, India posits an exciting opportunity for Apple to rewrite and improve upon its market performance, get a better foothold and gain a larger market share in the fastest growing smartphone market in the world."
Even as the global retail team at Apple is putting together the online and store plans for the country, the American tech company (counted along with Amazon, Google and Facebook as top global brands) has a presence in India through its Map Development Centre in Hyderabad and App Accelerator in Bengaluru, besides the manufacturing facilities set up by third parties.
In fact, the Map Development Centre, which develops maps for Apple products, employs close to 5,000 including contract staff. The App Accelerator offers a window into the latest advances in Apple platforms directly from the company experts in Bengaluru, enabling others to create their own innovative apps.
"With the opening of this new facility in Bengaluru, we're giving developers access to tools which will help them create innovative apps for customers around the world," Cook had said in 2016.
Sourcing still tricky
The Map Development Centre and the App Accelerator are expected to add to the Apple universe once the stores open and manufacturing picks up.
Reacting to the easing of sourcing norms, Navkendar Singh, associate research director, International Data Corp (IDC), had said, "This is being done to position India as a favourable destination (for foreign brands), that they can make here, sell here and export as well".
In the midst of so much optimism, the domestic sourcing math continues to be a complex exercise and it's still tough to ensure compliance, prompting an official to quip recently that it's a "stone age" condition.
Single brand retail policy has been tweaked and changed many times in the last seven years, trying to serve the make-in-India cause while wanting to attract FDI. Even case-to-case approval for niche companies like Apple was proposed a couple of years ago as policy makers were told there's nothing much it can source from India.
While that proposal was dropped, the sourcing reality hasn't changed much. The global contract manufacturers and component makers of Apple are importing most of the stuff for the assembly of products in the Indian facilities.
But armed with the latest Cabinet decisions, Apple is on its way to expand its 5,000-plus India team and offices while working on getting real estate for the first store likely in Mumbai, to be followed in Delhi.
That's after more than 500 such destination stores, most notably at Fifth Avenue in New York, Union Square in San Francisco and Regent Square in London, have come up across 25 countries already.