Facebook Inc has said its CEO Mark Zuckerberg and non-employee directors will not sell stock in the company for at least next 12 months, giving some reprieve to the stock's downward spiral.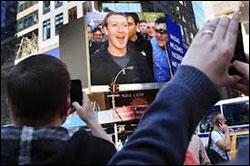 According to a filing with the Securities and Exchange Commission (SEC), Facebook said it does not "intend to waive the market stand-off provisions for our founder, CEO and chairman, Mark Zuckerberg, or for any of our non-employee directors".
A market stand-off agreement prevents insiders of a company from selling their shares in the market for a specified number of days subsequent to an initial public offering (IPO).
Shares of Facebook gained nearly 2 per cent in after hours trading on Tuesday to $18.05.
With the expiry of lock-up period, investors have been concerned that insiders would sell their stocks leading to too much supply of a company's stock too quickly, giving rise to fears of further fall in the stock price.
In the last few days, post lock-up period, Peter Thiel, a board member and Facebook's earliest big investor, has shed most of his holdings in the social networking major.
Moreover, Facebook co-founder Dustin Moskovitz is also on a share selling spree.
The regulatory filing further said that two of Facebook directors Marc Andreessen and Donald Graham are planning to sell shares to cover the company's tax bill.
"Other than such tax-related sales, Andreessen and Graham have no present intention to sell any shares of our common stock held by them personally," the filing said adding that "Zuckerberg has no intention to conduct any sale transactions in our securities for at least 12 months".
Zuckerberg currently holds around 444 million shares of Class B common stock as well as 60 million shares of Class B common stock issuable upon the exercise of an option.
Shares of the social networking major Facebook, are currently hovering at $18, far lower than its debut price of $38 at the much hyped IPO.
The shares of the social networking firm have been under pressure ever since the company got listed in May this year.
Meanwhile, Facebook says about 234 million shares held by employees will be eligible for sale in the public market as of market open on October 29, 2012.
Besides, about 1 billion of Facebook shares, which are held by employees and early investors, will be eligible for sale in the public market by this year end, the filing added.