Etihad wants to control a domestic carrier that can give it access to over 45 cities in India from where it can bring traffic to its hub in Abu Dhabi and beyond.
Surajeet Das Gupta reports.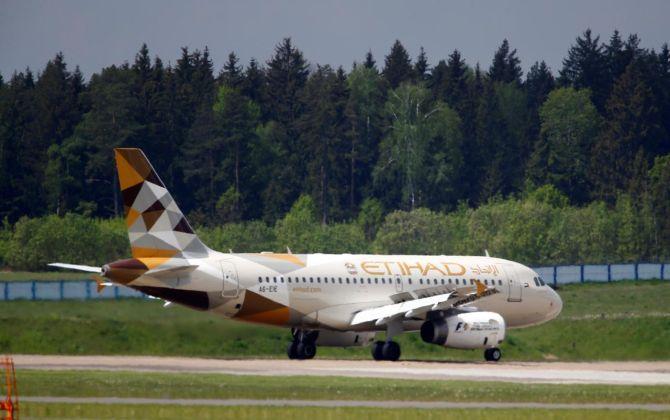 Will Etihad Airways be second time lucky if it wins the bid for acquiring Jet Airways?
On the positive side for Etihad, Jet promoter Naresh Goyal with whom it had a tumultuous relationship, will not be in the driver's seat as he has been ousted from the board and might end up with only a small stake in Jet.
In 2013, Etihad bailed Goyal out when he sank into a financial mess by taking a 24% stake in Jet for $397 million.
Then, Goyal was not only not ready to play ball with Etihad, he charted out an independent course for the airline that came into direct conflict with Etihad.
This time round, Etihad will call the shots, as it has wanted to from the start.
Second, all the reasons why Etihad wanted to invest in Jet earlier remain intact.
India is, of course, a key market in Etihad's ambition globally where it is fighting a bitter battle with big brother Emirates which dominates the India-West Asia market.
To Etihad's annoyance, Dubai is still the largest hub in this region for Indians flying to the US.
Etihad wants a larger piece of this market in India and this could happen if it controlled a domestic carrier that can give it access to over 45 cities in India from where it can seamlessly bring traffic to its hub in Abu Dhabi and beyond.
This ambition could not materialise when Goyal was at the helm as he harboured his own ideas and refused to tag along with Etihad's game plan.
While the relationship worked for a while, the simmering tensions came to a head in 2017 when Goyal signed an alliance with KLM-Air France and Delta.
WThis created an alternative hub for Indian passengers who wanted to go to Europe or the US through Amsterdam and Paris rather than Abu Dhabi, or even Düsseldorf which was a hub for Air Berlin which was then controlled by Etihad.
As a result, Etihad's insignificant market share of 2.2% in 2013-2014 (compared to Emirates's 11%) went up to 5% in the June 2017 quarter before falling back once again to 3.2% in the December quarter of 2018.
This left Emirates far ahead with over 10%.
If Etihad can win this time round, it might stand a better chance of challenging Emirates.
For example, if it is able to bring Jet's operations back on track (to the levels of even the December quarter 2018), it could capture 15% of the international passenger market, overtaking Emirates and even posing a challenge to Air India's 16.9% share (including Air India Express).
Now that would be a prize worth having.
But while many things that appealed to Etihad in the first place about Jet remain in place, there has been one big change in its own plans and that is the fact that, in the past couple of years, its aggressive global ambition of expanding its network through acquisitions and alliances has faltered.
As a result, it has been forced to shut down unprofitable routes, trim its fleet orders and close down Air Berlin owing to a $1.28 billion loss last year.
Etihad is no longer as cash rich as it used to be.
Meanwhile, arch rival Emirates has pulled ahead even further in the West Asia airlines sweepstakes.
The question isn't so much whether Etihad can take control of Jet but whether, even if it does, it has the will and the resources to fight for a dominant position.