As the Tata group inches closer to taking over Air India in January 2022, the $242-billion conglomerate will also inherit a stake in Kerala's Cochin airport.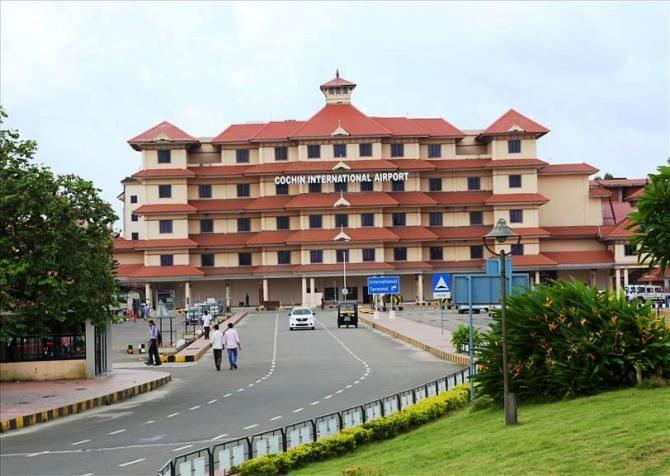 The Tatas would become the only airline to have an operational stake in a major Indian airport.
The airport is a strategic hub connecting India to Middle East nations – home to the largest share of Indian migrant workers.
In addition to Air India and Air India Express, private carrier Indigo also uses Cochin to ferry the lucrative 'Malayali Gulf traffic' to multiple locations like Jeddah, Riyadh, Sharjah, Dubai, Abu Dhabi, Doha, Kuwait and Bahrain, among others.
According to regulatory filings, Air India has a three per cent stake in Cochin International Airport.
This stake hasn't been transferred to Air India Asset Holdings Limited (AIAHL) as part of the pre-sale restructuring plan under which select assets and debts of the national airline were hived off to the books of AIAHL.
According to the disinvestment documents issued by the government, the Cochin airport stake would stay with the buyer.
However, the Tatas would not get Air India's stake in some other ventures like Hotel Corporation of India, Air India Engineering Services, Airline Allied Services and Air India Transport Services.
While Air India had invested Rs 45 crore in Cochin airport, its investment in the above mentioned venture subsidiaries are pegged at Rs 818 crore.
Air India's spokesman declined to comment on "non-operational issues" like the Cochin stake.
A comment is awaited from Cochin airport and will be published when received.
The transfer of Cochin airport's stake to the Tatas through Air India would leave only State Bank of India (SBI), Bharat Petroleum and Housing and Urban Development Corporation (HUDCO) as the central public sector unit (PSU) shareholders collectively holding around 10 per cent.
One of Kerala's largest private spice traders, a state-based bank and the matriarch of a Abu Dhabi-based multi-billionaire family are amongst the private non-promoter shareholders.
Tata's stake in Cochin airport would also have no precedent in India.
While there have been talks over limiting the number of airports operated by a single corporate group (after Adani's winning bid for six airports and subsequent acquisition of Mumbai), there is no consensus on whether to prohibit airlines from owning even a minor stake in an airport.
Globally, there are no reservations about airlines picking up stakes in airports.
According to Centre for Aviation, over 50 airlines across the world have varying stakes in airports with some even completely owning them.
Would Tata retain and increase its stake in Cochin?
Tata's spokeswoman said the group was waiting till a "complete takeover of Air India" before clarifying on future plans.
But a look at Cochin's operational dynamics shows that it may be a small but extremely lucrative asset to hold onto for the Tatas.
Cochin is an important airport owing to its strategic importance to the Middle East – the largest international traffic source for India's airlines.
It is the third biggest airport in India in terms international passenger traffic after Delhi and Mumbai.
In pre-pandemic years it handled almost five million international passengers a year, higher than bigger airports like Hyderabad and Bengaluru.
Almost 15 per cent of Indian passengers to Gulf nations fly to and from Cochin airport.
Much of this traffic is cornered by Air India Express.
Unlike most state government or for that matter Airport Authority of India (AAI) owned airports, Cochin is hugely profitable.
Though it suffered losses in 2020-21 owing to the pandemic, it recorded profits of Rs 215 crore in 2019-20 – up 31 per cent over the last year.
It has been profitable every year over the last decade with its bottom line consistently growing annually.
Its revenues and profits have grown three times during this period. Most of its five subsidiaries are profitable as well.
Its shareholding is more democratic as opposed to other state airports like recently inaugurated Noida where Uttar Pradesh government bodies and Zurich airport are the main shareholders.
The Kerala government owns a third of Cochin while non-resident Indians (NRIs) hailing from Kerala own another third of the airport. Individual shareholders from the state own 10 per cent.
The state's chief minister is the airport's top executive while the finance minister is invariably on the board of directors keeping a close eye on the airport's functioning.
With BPCL being privatised in the coming few months, its stake in Cochin airport too would be up for grabs if the Modi government decides to divest it before putting the petrochemical giant under the hammer.
In addition to Cochin airport, the Tatas would also be getting smaller stakes in French telecom operator Orange SA, Air Mauritius and a golf club in Paris.
Photograph: Kind courtesy, cochinairport.com