'Approach people with respect, mindful that they know their job better than you do, and that you're not superior to them just because you may be better educated or their boss.'
Skoda Auto VW India MD Gurpratap S Boparai cites his management credo to Pavan Lall.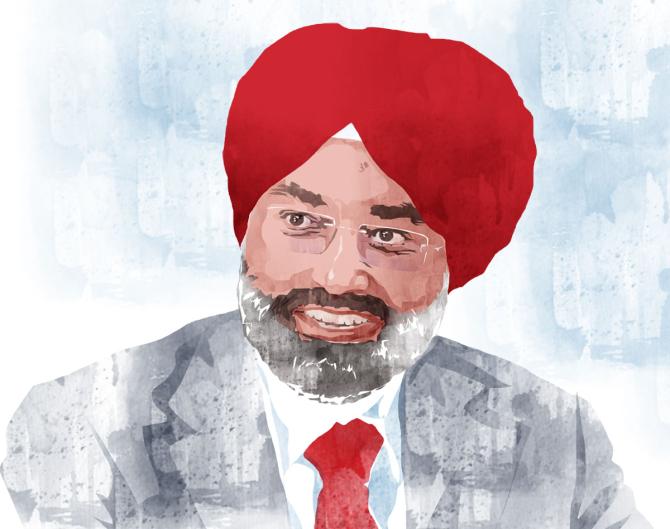 I'm pushing the soft-spoken auto veteran to pick favourites.
"Now, that's not a fair question," grins Gurpratap S Boparai, the managing director of Skoda Auto Volkswagen India, the firm that drives the global auto giant's portfolio of cars in the subcontinent.
"If you're truly a car lover, then you can't just love one car," he says with a slow drawl. I agree, and accept the non-answer.
I'm meeting Boparai for lunch at his office in Andheri.
We have ordered in from Trident in Bandra Kurla Complex rather than go out since he's mostly shuttling between Mumbai and Pune, and this saves us both a lot of time.
Boparai, 52, has led the charge for Volkswagen Group's five passenger vehicle brands -- Volkswagen, Skoda, Audi, Porsche and Lamborghini -- and played a key role in steering the merger of the group's three entities in India: VWIPL in Pune (production), SAIPL in Aurangabad (production) and VWGSIPL in Mumbai (sales & marketing).
He also drove the implementation of the group's India-specific modular MQB A0 IN platform (its global architecture for volume segments in the country) under the India 2.0 project that kicked off in 2018.
The group committed Euro 1 billion (approximately Rs 8,000 crore/Rs 8 billion) to this project, which accounted for the launch of the Skoda Kushaq and the Volkswagen Taigun this year, with two new mid-sized sedans scheduled for launch early next year.
The project continues to create additional employment opportunities, both directly and indirectly, due to the projected increase in volume as also increased level of product localisation.
In 2021 alone, the group has launched 18 new models and on a year-to-date basis (January to October 2021), the company has registered a growth of 85 per cent in retail sales across brands.
It's clearly been a busy year for Boparai, who was born in New Delhi and grew up in Punjab, Chandigarh and the erstwhile USSR.
USSR because his father, Swarn Singh Boparai, an IAS officer, was sent to Moscow on special deputation as a commercial counsel. He was there for five years at the height of Communism in the days of Leonid Brezhnev.
This was pre-perestroika and pre-glasnost. It was here that Boparai Junior, who went to Special School No 77 (the schools had no name) from Class 3 to 7, learnt to speak Russian fluently.
"The Indo-Russian alliance was strong then," he says, "and trade between the two was going gangbusters. Some key deals were signed during my father's term."
After the family moved back to India, Boparai, who is the second of three children, finished school at St John's and later got a degree in mechanical engineering from Punjab Engineering College, Chandigarh.
Then, he headed to the Xavier School of Management (XLRI) in Jamshedpur for an MBA.
I can't help but ask where the motivation came from, given that he was probably used to the easy life with a high-ranking diplomat for a father. Boparai dismisses that notion.
"Honest IAS officers were never well-off back in the day, and my dad (a Padma Shri and Kirti Chakra awardee) was scrupulously honest," he says.
"This also meant he was transferred very frequently -- well over 20 times in his career, so we knew the value of hard work."
Our avocado salad and chicken soup arrives, and conversation pauses briefly.
Boparai joined Tata Motors for a couple of years and then moved laterally into Tata Cummins, where he learnt pretty much everything he needed to know about the engineering and auto world.
"There were no time cards and so one comprehended a culture of responsibility and ownership," he says.
"We did it all, the typing, the purchase orders and even putting slings on 20-tonne crates. And then exhausted and sweaty, we'd rush off to XLRI for our courses."
Lunch is a small thin-crust margherita pizza for me and grilled salmon and sauteed peppers for Boparai.
After graduating, the young engineer headed off to work for Iveco, the Turin-based Italian transport vehicle manufacturing company, and was the only non-European in the management cadre there.
Here, he added Italian to the list of languages he comprehends.
At his farewell, there were almost 600 people gathered and the biggest compliment for him was when a senior director whom he respected immensely told him that if he had as many people at his farewell, he would feel very fortunate.
Is there a management secret for success in the auto world?
"Approach people with respect, mindful that they know their job better than you do, and that you're not superior to them just because you may be better educated or their boss," he replies.
"The second is that it's okay to be tough about the task but always be fair."
Boparai is known as someone who seldom loses his cool, even in high-pressure situations on the shop floor.
A manager once pointed this out to him, to which he asked: 'Has production increased?' The answer was 'yes'.
People, he says, aren't motivated by a tyrant sitting on their heads.
How does his fish taste? It needs a little butter, he says. As I look at the little jar of butter on the table, he smiles, "The fish does, I don't."
After Iveco, Boparai returned to India to work for Fiat as CEO in the Ranjangaon factory near Pune, Maharashtra.
He was there right up to the launch of the Jeep Compass after the Fiat Chrysler alliance kicked in.
And in 2018, he moved to the VW Group to head its Indian operations, which consequently changed its name to the present entity.
Has Boparai, whose other passion is riding motorcycles and corner-carving up the asphalt with his Triumph in his free time, achieved what he was mandated to do? He says he's achieved around 75 per cent of it but gets hesitant when I ask him what the remaining 25 per cent entails. "I'm not going to tell you that now," says the man, skirting the subject.
In Mumbai, Boparai has been part of a critical project called Vision Zero in partnership with SaveLIFE Foundation, a Delhi-based NGO focused on road safety, and the Maharashtra State Road Development Corporation.
It involves re-engineering blind spots on highways and roads to prevent accidents. Its implementation on Mumbai-Pune roads has brought down road accident deaths by 54 per cent in the last couple of years. The project is now looking to cover the Ring Road area of New Delhi.
We are almost done with lunch, and I ask if he is disappointed with India's car market growth?
"This year, we will close at 2.9 million cars. You know, in 2018, we sold 3.2 million cars and we're supposed to have already crossed 5 million, according to 2010 projections. By 2030, we are supposed to have a 10-million car market." The statistics speak for themselves, and we fall momentarily quiet.
Moving on, I ask him what he'd like to do in the near term? "A two-month holiday on my bike," he replies with a smile, knowing well that's not happening given his schedule. We end on that.
As he rises to say goodbye, he gives me a warm, firm handshake -- a rarity in today's impersonal and digital era.
Feature Presentation: Rajesh Alva/Rediff.com