To lure high-end consumers, real estate developers are offering uber-luxury apartments with world-class specifications.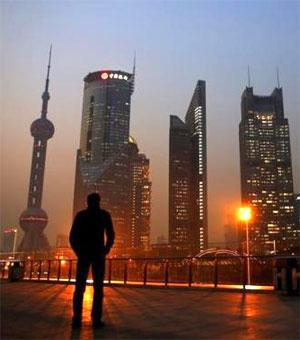 Photograph: Carlos Barria/Reuters

After a hiatus of over 3 years, real estate developers have started constructing ultra-luxury homes in Mumbai and Delhi, the two prime real estate markets in India.
In the past two months, quite a few apartments priced anything between Rs 6 crore (Rs 60 million) to Rs 20 crore (Rs 200 million) have been announced by the Lodha Group, Runwal Group and Omkar Realtors in Mumbai.
In Delhi too, India Bulls, Arvind Realty and Godrej Properties among others have launched palatial homes for the ultra-rich starting from Rs 4 crore (Rs 40 million).
With these high-end constructions on an upswing, can one assume that India is becoming home to more millionaires?
Well, this could be partly true because the latest World Wealth Report 2014, released by Capgemini and RBC Wealth Management, reveal India is home to 156,000 high net worth individuals.
The number of billionaires in India are also estimated to grow at 100 per cent by 2023, superceding China's 80 per cent, according to real estate consultancy firm Knight Frank's Global Wealth Report 2014.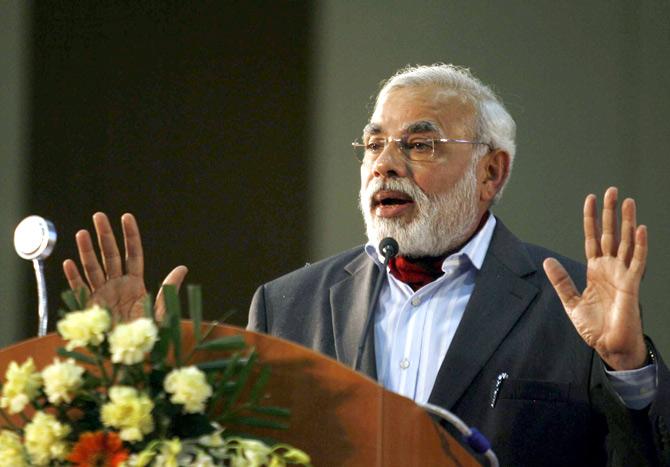 Image: Narendra Modi speaks at the Vibrant Gujarat Global Investors Summit 2011 in Gandhinagar. Photograph: Amit Dave/Reuters
However, two more theories are doing the rounds behind the sudden spurt in construction of super luxury apartments
Modi Magic
After Narendra Modi came to power in May this year, global sentiments started looking up for the Indian economy as foreign investors were waiting for political stability before investing in India.
Now, with a stable and progressive government at the helm, Foreign Institutional Investors (FIIs) have invested in Indian realty sector to get attractive returns.
They seem to be confident about the ruling government's crystal clear growth goals and its determination to achieve targets, says Om Ahuja, CEO, residential services, Jones Lang Laselle.
NRIs keen to indulge in the super-luxury space
The fall in rupee has given non-resident Indians the opportunity to invest in luxury homes in India.
Buying a house now, can save at least 20 per cent on the value of the property.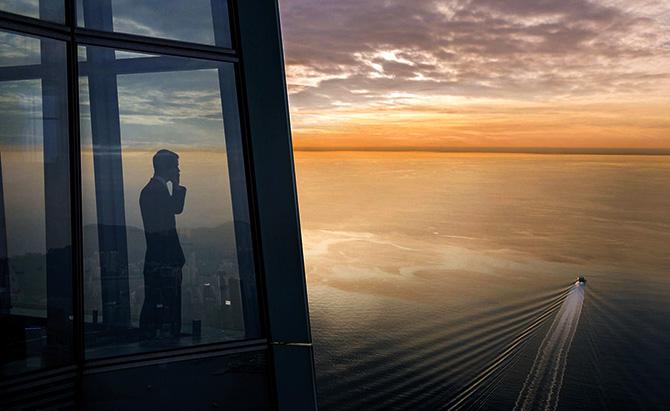 Image: A sample luxury apartment of the upcoming Trump Towers in Worli which overlooks the sea. Photograph: Courtesy, Lodha Group
Among the recent slew of launches, TrumpTowers in central Mumbai by the Lodha Group in partnership with America's real estate magnate Donald Trump is one of the most prominent ones.
Luxury apartments are priced between Rs 9-18 crore (Rs 90-180 million) along with a 24-hour resident manager and high tech security. One interesting aspect of owning a flat here is you get a fractional membership to private jet service depnding on the size and price of your Trump property.
R Karthik, chief marketing officer at Lodha Group told Rediff.com, "We have already sold 150 units since the launch of Trump Towers in August, of which 20 per cent is purchased by NRIs, 10 per cent buyers are from other markets and the remaining inventory is purchased by Mumbai-based high-profile industrialists."
Karthik further said that the Lodha Group had actually planned the launch six months back but delayed it hoping for a better time when optimism among high-end buyers would be high.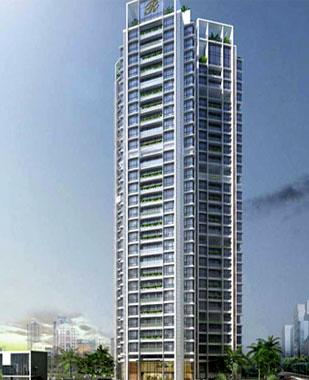 Upcoming super-luxury apartment, 'The Reserve' by the Runwal Group. Photograph: Courtesy, Runwal Group

Subodh Runwal, director, Runwal Group too is happy with the response he has got from the buyers for his 'Reserve Project' in Worli (Mumbai) for which the apartments are priced anything between Rs 7- Rs 15 crore (Rs 70-Rs 150 million). "We will announce more premium projects, soon" he says.
Omkar Realtors too is bullish on sales for its Alta Monte project at Malad (Mumbai suburb) where flats are priced around Rs 1.7 crore (Rs 17 million) to Rs 9 crore (Rs 90 million).
Bharat Dhuppar, chief marketing officer at Omkar says industrialists and entrepreneurs are upbeat on luxury lifestyle with an overall optimism.
However, he agrees that despite the Sensex crossing 27,000 points, the real estate index has moved up hardly to the 2,000 level.
This dismal performance is, however, not due to the luxury segment which is around 5-7 per cent of the total real estate sector, he says.
Pankaj Kapoor, managing director of realty research firm Liases Foras, however, disgarees with builders who are tom-tomming about the number of bookings they have received for such uber-luxury flats.
According to him there would be around 1000 new ultra luxury homes coming up in Mumbai's tony areas including Lower Parel, Worli and Carmichael Road which would be priced not less than Rs 7 crore (Rs 70 million) on the lower end. But he is sceptical about the number of actual sales that will happen.
"Builders had years ago bought land in government auctions but could not go ahead with constructions because of a slack in demand and lack of funds. Since these builders already had land, this is an appropriate time for them to lure customers into buying ultra uber apartments," Kapoor says.
A few builders have even hired architects of global repute to impress potential buyers. "This clearly shows that developers want to lure as many customers they can before the tide turns against them," he adds.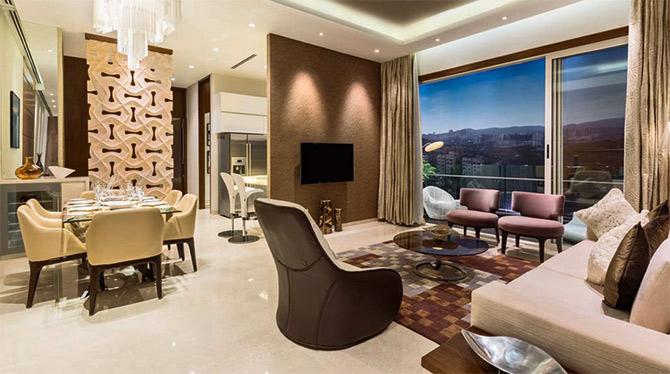 Image: A sample flat from Omkar Realtor's upcoming Alta Monte project in Malad. Photograph: Courtesy, Omkar Realtors
Puja Gupta, India director of real estate social media firm PropTalkies is also sceptical about the sudden 'growth' in luxury home segment as propagated by the builders.
She believes there could be few purchases due to an overall bullishness in the sector.
It is still a wait-and-watch situation, she says. "There could be wealthy investors who wouldn't mind paying 15-20 per cent for booking these luxury homes purely for investment purposes on hopes of a decent appreciation.
I doubt whether they would be actually buying the property on completion of the project," adds Gupta.