RuPay has 42% of total debit cards, but contributes only 16% of PoS, e-commerce transactions. With banks scheduled to renew deals with Visa and Mastercard, Alnoor Peermohamed finds out how RuPay plans to tap premium customers.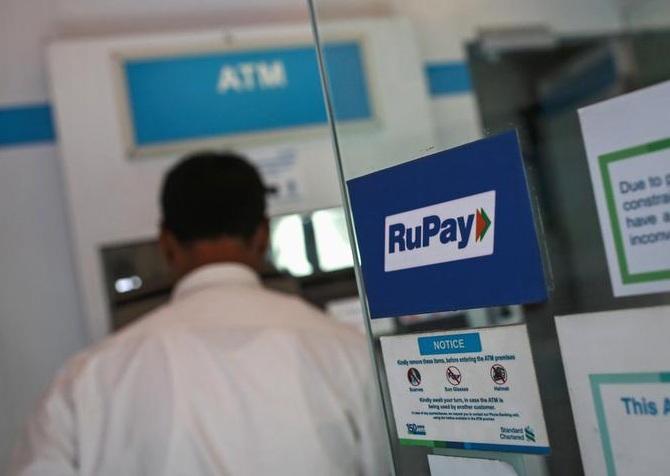 IMAGE: RuPay was launched around five years ago, designed as a local payment mechanism and as an alternative to Visa and Mastercard. Photograph: Danish Siddiqui/Reuters.
The National Payments Corporation of India (NPCI) is looking at increased uptake of its RuPay debit cards among premium customers, as deals signed between banks and its global competitors Visa and Mastercard expire over the next few years.
Though RuPay controls 42 per cent of the Indian debit card market, the share of its cards is only 16 per cent of total Point of Sale (PoS) and e-commerce transactions. This is largely due to the fact that the majority of RuPay cards -- around 220 million-- are held by benefactors of the Jan Dhan Yojana scheme.
"Visa and Mastercard are international companies. They have deep pockets. At the time of the launch of the RuPay debit card, they had signed three to five year deals with banks. Once these deals expire, and banks have an opportunity to change their portfolio, they might consider RuPay," said A P Hota, managing director and chief executive officer (CEO), NPCI.
RuPay was launched around five years ago, designed as a local payment mechanism and as an alternative to Visa and Mastercard.
NPCI has already signed up over 750 banks, including cooperative banks and regional rural banks (RRBs), in the country, far larger than the 50 odd top banks Visa and Mastercard used to cater, prior to the RuPay's entry. Despite this deep penetration, top banks in the country continue to issue Visa and Mastercard debit cards instead of RuPay cards.
Hota says the deals signed between banks and Mastercard and Visa stops them from issuing RuPay cards despite the NPCI's charges being one-third of what the two global firms charge on every transaction.
Though banks allow customers to choose the card provider they want, they often end up picking either of the global providers' cards due to lack of awareness.
"Visa is a sponsor for the Olympics. Mastercard is the co-sponsor of the Mumbai Indians IPL [Indian Premier League] team. We are just a small startup in comparison, a not-for-profit entity. It will take time for us to really build our muscles," added Hota. "We've been around for just five years; they've been around for five decades."
While the government wants to promote NPCI and RuPay in a big way to save on the foreign exchange that comes from the charges of Mastercard and Visa on every transaction, it understands this will take time.
For its ambitious goal of reaching 25 billion electronic transactions in the current financial year (FY), it has set a mandate for Visa, Mastercard and AMEX to grow their number of transactions from 3.2 billion last year to 8 billion this year. For RuPay, the mandate is far smaller, with the government expecting the domestic card network to do 3 billion transactions in the current FY.
However, the expectation of growth is far higher, over eight times to be precise when comparing the 370 million transactions RuPay did in the previous FY.