Two giant brands get into a slugfest over the goodness of ice creams and frozen desserts, reports Sohini Das.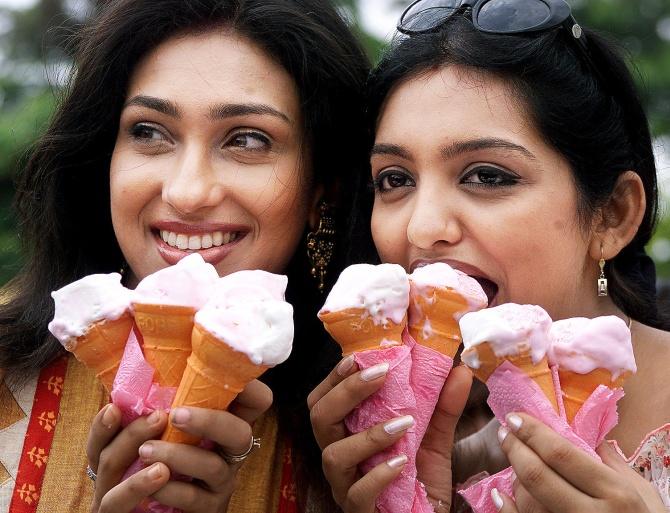 IMAGE: Bengali actress Rituparna Sengupta (left) and actress June Malia ahead of an ice cream eating competition in Kolkata. Photograph: Sucheta Das/Reuters.
Temperatures are soaring this summer in the ice creams versus frozen desserts battle between the country's two behemoths: Dairy major Gujarat Cooperative Milk Marketing Federation that markets the Amul brand of ice creams and FMCG major Hindustan Unilever Limited, which owns the Kwality Walls brand.
The two have sparred earlier too but, this time, the stakes are bigger given that both are fighting not just for a bigger slice of the summer pie, but are also battling customer perceptions about health and nutrition.
HUL has moved Bombay high court against Amul over a recent commercial that urges consumers to use their discretion when buying their favourite dessert.
The ad, which features a little girl visiting a dentist, ends with a voiceover that asks customers to go for real milk-based ice creams from Amul and not vegetable oil-based frozen desserts.
It asks the consumer to check the pack for the word ice cream.
Amul has chosen this narrative, as according to the Food Safety and Standards Authority of India, there is a technical difference between ice creams and frozen desserts.
Ice creams that are made with vegetable oil have to be labelled 'frozen desserts', while only those that are made with milk fat can be legally called 'ice cream'.
Amul has chosen to hype its brand strength in the ad, say experts, who see nothing wrong in that.
According to Ambi Parameswaran, founder of Brand-Building.com, "Amul has always positioned its ice creams as 'real milk real ice creams' and now, in this ad, it is highlighting its strength."
This is not the first time that Amul and HUL have taken each other on; in 2012, Amul had insisted that HUL strike the word ice cream off its ads since they were misleading the consumer about the true nature of the product.
Amul had complained to Advertising Standard Council of India. Consequently, ASCI had asked HUL to replace 'ice cream' with 'frozen dessert'. HUL had given in to the order at the time.
What has got HUL hot under the collar this time?
Sources indicate that the company has objected to the use of the term 'vanaspati tel' in the Hindi advertisement, which makes the product look unappealing.
An HUL spokesperson said, "Amul has been airing a misleading television commercial since March 2017. This advertisement makes factually incorrect statements creating apprehensions among consumers of frozen desserts. It makes incorrect claims about the usage of 'vanaspati/vanaspati tel' in frozen dessert. We wish to clarify that Kwality Walls range of 'frozen desserts' does not contain vanaspati."
The company makes it clear that they use milk/milk solids like ice creams and the only difference is that frozen desserts use vegetable fat instead of dairy fat.
"This actually makes them healthier as they have lower saturated fat and do not have cholesterol," the spokesperson adds.
R S Sodhi, managing director, GCMMF, says that HUL can go ahead and promote the goodness of its products.
He however notes that vegetable oils are much cheaper than milk fat. "Vegetable fat costs around ₹60 per kg, while milk fat is around ₹300 per kg. Even then, prices of HUL's frozen desserts are higher than Amul's by 10-20 per cent."
Given that the fight is over the ₹7,500-odd ice creams plus frozen desserts market in India, which is roughly growing at 10-12 per cent annually, the aggression on display is hardly surprising.
Tempers are even more frayed since both brands have had to face the brunt of challenger brands that have emerged as significant players in regional pockets.
Ahmedabad-based Havmor Ice Creams, which categorises itself as a mass premium ice cream and prices its fare a tad higher than Amul, is the market leader in Gujarat, with close to 40 per cent share in the state, followed by the number two position in Rajasthan.
In the South, Arun Ice Creams is a strong and established player taking on both big brands.
Euromonitor, which tracks data on only the ice cream market, said that, between 2017 and 2021, it is likely to grow at 10.3 per cent.
While Amul is the market leader with a pan India presence in the space, according to Euromonitor, it has a 17 per cent value share in the ice creams plus frozen desserts market.
Clearly there is enough room for growth but, given the proliferation of small brands and the growing customer preference for local labels, it is becoming imperative that brands put up a strong fight for their turfs.
However, at the end of it, Parameswaran says, "These battles cannot be won in courts. Ultimately the brand wins or loses the battle. The consumer would decide the victor."