Whether or not such an overhaul will be carried out depends on the government's comfort level.
Arup Roychoudhury and Dilasha Seth report.
Illustration: Uttam Ghosh/Rediff.com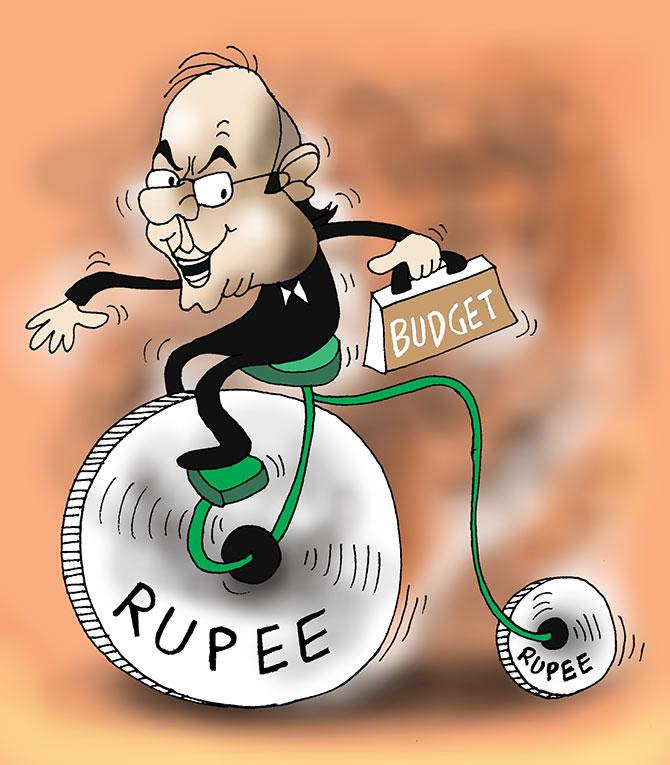 A government-appointed panel, headed by former chief economic adviser Shankar Acharya, has recommended changing the financial year from the current April to March to the calendar year.
But whether or not such an overhaul will be carried out depends on the government's comfort level. No decision has been taken on it yet.
The report was submitted to Union Finance Minister Arun Jaitley earlier this week.
The panel members have studied the government's Budgets and accounting, and feel that a shift is feasible. Members of the panel said they would not be able to comment on the report till the Centre decided to make it public.
"Whether the proposals are accepted or not depends on the government's comfort level with them," said a person aware of the developments.
A senior government official had told Business Standard before the submission of the report that changing the financial year would be a long-drawn process, spanning at least a year-and-a-half.
"If only the government changes its financial year, the Income-Tax Act and Companies Act need to be amended. This is assuming a scenario where India Inc is free to decide whether it wants to follow suit or not," said the official.
"You have to have discussions with multiple stakeholders, including corporate entities and, especially, the states," he added.
Experts have voiced their reservations regarding any such move.
"Once you change the financial year, the tax timelines will also change, which will be an additional burden for companies," said Rahul Garg, leader, direct taxes, PricewaterhouseCoopers.
"In the first year of any such transition," Garg added, "typically, things do not remain comparable. People will have to compare 12-month data with nine months, which will be a challenge. The government will need to ensure that when it changes, the financial year is applicable for everyone."