'If the RBI liability is extinguished and they no longer remain legal tender, then those Rs 500 and Rs 1,000 notes are worthless paper.'
'Then why should it be a criminal offence to keep that paper?'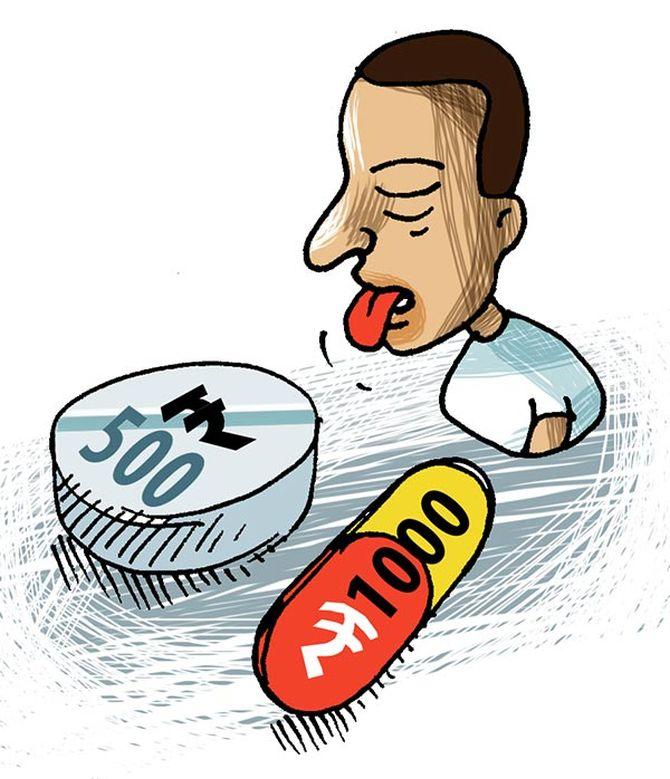 Financial planning expert Harsh Roongta tells Rediff.com's Prasanna D Zore what is wrong with the government's ordinance that criminalises holding of Rs 500 and Rs 1,000 notes after March 31, 2017.
Illustration: Dominic Xavier/Rediff.com
Frankly, I have not studied the ordinance as it is, in detail, but the sense that I get from newspaper reports is this.
Let us assume that the ordinance says that post-March 31, 2017, the old Rs 500 and Rs 1,000 notes are no longer legal tender and even the liability of the Reserve Bank of India is extinguished.
If the liability is extinguished and they no longer remain legal tender, then those Rs 500 and Rs 1,000 notes are worthless paper.
Then why should it be a criminal offence to keep that paper?
Just think of people who may still have such notes even post March 31, 2017 and I know of many live cases.
A friend of mine had gone to the US to stay with his daughter sometime in October, a month ahead of the scrapping of these notes. He has money lying in his cupboard; not too much but could be a lakh or two.
All of it accountable.
He is a retired person and his accounts are absolutely transparent.
He had also taken some money (the old notes) with him for paying the duty at the airport on his return to India.
Now he is planning to come back to India before March 31 anyway. Just suppose if he had no plans of coming back to India before this cut-off date. For no fault of his he would become a criminal.
I don't know, but this sounds pretty draconian.
Turning it as illegal tender is fine because that is the prerogative of the government. But making it illegal to keep and asking people to explain the source...
It is a right that the government already had under the law that if I was to be found with currency, the tax department has the full right to ask where I got the money from.
Even the tax department cannot prosecute me for keeping illegal money. They can only say that I have not paid tax on it and that it is unaccounted money.
I think the anti money-laundering law -- the Prevention of Money laundering Act, 2002 -- is a very effective anti-criminal law in such cases.
Mafia boss Al Capone was prosecuted successfully for tax fraud. The US authorities could not prove a single criminal case against him, but he was prosecuted successfully for tax fraud. That is how powerful the PMLA and tax avoidance laws are.
We, probably, did not need this ordinance when we have powerful laws to act against such cases.
That this ordinance says it is a crime to be found with these old notes after a cut-off date sounds draconian.
Even the Foreign Exchange Management Act (FEMA) allows me to keep some dollars I bring back after a trip abroad without making a common man a criminal. Earlier, the Foreign Exchange Regulation Act (FERA) did make me a criminal for keeping even a quarter cent with me after such a visit.
The bigger question is why should holding of old notes after a cut off date make me a criminal?
All my comments are based on newspaper reports and somebody's interpretation of the ordinance and I would not be very quick to denounce it.