The precautions are being proposed to ensure that other cattle varieties are not exported or transported outside the state as Nagori cattle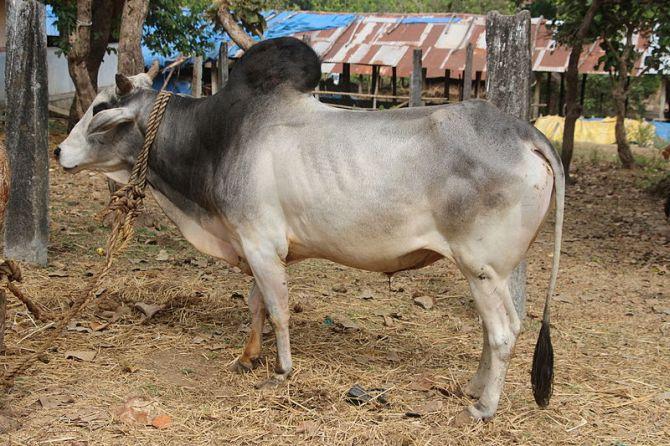 Nagori bull calves are all set to bear the stamp of approval of the Rajasthan government.
The government plans to stamp and register them to ensure that only this specific bovine species is traded intra-state and inter-state.
The state government has permitted the much-in-demand calves for trade to be subsequently used for ploughing.
Nagori is a bovine species whose origins can be traced to the Nagaur district of Rajasthan. The Nagori bull, which is bigger than other species, can fetch up to up to Rs 500,000 for a pair.
The state government also plans to allow transportation of these calves only to those states that have cow slaughter laws in place.
Besides, the buyer will have to produce an undertaking that the animal is being transported for farming purposes.
The precautions are being proposed to ensure that other cattle varieties are not exported or transported outside the state as Nagori cattle.

The state cabinet earlier this month amended the Rajasthan Bovine Animal (Prohibition of Slaughter and Regulation of Temporary Migration or Export) Act to allow farmers and cattle rearers to sell Nagori bull calves over two years of age.
The precautions also assume importance in view of the growing incidents of lynching of cattle transporters in the state by cow vigilante groups.

Officials said in the amendments, which were awaiting presidential assent, proper care had been taken to ensure that a particular variety of cattle was sold or bought only for agriculture purposes and not for slaughter.
In April this year, dairy farmer Pehlu Khan was lynched while transporting cattle to his hometown in Alwar by a mob of alleged cow vigilantes.
Very recently, reports said an alleged cattle smuggler was thrashed by a mob for illegally transporting cattle for slaughter to Haryana.
Officials said relaxing the rules without proper safeguards could invite trouble.
"As cattle fairs and other platforms have died out and people requested the government to allow them to legally sell their animals, we moved the amendments," Rajasthan Chief Minister Vasundhara Raje told Business Standard.
She said the people believed these animals were so expensive that nobody would slaughter them.
"This is a very loving breed and the people of Nagaur are extremely committed to this animal," Raje added.
The Rajasthan Bovine Animal Act defines a bovine animal as a cow, calf, heifer, bull or bullock.
The original law defines a calf as a castrated or uncastrated male of the age of three years and below belonging to the species of bovine animal.
According to the Breed Survey 2013 by the central government, there are over 500,000 heads of Nagori cattle in India, which is less than 1 per cent of the total indigenous cattle population.
According to the 19th Livestock Census, almost 79 per cent of the cattle population in the country is indigenous, while the rest are exotic or cross-bred.
Risk criteria to classify districts
The central government, along with the National Institute of Veterinary Epidemiology, has developed a mobile application that classifies districts on the basis of their degree of risk in animal disease.
The app, which uses various models to predict diseases, classifies them as very high risk, moderate risk, low risk, etc, based on the models. The app will be launched soon.
Photograph: Kind courtesy, Pavanaja/Wikimedia Commons