CRAs are getting more business than they were getting a year ago. This could indicate expectations that investment demand will rise in the mid-term, says Devangshu Datta.
Illustration: Dominic Xavier/Rediff.com.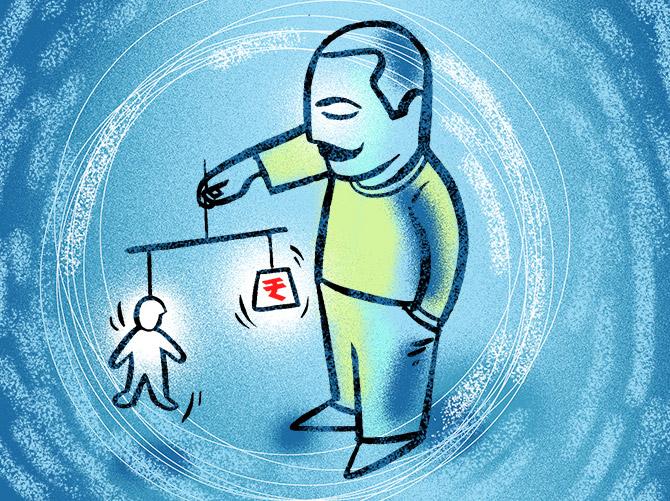 Activity in most industries is positively correlated to economic activity, few businesses (like vulture capitalism) have negative correlation. But, industries are more or less sensitive to the business cycle depending on their business.
Tourism is highly correlated to booms and busts for example. So are advertising, real estate, personal vehicles, etc.
Credit rating agencies (CRA) are also among the more correlated.
When the business cycle is up, more corporates are looking to be rated because there is more demand for capital. Hence, business volume expands for CRAs during boom periods.
CRAs are also worth tracking since the upgrades and downgrades of specific businesses matter and so does the broad picture of total downgrades to upgrades.
In an improving business environment, upgrades will outnumber downgrades. A high upgrade : downgrade ratio will usually coincide with a rising stock market.
The movements in the share prices of listed rating agencies indicates that they're not attracting much attention despite a raging bull market. CRISIL, CARE and ICRA are listed.
CRISIL has bought a stake in CARE and there are strong expectations of takeover. This has contributed to 11 per cent rise in the share price of CARE in the last 12 months.
But, CRISIL has sustained a 13 per cent drop in share prices. The share price of ICRA has risen 3 per cent over the past 12 months.
The Nifty is up 14 per cent in the last 12 months. Using that as a benchmark, the CRA segment has clearly underperformed.
In terms of financials, CRISIL'S April-June 2017 revenues saw 11 per cent expansion year-on-year (y-o-y) at Rs 292 crore over Rs 262 crore in April-June 2016. Sequentially it was lower than January-March 2017 (Rs 300 crore) and October-December 2016 (Rs 334 crore).
ICRA has seen revenues of Rs 51 crore in April-June 2017, which is up 8 per cent y-o-y, but down versus each of the last three quarters.
CARE's revenue of Rs 61.4 crore in April-June 2017, is up 8 per cent y-o-y. There is some seasonal effect, second half revenue seem to be better.
The current picture seems depressing but it may have improved from rock-bottom. Between January and July 2017, some 874 companies have seen rating downgrades. However, this is better than the 2,500 downgrades that occurred in calendar 2016.
There were fewer upgrades than downgrades with the overall Upgrade : Downgrade ratio estimated at around 0.8 for July 2017.
The latest results imply it may have gotten worse since large corporates in sectors like infrastructure, pharma, banking are struggling.
CARE uses a tool it calls the Modified Credit Ratio (MCR) to track upgrades (and reaffirmations) divided by downgrades (and reaffirmations). This MCR indicates that by Q1, 2017-18, the ratio was below 1 at around 0.97.
This is worrying, and more so because the MCR had been above 1 in January-March 2017. However, it is only marginally worse than the April-June 2016 MCR, which was at 0.98.
The credit-worthiness of Indian corporates is still deteriorating though more slowly.
In terms of earnings expectations, Bloomberg indicates that overall India earnings consensus estimates have been downgraded by 8 per cent. After Q1, 62 of the Nifty 100 companies saw earnings downgrades, while 29 Nifty 100 saw earnings upgrades.
The picture is mixed in terms of implications.
The debt situation is clearly still getting worse but it is not going bad as quickly as a year ago.
Earnings growth is deteriorating.
These variables run contrary to the trend of a rising stock market.
However, CRAs are getting more business than they were, a year ago. This could indicate expectations that investment demand will rise in the mid-term.
Photograph: Andrew Burton/Getty Images.