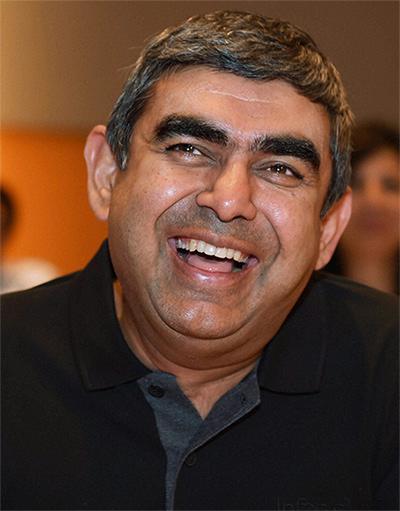 Infosys has slashed its annual revenue growth outlook for the second time this year to 8-9 per cent, underlining the challenges faced by the IT industry especially in verticals like banking and financial services.
Apart from Infosys, players like Tata Consultancy Services and Mindtree have also pointed towards weakness in the financial services sector and project delays and cancellations that could impact the growth of the USD 110 billion IT services sector in the near term.
Infosys, which posted a revenue of Rs 17,310 crore or USD 539 million in the September quarter, expects growth of 8-9 per cent in constant currency.
At the beginning of 2016-17 fiscal, Infosys had projected an annual revenue growth of 11.5-13.5 per cent. It later trimmed the forecast to 10.5-12 per cent in July.
"While we continue to navigate an uncertain external environment, we remain focused on executing our strategy and increasing momentum of our software plus services model. Considering our performance in the first half of the year and the near-term uncertain business outlook, we are revising our revenue guidance," Infosys CEO Vishal Sikka said.
He added that the company is operating in a "dually volatile atmosphere".
"We have mentioned some of the client behaviour related matters such as the RBS decline that we had, similarly some (other) client specific things...those have contributed to our outlook on the remainder of the year and that is what we see and that is what we have shared," he said.
TCS, which announced its second quarter results on Thursday, said it has been facing softness from BFSI clients for some time and expects it to be so in the remaining parts of the current fiscal year, resulting in temporary impact on the sector's IT spending.
On Infosys's 2020 aspiration, Sikka said the company is "sticking" to the plan.
"What is the point of an aspiration if it is not something that we can't aspire to. We are sticking to that -- USD 20 billion (revenue), 30 per cent margins, USD 80,000 revenue per employee... the future cannot simply be an increment of the present and the future is something that we have to set a target that if we are able to execute on our transformation, then what is the number that we aspire for," he said.
Image: Infosys CEO Vishal Sikka.