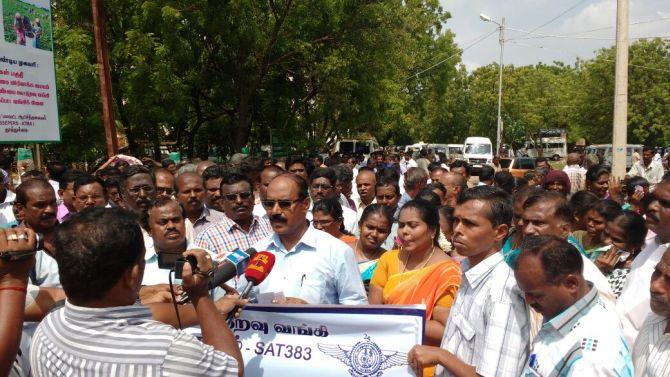 IMAGE: Co-operative bank staffers on strike in Tamil Nadu.
'Some co-operative banks are dominated by politicians and were reportedly being used to launder Rs 500 and Rs 1,000 notes.'
Rediff.com's A Ganesh Nadar reports.
The Modi government's move to demonetise Rs 500 and Rs 1,000 notes has had a strange fallout.
Co-operative banks which are the backbone of the rural economy have been paralysed since Sunday, November 13, after the Centre asked these banks to stop collecting Rs 500 and 1,000 notes that are no longer legal tender.
"This step," alleges Vyapam scam whistleblower Dr Anand Rai, "was taken because some co-operative banks are dominated by politicians and were reportedly being used to launder Rs 500 and Rs 1,000 notes."
"In the process," he points out, "they have forced farmers to stand in queues at nationalised banks."
In his village in Madhya Pradesh, Dr Rai says, "Farmers are upset with the inactivity of their co-operative banks. They don't know where to go for their small needs and financial emergencies."
"They cannot approach big banks as they are busy with currency conversion. The government must allow co-operative banks to function or farmers will begin protesting soon," Dr Rai warns.
Devaraj, secretary, Kurumbur Primary Agricultural Co-operative Bank in southern Tamil Nadu, is angry with the government order.
"On November 10-11, we collected Rs 40 lakh (Rs 4 million) from the public in Rs 500 and Rs 1,000 notes. On November 12, they announced that primary co-operative banks must not accept old notes," he says.
"We are the banks that deal with farmers. They are making farmers go to nationalised banks and stand in long queues by not allowing them to bank with us," he adds.
"We have been their source of funds for decades. We have suddenly become invalid. How dare they do this?" Devaraj asks angrily.
"We have been thrown out of the banking system with one phone call," Devaraj tells Rediff.com "The RBI has not given us any written instructions. The State Bank branch where our money is deposited refuses to give us new notes. What are we supposed to do?"
"We are on strike and will continue our strike till we are allowed to function like every other bank. I am shocked that other states have accepted this move without a whimper," he adds.
"Are we moving from a democracy to a dictatorship?" the banker wants to know.
The Centre has asked the Press Information Bureau to gauge how people are reacting to its directive forbidding co-operative banks from accepting the banned notes.
"We have been asked to get feedback from the ground and are compiling a report," says a PIB official, refusing to share the findings with the media.
---
Post the Note Ban, Jugaad is alive and well.
Rediff.com's A Ganesh Nadar reports.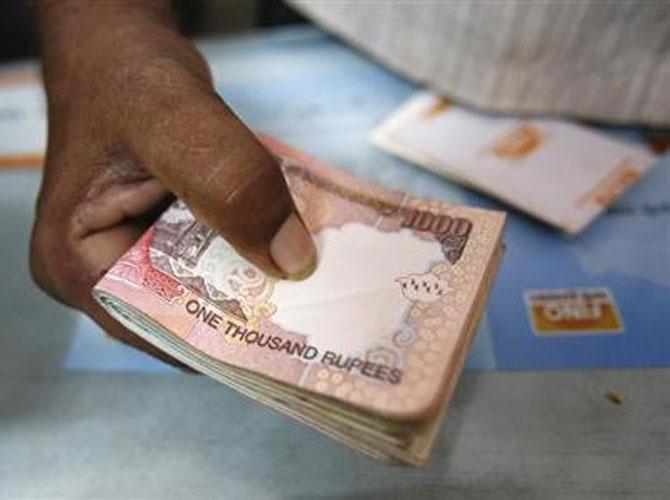 "We are accepting the old notes and will continue to do so as long as the banks accept them," says Ramakrishna who operates a finance company with a monthly turnover of over Rs 1 crore (Rs 10 million).
"I had no problems getting rid of all the old notes," confides Kadhar, a computer hardware mechanic. "I have loans in many banks and they accepted my money readily."
"I will finish depositing the old currency that I have within a few days. There is no hurry, there are many days to go before the deadline," says Kannan who works for a private company. "Petrol pumps are still accepting old notes, so I use most of my old currency notes there."
Cabbie Subramaniam paid off his latest car loan installment with Rs 500 notes. At the bank, he says, he was witness to the famed Indian jugaad.
"Many landlords were there at the Thiruchendur State Bank, accompanied by five or six relatives. They were depositing money in multiple accounts as they had more than the stipulated amount of Rs 2.5 lakh," says Subramaniam.
Outside banks, touts pocket a commission of Rs 100 for every Rs 500 note that they exchange.
Housewife Vijaya had Rs 6,000 in Rs 500 and Rs 1,000 notes. She has exchanged Rs 2,000, but her plan to exchange the rest in the days to come were scuttled by the government's fresh Rs 2,000 limit to exchange Rs 500 and Rs 1,000 notes.
"Modi did a good thing," she says, "but he should have filled up the ATMs before embarking on this step."
A rich farmer, who does not want to be named for this report, reveals his novel strategy to get rid of Rs 500 and Rs 1,000 notes.
"I go around the village asking people if they have mortgaged their jewels to the bank. Then I go with them to the bank and pay off their loans," he says.
"Now, their jewels are with me. They can pay me later and I will return their jewels without any additional interest."
"So far, I have exchanged Rs 10 lakh (Rs 1 million) for jewels. I have another Rs 90 lakh (Rs 9 million) to change," he says, adding,"The people of the village trust me with their jewels and I trust them with my money."