Delay in demand recovery and higher stock valuations mean low safety margin, say analysts.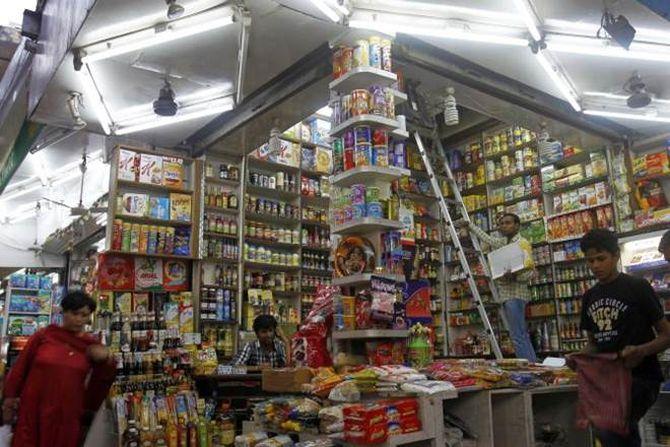 Investors in the fast-moving consumer goods (FMCG) companies may be in for a shock.
Despite slowing sales since the start of 2019, hopes of recovery in consumption demand, mainly from the second half of 2019-20 onwards, have kept the valuation of FMCG companies elevated.
However, now, with no key triggers for demand revival visible in the near term, FMCG stocks could see a derating.
On an average, at 51 times, the latest one–year forward stock valuation of FMCG majors are around 28 per cent higher to the long-term average.
Muted performance by other sectors - automobile and steel, among others, also aided FMCG valuations, as investors sought safe pastures.
According to ICICI Securities, though the demand slowdown is widely acknowledged, valuations of consumer stocks have not correspondingly corrected, leaving a low margin for safety.
The consumption sector is overvalued by 23 per cent relative to earnings visibility, the brokerage said in a report.
Though the Union Budget, presented on Friday, would drive rural income in the longer term, the former failed to address the Street's expectations of reviving the current weakness in rural income.
This coupled with the below-expected monsoon, so far, makes the case more difficult for FMCG firms having a good degree of rural exposure.
Thus, the downward rating risk could be relatively more for such companies.
Many analysts now believe that the recovery in consumption demand would take a longer time than expected.
And this would hurt the earnings growth rate of these companies.
While updating on June 2019 quarter performance, companies such as Godrej Consumer Products and Marico recently reported about continued demand pressure during the last three months.
What would further hurt volume growth is the higher base of last year. Many FMCG companies had reported high-single digit to double-digit volume growth in 3-4 quarters in 2018-19.
For June 2019 quarter, however, many FMCG majors are estimated to report lower or flat volume growth as compared to March 2019 quarter.
However, benign input costs are expected to support overall earnings for some companies such as Marico and Hindustan Unilever, among others.
On the whole, while Marico and Nestlé are expected to outperform in the staples, Bata and Titan would lead the discretionary pack.
Experts advice that investors should be selective in the FMCG space.
Photograph: PTI Photo