They are worried at more than one forecast of a possibly weak monsoon, reports Dilip Kumar Jha.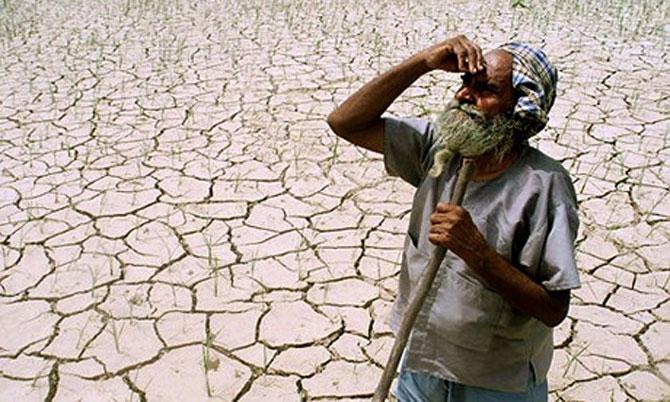 IMAGE (used for representational purposes only): Worried about the predictions of a below normal monsoon, farmers have started preparations for sowing less of water-dependent crops. Photograph: Ajay Verma/Reuters
Harjinder Singh, a farmer with 25 acres of holding in the Sangrur district of Punjab, is worried over the prediction of rainfall deficit this monsoon.

He has started preparations for sowing short-duration kharif crops, including paddy, assuming the prediction of private monsoon forecast agency Skymet comes true.

Many farmers like him have started preparations for sowing less of water-dependent crops, such as maize, millets or tomatoes.
"We are planning to sow corn (maize) in the usual paddy field this season; it requires less water. If the climate permits, we will also sow short-duration paddy, which would be decided with the onset of monsoon rain. We have started collecting seeds for sowing," said Singh.
The worry and preparations began after the Australian Weather Office forecast in February of a greater chance for an El Niño weather effect in India's next monsoon.
Skymet also has forecast a below-normal monsoon for the season beginning June.
If the Skymet forecast comes true, this would be the fourth year in a row of deficient monsoon rains in many pockets of Maharashtra, Tamil Nadu, Telangana and Andhra.
With around six acres, Shiv Kumar from Meerut had decided to adopt System Rice Intensification, a technology that advises farmers to keep a distance between two plants while replanting of paddy pods.
SRI allows farmers to keep a minimum distance of six to 10 inches between two plants and rows, to help inter-cropping of drought-resistant plants like chilli, watermelon and tomato, also doubling their average income.
"There is a myth among farmers that more planting of seeds would result in more harvest. But, like human beings, plants also require breathing space. If adequate space is granted, more yield can be obtained with minimum sprinkling of water. Planting and replanting of any crop requires intelligent decisions. With modern technology, higher yield can be obtained," said Kumar.

Agricultural technology companies have been helping farmers in such sowing decisions.
ICICI Bank has tied up with RML AgTech for displaying wholesale rates for the former's customers on their mobile phones, through an application displayed in many regional languages.
"When onion prices were around Rs 4.50 a kg in Nashik, farmers through our real-time price display system realised it could fetch Rs 13.50 a kg from markets in Amritsar. After incurring a cost of Rs 2-3 a kg on transport, Nashik farmers could still get double the value from markets in the north. This is the benefit agricultural technology companies offer," said Rajiv Tevtiya, managing director of RML AgTech.
They provide real-time news of almost all major wholesale markets in the country, in addition to weather patterns.
Mahindra and Mahindra, a large corporate group, has also entered into tech-based advisory services.
The company recently launched an app for farmers which provides updates on monsoon rain and other advisory services such as climate-friendly sowing.