The defence sector is seeing renewed interest by Indian corporates, says Jyoti Mukul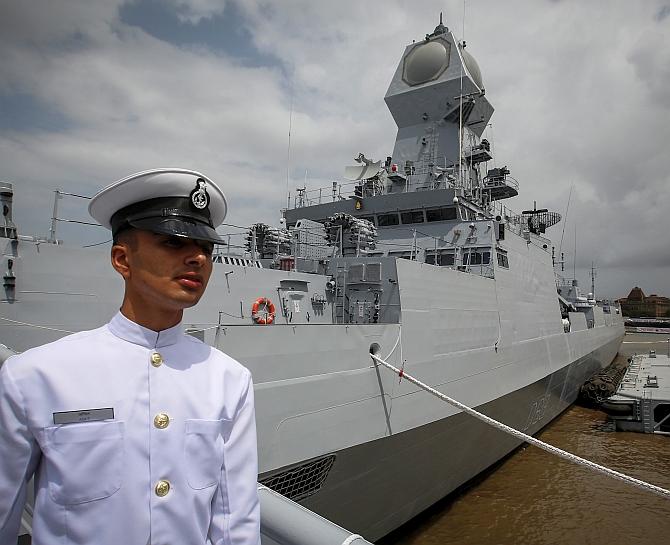 Defence manufacturing may have been the thrust area for the Make In India programme of the National Democratic Alliance government, but a closer look at the numbers suggest that the push point is yet to be reached.
The government's capital spending in the sector is expected to be just about Rs 75 crore more this year, over Rs 71,675 crore in 2015-16, indicating defence procurement has not really picked up.
It is not that policy initiatives are missing or delayed.
In March 2016, the defence ministry came out with the defence procurement procedure, which set a priority scale for purchases in which "buy global", implying imports, is last in preference. The priority is for buying Indian (indigenously designed, developed and manufactured).
Last Friday, the Indian Navy concluded the first contract under the 'buy and make' (Indian) category. The Rs 200-crore order went to Nova Integrated Systems, a fully-owned subsidiary of Tata Advanced System, to indigenously manufacture surface surveillance radars in collaboration with Terma, Denmark.
It was quite a paradox, however, that the new offset policy announced last year raised the contract threshold for compulsory domestic procurement from Rs 300 crore to Rs 2,000 crore.
This was done since the companies were finding it hard to source from India. The offset stipulation requires that 30 per cent of components for a contract should be procured locally.
The government estimates that the contractual offset obligation in the next five to six years will create a business of Rs 29,500 crore in India, which will enhance domestic capabilities. Capital acquisitions so far, whether directly procured from foreign original equipment manufacturers or through licence production through public sector undertakings, have been import-dependent.
In the Budget of 2017-18, the overall defence allocation at Rs 2,74,114 crore, excluding pension, has increased by a mere 6.2 per cent as compared to the Budget of 2016-17.
Of this, Rs 86,488 crore has been allocated for defence capital expenditure, which is used for procurement.
According to group captain (retd) Vinay Kaushal, a fellow with the New Delhi-based Institute for Defence Studies and Analyses, capital expenditure in the last four years has been nearly constant at around Rs 80,000 crore.
Kaushal says that since 2007 the shortfall in revenue allocations is being met by dipping into the capital budget under a policy called Capital Budget Revenue Procedure. This, he says, has put the system in a vicious circle.
"Slowing the pace of replacement of legacy systems means sustaining the same at higher maintenance costs. Higher maintenance costs result in greater amounts being pinched from the capital budget under CBRP, thus, leaving a lower budget for modernisation."
Besides, committed liabilities towards stage payments of existing contracts being the first charge means fewer contracts for new schemes.
"This has slowed down defence capability building," he says.
The new procurement policy nonetheless has spurred major domestic engineering and infrastructure companies into joining hands with foreign companies and announcing defence-manufacturing plans.
Whether it is Larsen & Toubro, the Tatas, the Mahindras, Reliance Infrastructure or the Kalyani Group, companies have lined up manufacturing programmes.
Kaushal, however, says the investment being made is not in greenfield facilities.
According to one industry estimate, most companies have individually invested less than Rs 1,000 crore in developing production capabilities. L&T, that last week announced a joint venture with France's MBDA, the world's largest missile systems maker, is using nine of its existing manufacturing units for defence equipment.
"It is under consideration that two of our existing factories could be used with the possibility of a new factory. It is all subject to volumes," says Jayant D Patil, senior vice-president and head, defence and aerospace, L&T.