Vedanta group chairman, Anil Agarwal, 69, is well known for his business journey from a scrap dealer from Bihar to a London-based globe-girdling metal and oil and gas conglomerate with revenues of $19 billion.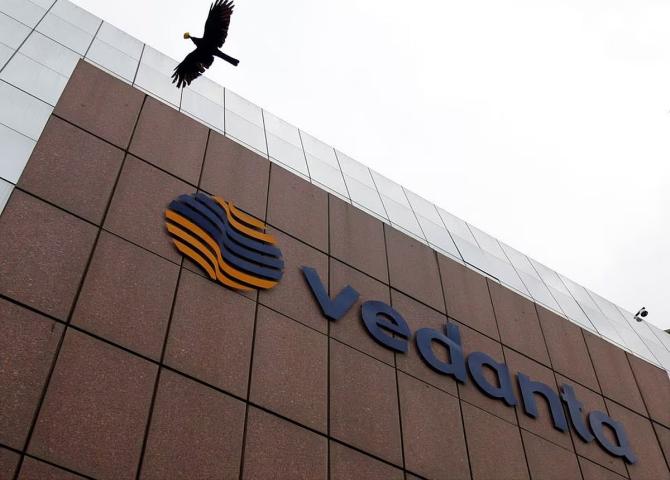 Now his abilities to keep his group from over-leveraging itself will be put to the test.
Over the years, Agarwal, now based in London, set up the conglomerate via acquiring iron ore producer Sesa Goa, Cairn's oil producing assets in India, and Electrosteel Steel.
The group is now planning a $20 billion foray into semiconductor manufacturing in Gujarat with Taiwanese firm Foxconn.
The group was also the sole bidder for the now-postponed privatisation of Bharat Petroleum Corporation by the Indian government.
A petition to acquire Videocon Industries' assets is pending in the Supreme Court.
It's not surprising, therefore, that all this hectic expansion and acquisitions have raised debt levels at the ultimate London-based holding company, Vedanta Resources Ltd (VRL) and subsidiaries. VRL holds 68.1 per cent stake in BSE-listed Vedanta Ltd, which in turn, holds stakes in various listed and unlisted companies in India.
Recently, Hindustan Zinc announced that its parent company Vedanta Ltd has pledged its entire stake to raise funds.
At the same time, Oaktree, a lender to the group, announced that Vedanta's promoters can't dispose of or sell their stake in Vedanta Ltd as it has charge over the entire stake.
Both Vedanta Ltd and Hindustan Zinc have used their cash and even taken additional debt to pay record dividends to shareholders in FY23.
This resulted in London-based VRL reducing its debt by a billion dollars as of April this year to $6.8 billion.
At the same time, the gross debt of India-listed Vedanta Ltd shot up by 24.3 per cent, to reach a six-year high of ~66,628 crore by the end of March this year.
Similarly, the Indian company's net debt went up 20.3 per cent to Rs 45,706 crore at the end of FY23 from Rs 38,228 crore the year before – the highest since FY20.
Its subsidiary Hindustan Zinc became a net debt company this financial year for the first time in 20 years at Rs 1,780 crore.
The rising debt of operating companies coupled with falling cash comes at a time when metal markets are shaky due to falling demand from China -- the biggest consumer of zinc, aluminium, and copper.
Another worry is the Indian holding company's stock market performance.
The Vedanta Ltd share has declined 4 per cent since January this year. A $1 billion loan to be extended by Farallon Capital Management, an American hedge fund to VRL is awaiting the Reserve Bank of India's approval of a corporate guarantee from the Indian entity, Vedanta Ltd, to VRL.
Vedanta did not make any comments on the pledged stakes but it had earlier reaffirmed that it would meet all debt commitments.
The group's plans to sell its steel making company Electrosteel Steel, which it acquired in 2018, and its closed copper unit in Thoothukudi (due to environmental protests) also failed to materialise, putting more pressure on the group to find alternate sources of funds.
Looking ahead in FY24, analysts expect the group to raise additional debt worth $2.1 billion to refinance VRL's older debt.
Since $850 million was covered this week thus implying a gap of $1.25 billion.
But analysts said the new loan of $850 million taken by VRL this week to repay bondholders before May-end will carry higher interest than VRL's existing bonds but would help it to avoid any default.
VRL still has several fund-raising options, including higher dividend upstreaming (to a lesser extent in FY24 vs 2023) from its subsidiaries even as their cash piles dry up.
"Separately, Vedanta Limited's FY23 earnings were slightly better than we had feared, and FY24 production guidance was robustly higher year-on-year across most divisions post various debottlenecking and plant capacity expansion works conducted in FY23," said a report by Credit Sights, a research firm.
The group plans to reduce VRL's total debt by $4 billion by FY26 as compared to its April-end 2023 debt of $6.8 billion.
While downgrading Vedanta's debt in March this year, rating firm Crisil said Vedanta's profitability, leverage and financial flexibility could be materially impacted by slower-than-expected improvement in operational cost efficiencies, subdued volume growth in operational entities along with delayed or lower refinancing by VRL.
"While maturities of the first quarter of fiscal 2024 should be paid off, Crisil Ratings understand that VRL will look to part-refinance and part-repay the maturities beyond the first half of fiscal 2024 as well.
"However, timely closure (at least 3-6 months before) of a credible refinancing plan for loan maturities of the second half of fiscal 2024 and thereafter, will be a key monitorable as VRL faces significant refinancing risk till fiscal 2025," the rating firm said.
Bankers say the group may also look at diluting 4-5 per cent in the Indian listed entity.
In the March quarter, the group sold shares worth $200 million to raise funds.
The question is what this implies for the stability of the business when the London-headquartered entity is squeezing its Indian subsidiaries for cash.
The head of a financial services firm requesting anonymity, said, "Agarwal has weathered many storms in the past including shut down of key iron ore producing mines in Goa by the court, bauxite mines in Odisha, and copper production unit Tamil Nadu by the government.
"This is yet another temporary hurdle for him."