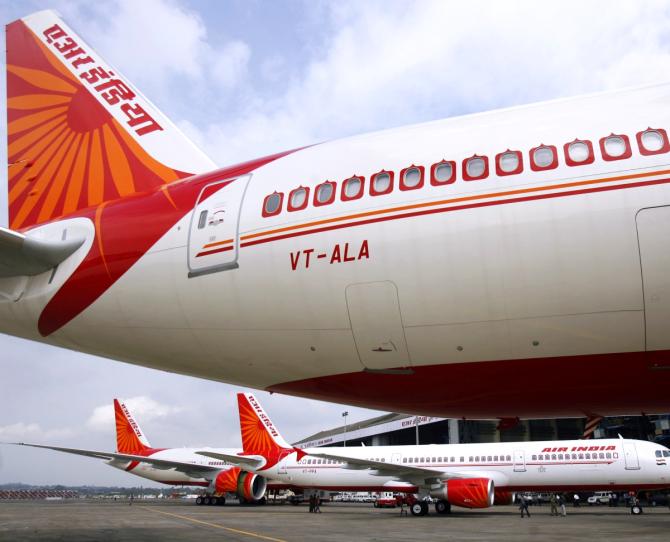 In a curious turn of events, Air India's Chief Commercial and Transformation Officer Nipun Aggarwal's social media messages linked to the recent mega aircraft deal have disappeared.
In a LinkedIn post on Wednesday, February 15, night, Aggarwal had said Air India, in addition to the order of 470 planes, had the option to purchase 370 aircraft from Airbus and Boeing.
Sources told Business Standard that the Tata Group is opposed to the idea of additional details related to the Air India deal to be disclosed on social media.
Aggarwal, Air India and Tata Sons did not respond to Business Standard's queries regarding this matter.
The airline's firm order for 470 aircraft is the world's largest single-tranche aircraft deal ever made in commercial aviation history.
"A press release was issued on Tuesday. It has requisite details. If Air India executives want to post on social media, they must not mention anything more than what has been said in the press release," a source said.
The airline's press release only talked about the firm order and did not mention anything about the option size.
In his LinkedIn post, Aggarwal had said the deal with Airbus and Boeing was for 840 aircraft.
'The order comprises 470 firm aircraft, 370 options and purchase rights to be procured from Airbus and Boeing over the next decade. The Airbus firm order comprises 210 A320/321neo/XLR and 40 A350-900/1000.
'The Boeing firm order comprises 190 B737MAX, 20 B787, and 10 B777. We have also signed up for long-term maintenance of engines with CFM International, Rolls-Royce, and GE Aerospace.'
Even Airbus CEO Guillaume Faury on Thursday, February 16, refused to reveal any details about the option size in the Air India order.
When a reporter asked him about Aggarwal's LinkedIn post and details regarding the option size, he replied, 'I will not answer that question. Options, purchase rights, and so on -- we are not disclosing them. Not in a systematic way at least.'
'We have communicated on what is likely to be the firm orders and the agreement we have reached with Air India. I think 250 planes -- 40 A350s and 210 A320 family aircraft -- is a very sizable amount already,' Faury said during the Airbus annual press conference in Toulouse, France.
While Airbus's press release on Tuesday, February 14, did not mention its option size, Boeing's press release did say that Air India can take additional 70 planes on top of the firm order for its 220 aircraft.
Aggarwal's LinkedIn post said, 'It is indeed a landmark moment in the history of Air India and Indian aviation. This order of 840 aircraft has been a culmination of a fascinating journey that began almost two years ago, starting with the Air India privatisation process.'
'This order,' Aggarwal added, 'demonstrates the vision and aspiration of Tata Group to transform Air India into a world-class airline and connect India non-stop to every major city in the world. This order is also testament to the tremendous economic potential unleashed by the Air India privatisation.'
The airline has not formally disclosed when deliveries of these planes will commence.
However, Airbus has stated that deliveries of A350s will begin this year. Sources also said deliveries of the A320 family of planes could start from 2026.
According to sources, the A350s and the B777s will primarily be used on India-North America routes, while the B787s will operate on other long-haul destinations, along with a few short-haul routes.
The A350, B777, and the B787 are wide-body aircraft with bigger fuel tanks, allowing them to traverse long distances such as India-North America routes.
Sources said while the wide-body planes may be purchased by the airline, the narrow-body ones (A320neo and B737MAX) could be taken under the sale-and-leaseback model.
Under the sale-and-leaseback model, a new aircraft is sold to a lessor, who immediately leases it back to the airline, helping the carrier free up cash flow.
Feature Presentation: Rajesh Alva/Rediff.com