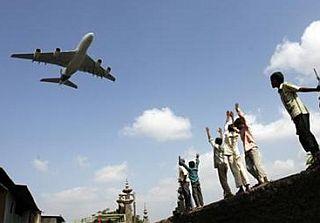 Last week, during a lull in the SpiceJet saga, a new crisis hit Indian skies: skyrocketing air fares.
December is already peak season for airlines (and so fares are higher than normal) but this year the shortage seems to been have compounded by SpiceJet's predicament and its massive subsequent spate of cancellations.
I watched this pretty closely myself since it so happened that my cousins and I had to fly to Bengaluru around December 18 and I think we collectively faced the brunt of it.
One cousin paid just over Rs 31,000 for a Delhi-Bengaluru-Delhi return ticket.
A cousin in Vadodara found the only available flight from Vadodara to Mumbai at Rs 24,000 one way (he took the overnight train instead) and then the flight from Mumbai to Bengaluru at Rs 19,000.
I won't bore you with more details but suffice to say that the fares were well above normal and one-way fares were more than what one usually pays for return.
Of course, these were all last-minute fares that are meant to be higher anyway.
But aviation in India is peculiar in that sense. Air fares are often bizarrely low or way too high. Cycles of ridiculously low fares are followed by cycles of crazily high ones. Why is this so?
This is because airlines compete stupidly during lean seasons and offer low air fares (well below break-even) and then try and make up for their stupidity at peak, high-demand periods.
It is also compounded by the fact that airlines with very high cost structures (such as Jet and Air India) try and compete on fares with carriers like IndiGo with relatively low cost structures.
So they offer fares dramatically below their own break-even at almost all times of the year (whereas IndiGo and some others manage to break-even or even make a small profit at the same levels); so then there is a tendency to profiteer at crisis times when demand is high and availability is low.
Flooded by complaints, the civil aviation ministry came out with another bizarre idea last week: capping air fares, for some odd reason, at Rs 20,000 one-way for economy class.
This, of course - like with most government solutions - makes no sense at all.
To start with, why Rs 20,000 ? Why not Rs 18,000 or 22,000 for that matter?
I tried asking some industry people and a couple of officials how they arrived at Rs 20,000.
There seems to be no explanation. It's just a number picked out of a hat. How can we have the same cap for Delhi- Thiruvananthapuram and Delhi-Jaipur?
Second, even if one takes their number seriously, how does one implement this?
If a maximum cap like this is set, in periods of high demand, everyone will just sell at Rs 20,000 one way (which makes it Rs 40,000 for return).
Why should passengers end up paying Rs 40,000 for say Delhi-Mumbai when they can perhaps get a ticket to London for the same price?
And a short flight like Delhi-Jaipur or Mumbai-Goa could also sell for Rs 40,000 - since the cap permits it.
There's a third discrepancy.
If aviation is a luxury, then why a cap?
If it is a necessity, then why tax it as we do? So what is the solution?
In a normal industry - where consumers have myriad choices - I would argue that the government should just let things be. But aviation is not like that.
There are few viable options to flying and sometimes one is stuck in a situation with just one flight on one airline from some destination to another.
As things stand, the Directorate General of Civil Aviation (DGCA) asks airlines to submit data on how many seats are to be sold at what price bucket; but, as of now, DGCA just blindly accepts whatever airlines submit and has no mechanism to check whether the fare being charged is fair or not.
It might make sense to get some experts involved and figure out what is a fair price to pay for a certain sector.
And to ask questions if the airline crosses that price by too wide a margin.
If they can't manage this, I'd say it's safer to do nothing. Airlines that adopt a short-sighted view and profiteer in times like this will suffer in the long run.
A long-run player will be careful to resist the tendency to make a quick buck, as he will assess the loss of reputation over time as a far higher cost.
The market dynamics will fix things pretty quickly.