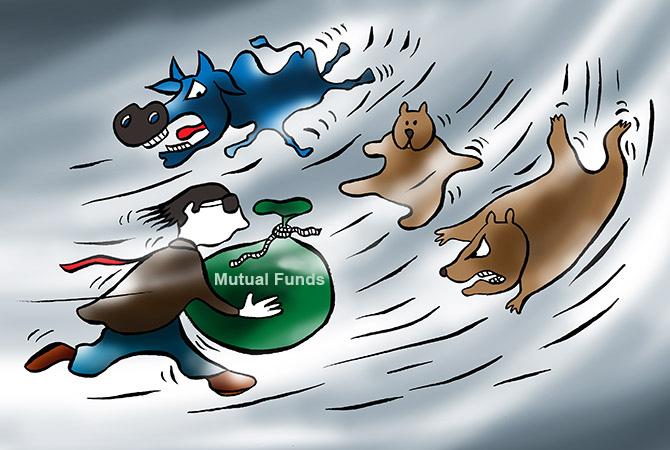 How has Nirmala Sitharaman's first Budget affected mutual funds?
Has mutual fund taxation changed post the Budget?
How has it affected your mutual fund investments?
What funds should you hold in your portfolio?
Which mutual funds can help you save tax?
Investment guru and mutual fund expert Ashok Kumar, answers all such queries and more.
A chartered accountant with a law degree, Ashok Kumar has three decades of experience in the Indian capital market.
He is the managing director of LKW Investment Advisers, a niche wealth management company.
---
Jaspreet Shah
What expectations of the Markets were not met ? Did you personally expect them? Can you recommend a few good funds from the Large & Mid Cap category and Multi Cap category?
Ashok Kumar
The treble taxation of dividends and non-withdrawal of Long Term Capital Gains on Equity Investments as well as the far more lucrative Securities Transaction Tax (STT) has been a serious sentiment dampener. There was a justifiable expectation that this anomaly might be addressed, but it too was not.
Ashok Kumar
A couple of funds we prefer from the Large & Mid Cap category are Mirae Asset Emerging Bluechip & Axis Growth Opportunities, while in the Multi Cap category it is Kotak Standard Multi Cap & Reliance Multi Cap
Krystal Brown
My Adviser has recommended the following Equity Funds formy Portfolio – Edelweiss Multi Cap, Principal Emerging Bluechip, Tata Mid Cap, Canara Hybrid Equity & Invesco Contra. Please advise if these suggestions are good how long should I hold thesefunds ?
Ashok Kumar
The funds suggested to you are satisfactory performers in their respective categories and I would have no objection to your holding it for the long term (minimum 5-7 years) so that you get the benefit of compounding.
Robin Choudhary
Shall I hols AXIS MIDCAP FUND & AXIS BLUECHIP FUND for a priod of 15 years
Ashok Kumar
Both the funds are satisfactory performers in their respective categories and if they match your risk profile and goal, they can be held. Congratulations on your holding time frame as it would provide you adequate time to get the complete benefit of compounding.
Ayush
Do you think index fund would perform better than the managed fund? if yes, suggest some.
Ashok Kumar
Though Index Funds & ETFs are becoming popular in India like overseas, there is still a belief that a Fund Manager can still outperform in a developing market like ours. HDFC Index Fund Nifty 50 Plan & ICICI Prudential Nifty Next 50 Index Fund merit attention.
Seema Naik
What is your outlook on Credit Risk Funds after all the recent problems and which AMC would you recommend to debt mutual fund investors ?
Ashok Kumar
As the name suggest, Credit risk Funds carry credit risk and any investor putting their money into such funds should be aware of the same. While I have no recommendations of better or worse AMCs in the debt space, IDFC and Canara Robeco are seen to be holding paper carrying relatively lesser risk.
Sujit Sahoo
Franklin India Focused Equity Fund - G 2,500HDFC Hybrid Equity fund 4,000ICICI Pru EQUITY AND DEBT FUND - G 4,000Is it good portfolio fto invest or next 5 years?
Ashok Kumar
Your fund selection is satisfactory. The selection of two hybrid funds both of which have a good long term track record suggests that whereas you are investing in equity you also seek the cushion of some inbuilt debt in your portfolio without losing the equity tax advantage.
Firozabad Glass Shell Ind.
I am from last 5 years investing through monthly SIP in following funds:-- Aditya Birla Equity Growth- Frankling Indian Focused equity Gr (earlier High growth)- ICIC Pru value discover Growth- Canara robeco emerging equities Growth- Reliance small cap Growth- HDFC Hybrid equity-G (earlier Balanced)I would like to know if any changes are needed.
Ashok Kumar
We would prefer Kotak Standard Multicap over Aditya Birla Equity and L&T India Value over ICICI Prudential Value Discovery. The rest of your holdings seem quite satisfactory.
Ramanand Tiwari
I am 39 years, have invested in SBI Magnum Mid Cap, 70000; L&T Emerging Businesses 26000; IDFC Multi Cap 17000; Aditya Birla Sunlife frontline 106000; ICICI prudential bluechip 80000; HDFC Hybrid Equity 150000; Franklin India Short Term Income 28000; Reliance Ultra Short 22000; IDFC Bond Fund 6000. I can spare 80000 monthly, What SIP allocations should I follow?
Ashok Kumar
Some good long term performing funds that you can consider selecting from for allocation are Axis Growth Opportunities, Invesco Contra, Tata Mid Cap, Principal Emerging Bluechip.
Bhavin A
I have ongoing SIP in IDFC Nifty Fund - Direct Plan. Please advise whether it's good for long term.
Ashok Kumar
Index Funds are growing in popularity and if you have a long term perspective, should serve your purpose. However, do note that it is still widely believed that Fund Managers in developing markets like ours can still outperform the Indices.
Jain College
I am 52 years old, want to invest 10 lakh in mutual funds till I turn 60, can you suggest me suitable funds keeping my age in consideration?
Ashok Kumar
Given your life cycle stage, you can consider a mix of a satisfactory Hybrid Equity Fund like Mirae Asset Hybrid Equity and a pure Debt Fund like IDFC Dynamic Bond Fund.
Roshan Tiwari
What were the announcements specifically that bothered the stock market? How does it impact Mutual Funds? I read somewhere that Large Cap Mutual funds will be affected. What is your view and can you recommend a couple of Large Cap funds for the long term?
Ashok Kumar
The decisions to increase public float from 25% to 35%, and the 20% Buyback tax were two announcements in this Budget, that particularly displeased the market. The former announcement can impact large cap companies in the near term, but will increase market depth. Two Large Cap funds worth looking at are Axis Bluechip and HDFC Top 100.
Illustration: Uttam Ghosh/Rediff.com