Venture capitalists are leveraging their experience to build something new.
Illustration: Dominic Xavier/Rediff.com.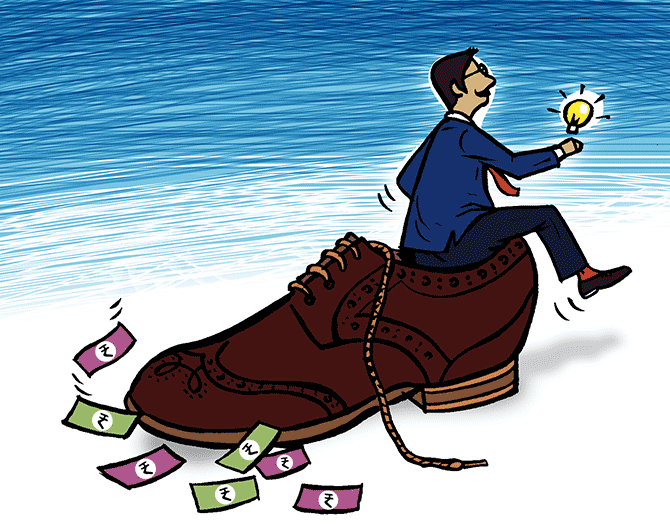 Alok Mittal, Rohini Chakravarthy, Ashish Mohapatra, Anshoo Sharma, Raul Rai, Subramanya S V, Manoj Gupta and Abhishek Goyal -- all venture capitalists not so long ago -- have taken the plunge to become entrepreneurs.
While the challenge of setting up a venture has spurred some of them, others have used their skills acquired as venture capitalists to kick-start their entities.
Alok Mittal was partner at Canaan Partners before he co-founded Indifi Technologies, a marketplace for loans to small and medium enterprises.
"I wanted to get hands-on and build another company. I was in the investment business for 10 years and was itching to get back to building a company," he said.
Mittal had earlier built and exited jobsahead.com.
"Entrepreneurship to venture capital were equally exciting for me. It's just that at different points in life, you want to do different things," he said. "Every start-up is challenging."
At present, he is enjoying the challenges, building a team and a business.
"VCs develop a great nose for identifying new opportunities, and at some point of time, the brave ones get the itch to build themselves," said Rohini Chakravarthy, a former partner at private equity (PE) firm New Enterprise Associates (NEA) in the US.
She returned to India to promote Inksedge -- a start-up trying to disrupt the event communication space with customised event stationary.
"Being an entrepreneur is about building from first principles, but having seen the genesis of hundreds of businesses from the VC perch is a huge leg-up for execution," she said.
The second advantage of having been a VC is access to a wide network. Inksedge has been able to recruit the best talent and tap into the wisdom of advisors and entrepreneurs who have built global companies.
Bala Deshpande, senior managing director, NEA India, said, "VCs are best placed to become entrepreneurs as we see both the risks and the opportunities very clearly. It's not the same as being an entrepreneur, but it is a good thing if you understand valuation."
If the outlook is not good and as a VC you are not closing deals, it can get a little boring. It's not easy for an entrepreneur or a VC, especially at the partner level, to enter and exit.
"As an entrepreneur, you need to dig in your heels in for at least 3-4 years, especially if you have raised external money," said Deshpande.
Similarly, a fund manager invests for 3-4 years and then waits for 5-7 years to make exits.
"A VC makes a commitment to stay the course. If we leave, the investors will suffer a value loss," she said, explaining why it is difficult to enter and exit the VC business.
For Subramanya S V, who was a partner at Bessemer Venture Partners (BVP), it was a question of "if not now, never". He had worked for eight years at a global VC firm, investing and serving on the boards of Snapdeal, Taxi4Sure and Bharat Matrimony. Last year, when he quit BVP to start personal finance management app Fishdom, he was 35.
Age is not a barrier. But the older you get, it does get harder due to many reasons such as family constraints.
"So if I didn't start up at 35, probably I would never," said Subramanya, known more widely as "Subu". With rising internet penetration in the country, it seemed like the right time and place to go into business, given the disruption it could bring to consumption of products and services.
For Asish Mohapatra, who moved from VC firm Matrix Partners to start Ofbusiness, a marketplace for SMEs, the so-called "keeda" (bug) was always there and 2015 seemed like a good time to start. Investor interest in SMEs peaked, with several deals across fintech, logistics, and consumables.
"In my mid-30s, I knew it was now or never. I had to jump," said the co-founder and sales manager of Ofbusiness.
Anshoo Sharma was driving investments at VC firm Lightspeed India before he teamed up with investor-turned-entrepreneur friend Brij Bhushan to co-found Magicpin, a hyperlocal discovery platform. He has seen the rate of disruption in China; in India, it is just getting started.
"There's a great opportunity to go out and build value," said Sharma.
Having seen companies such as Limeroad and Oyo incubated at Lightspeed, companies that have grown and created large value, it gave Sharma the confidence and motivation to go out and build similar value.
Raul Rai, a former managing director at General Atlantic and Fidelity Private Equity, is now founder and chief executive officer of Nicobar, a lifestyle venture by Eicher Group. He is married to Simran Lal, CEO of Eicher Good Earth.
"I left private equity to create not a company but a culture, a workspace that is energising. I defined our culture before drafting the business plan," said Rai.
He said Nicobar exists to shape culture -- to create a way of life that is distinctly Indian yet globally relevant, introducing design for everyday life.
"At Nicobar, we're creating a modern Indian way of living, dressing and looking at the world," he said. Rai feels business families play a key role in fostering start-ups that are subject to the same rigour as others.
There were early movers, as well.
Manoj Gupta was a principal at Nexus Venture Partners before he founded Craftsvilla in 2010. Abhishek Goyal and Neha Singh quit Accel Partners and Sequoia, respectively, to start data analytics firm Traxn. Gupta always wanted to be an entrepreneur and had made three attempts earlier. Hence, it was easy for him to shift.
"I always wanted to make an impact. You can always be a VC. I thought it is better to create something big. It has a lot more credibility and learning, which you can use to guide other entrepreneurs," said Gupta.
The key word is scale. While Gupta had tried his hand at three ventures before, none of them were significant from an exit perspective for him.
"The longing was always there. As an entrepreneur you can create a story," said Gupta. Craftsvilla started with handicrafts, got into ethnic space and continues to experiment. Gupta travels a lot, meeting customers and sellers, which is another enriching experience. While VCs make good money -- salaries can be Rs 30 lakh (associate) to Rs 3-4 crore per annum (partner) -- entrepreneurships can be rewarding on exits.
For Abhishek Goyal of Traxn, becoming entrepreneur was a personal career choice.
"I realised during my three years as an investor that I personally get a lot more sense of achievement by creating things. Also, I was too young at that time to not create things. This is a very individual viewpoint. I will go back to investing when I feel I am done with creating things on my own," he said.
Being a VC can help you raise money and avoid common mistakes that many first-time entrepreneurs make.
"For four years at Nexus, I looked at multiple companies. So things like scalability, team, and defensibility were all on top of my mind. Having a lens of a VC was useful," said Gupta. As he knew many investors, raising money was a lot easier.
One of the key things that you have to do as an entrepreneur is capital allocation. You learn both the dos and don'ts of it while being a VC as you see it being done at the VC firm and by many entrepreneurs doing it.
"Being a VC also makes you think big," said Mohapatra.
The stint at Accel radically changed the way Goyal looked at size of opportunity and the way he designed his organisational structure and processes. "I now design team structure and processes keeping a 5-year window in mind,'' he said.
Another interesting reward of the investing experience is that it added a lot of humility to his character, as you see a large part of the future unfold in a way that was hard to imagine early.
"It teaches you that the future is full of so many surprises that the only way to survive is by staying humble and agile. No one is too big or too smart to fail," added Goyal.
But having been a VC is no guarantee for success as an entrepreneur. At best, it improves the probability of success by 10 percentage points as one is able to avoid the common mistakes a first-time entrepreneur makes.
"A VC is a thinker than a doer. He is an ideas person but on the ground, what matters is execution," said Subramanya of Fishdom.
VCs turning entrepreneurs and vice versa is common in the US. In India, it's mostly the other way round -- entrepreneurs who made successful exits have turned investors -- Avnish Bajaj or a Ronnie Screwvala.
"Globally, investing eco-system is an exceptional breeding ground for entrepreneurs. I don't expect India to be very different from many other parts of world," said Goyal of Traxn.
What are the factors that is aiding the cross-pollination (VCs turning entrepreneurs) now?
In India, VCs are young. They come with a background in technology, investment banking and consulting firms.
"At a young age, they see several young entrepreneurs from up close and love the impact, passion and zeal they display. The mavericks (you would expect some to be that) among then would then move out," said Mohapatra.
"Venture investing is probably the best job in the world. The only role that beats it is that of a successful entrepreneur. VCs always look up to people who have created value. The only job I could think of is running my own company," said Subu.
In terms of timing, 2014 to 2016 seemed so much a better time to start rather than 2005 or 2010.
Many who are shifting had seen the power of the internet to disrupt ways of working. They thought if they could build a good product that leverages the internet, they could build a valuable company. And, of course, there is a lot more capital available today to back good teams and credible ideas. It is not easy, but it is available.