New ministry will bring much-needed transparency in the functioning of the cooperatives, which so far have been riddled with allegations of political interference and mismanagement.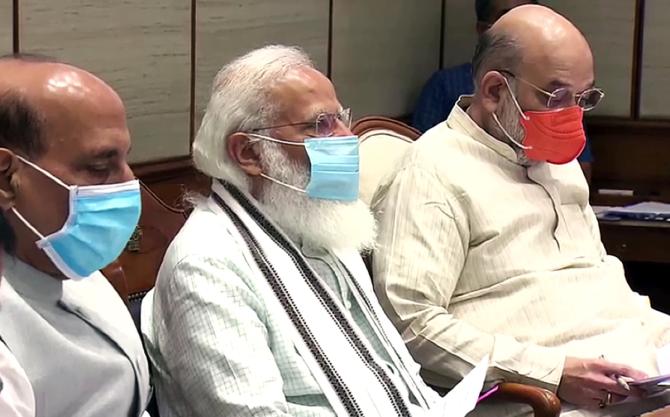 The Centre's decision to carve out a separate ministry of cooperation from the agriculture ministry might not only boost creation of multi-state cooperatives in the country, but also bring much-needed transparency and fairness in the functioning of the cooperatives, which so far have been riddled with allegations of political interference and mismanagement, experts and sector watchers said.
India at present has a vast network of around 800,000 registered cooperative societies with whom around 400 million people are directly associated.
However, of these societies, only about 1,500 are multi-state set-ups that function in more than one state.
These cooperatives span a vast cross section of economic activities such as agriculture, housing, fisheries, milk, employees' welfare, etc.
While the state cooperatives operate within the regulatory framework of the state governments and are registered as per their local rules, the department of cooperation which falls under the ministry of agriculture is the Central Registrar of Cooperative Societies and all societies that operate in more than one state have to necessarily obtain a license of operation from it under the Multi-State Cooperative Societies Act.
Cooperative banks and financial institutions, however, are not expected to come under the jurisdiction of the new ministry and will continue to be regulated by the Reserve Bank of India.
Sources said the growth of state cooperatives into MSCS has been stifled in the last few years and they have struggled to achieve scale as registration and process of seeking license is cumbersome and takes time.
"The ministry of agriculture, which so far has been the nodal agency of MSCS is already burdened with lot of work and more often than not does not have time to look into all the details of MSCS which is why registering a MSCS took more than two years," says Dilip Sanghani, chairman, National Cooperative Union of India.
Creating a separate ministry will ensure that a full time dedicated administrative machinery is available for MSCS which will also improve the transparency and functioning in them, Sanghani adds.
Sahakar Bharti, which is the cooperative wing of the Rashtriya Swayamsevak Sangh, the ideological parent of the ruling Bharatiya Janata Partyhas been lavish in its praise of the recent government move.
D N Thakur, former bureaucrat and national vice-president, Sahakar Bharti, says unless small producers are empowered through collectivisation, India's unorganised sector which forms the bulk of the country's workforce won't benefit.
"We can save around Rs 7 trillion-Rs 8 trillion annually in subsidies through collectivisation of growers," Thakur says.
"Though we feel that the fisheries sector was better off when it was under the ministry of agriculture than now when it is part of the newly created ministry of animal husbandry, dairying and fisheries, but in case of cooperatives ministry, I feel that it will help the sector as we have found that more often than not people at the helm do't understand the functioning and unique characteristics of a cooperative," says B K Mishra, former managing director, National Federation of Fishers Cooperative Ltd.
A snapshot of co-op societies in numbers
Approximate number of registered cooperatives in India: 800,000
Approximate number of people serviced by the co-ops: 400 million
Approximate number of multi-state co-op societies: 1,500
Number of National Level Coops: 21
Areas in which coops are dominant: Sugar, fertiliser, milk, credit, housing etc