'In the US, they have created a blacklist for fliers. We are trying to do the same here.'
Arindam Majumder reports.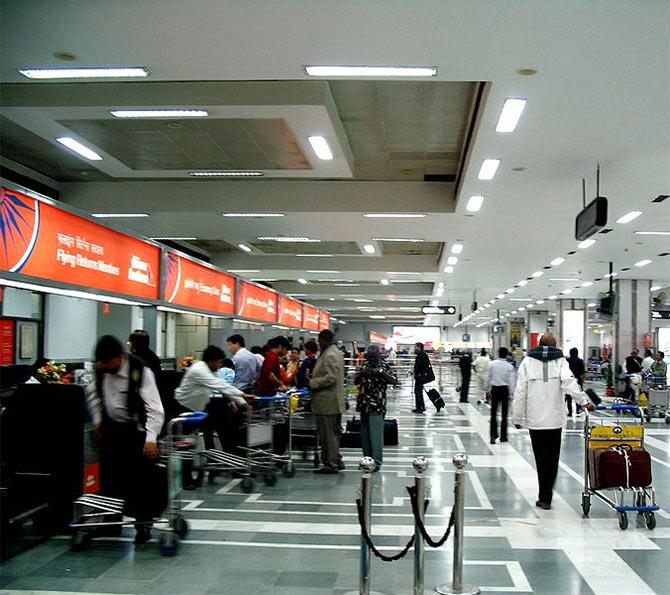 Have you reached the airport and found that your flight is delayed? Well, don't blame the airlines for that. They just did not have a way to reach you.
Airlines say that for a majority of the passengers, they don't have the contact numbers to inform them in case of any delays in flights.
This is because the travel portals refuse to share the contact details with airlines.
The airlines have now approached the government to make Aadhaar-verified contact details compulsory for bookings of air tickets.
This, the airlines say, will enable them to get in touch with passengers easily in case of disruption and delay.
"Every morning I wake up to the fog in Delhi and see fliers complaining on social media about not being informed about the delay; for 50% of all passengers who book through travel agents, we don't have their contact information to inform them about a schedule change," said Sanjiv Kapoor, chief strategy officer at Vistara, at the SITA Aviation ICT Forum. Kapoor is one of the most active airline executives on social media.
Dense fog in north India has severely disrupted the schedules of airlines causing heavy delays.
As many as 900 flights were delayed or diverted between the first four days of December as heavy fog engulfed the Delhi airport.
Jet Airways is now recommending customers to insert Aadhaar number for bookings, saying: 'it will ensure a seamless service.'
"None of the travel portals shares the mobile numbers of passengers with us; instead, they put their own mobile number into the contact entry. So, the message goes to the travel agent instead of the passenger," said Kamal Hingorani, head (inflight experience and customer experience) at SpiceJet said at the event.
"We want Aadhaar or any single identity card for bookings, so that the contact details are captured," he added.
Another airline executive who did not want to be identified said that travel portals fear the loss of customer database to the airlines. "They are anxious that the airlines will, then, directly market themselves to the customers."
A government official said that making Aadhaar compulsory for flight booking will help the government create a database for passengers.
"In the US, post 9/11, they have created a blacklist for fliers. We are trying to do the same here. Airports will be developed to recognise the Aadhaar number in barcode and allow express transit through the airport."
""Any technology solution that can make the booking of passenger through the airline's database in addition to regulatory solution would be a game changer making travel hassle-free for customers and allowing us to be smarter at every step," Kapoor added.