New strategy for Infosys by October, says Nandan Nilekani.
New chairman's other priorities: Hiring CEO, reviewing Panaya probe reports.
Ayan Pramanik and Raghu Krishnan report from Bengaluru.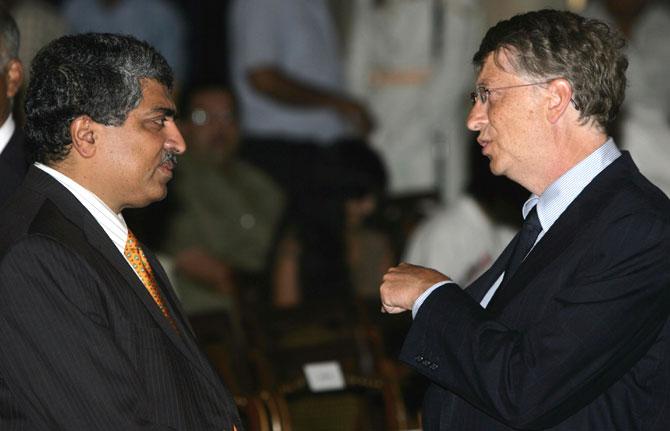 Nandan Nilekani, Infosys' new non-executive chairman, has set his sights on creating a long-term governance structure in the company while focusing on short-term measures such as hiring a chief executive officer and building a business strategy for growth in a challenging environment.

Nilekani did not give details about the future strategy, apart from saying it would be made public in October.

Nilekani hit the ground running on his second day in office by appointing executive search firm Egon Zehnder to look for former CEO Vishal Sikka's replacement, naming independent director D N Prahlad chairman of EdgeVerve Ltd, and committing to a broad-based engagement with all stakeholders, including the founders.

"There was nobody else," Nilekani told reporters laughing, about his return to the country's second-largest information technology firm, whose reputation and market worth took a hit after months of acrimonious battle between the company's board and its founders.

Backed by institutional shareholders, founders and employees, Nilekani also pointed that he was a consensus builder who had the ability to manage complex and fluid situations, and cited the work he had done on the Aadhaar project.
"I would like to believe that I am here not just as a founder. As you know I was CEO of this company and retired from that position 10 years back and in 2009, I was invited by the (then) prime minister Manmohan Singh to take a job in the government in the right of a Cabinet minister to do one of the world's most sophisticated technology projects — Aadhaar."

"It has given over a billion people an identity and which is the fundamental basis for India's transformation," he said.

Nilekani, 62, who co-founded Infosys when he was 26 with N R Narayana Murthy and six others, tweeted that life had come full circle on his return.

"I will stay as long as necessary. I will go once I am no longer necessary," he said, indicating that this time around he had plans to fix gaps in Infosys governance, its relationship with Murthy, and the company's long-term business strategy.

"The other goal is to talk about the relationship with Mr Murthy who is a very valued and iconic founder and the father of corporate governance in India... he has made extraordinary contributions to India," he said.

The Infosys board, which had accused Murthy last week of forcing Sikka to resign, a fallout of the public spat over governance concerns between the company founder and the board, went back on the statement under Nilekani's leadership.

Murthy first raised concerns over a year ago about the severance pay to former CFO Rajiv Bansal after he objected to the acquisition of Panaya, an Israeli technology firm.

The year-long public spat led to Sikka's resignation. Chairman R Seshasayee and two independent directors also quit subsequently.

The board admitted that it was 'unfortunate that various differences of opinion have arisen between Mr Murthy and the board in the recent past' and 'wishes to express that it was not its intention to cause Mr Murthy or any other affected person any personal distress or anguish while stating its point of view.'

Nilekani said he would look at the investigation report that went into the Panaya acquisition, dispassionately and take appropriate action, but did not set a timeline.
Soon after he took over, Nilekani held one-on-one interactions with senior leaders, including Interim CEO and MD U B Pravin Rao, Chief Financial Officer M D Ranganath, Merger and Acquisitions Head Deepak Padaki, and Deputy Chief Operating Officer Ravi Kumar S.

He has formed a small 'strategic group' to decide on the next strategy.

Driving the strategy would be Ravi Venkatesan, who remains as independent director, and Prahlad, chairman of EdgeVerve and an independent director. They will present their report to the board in October.

Nilekani also sought an update on each business, including the plans by former CEO Sikka, the targets set and where these plans stood in terms of execution or generating revenue.

He also gave a glimpse of his strategy when he talked of enormous opportunities to help traditional companies that have been disrupted from players like Ola, Uber, Netflix and Tesla.

He said he was also open to adopting the vision of Sikka, who had pushed Infosys to become a software plus services firm than being a pure IT services firm.

"I will ensure there are no discordant voices in the company, and everyone is on the same page. I want Infosys to be a board-managed company, with a board that will practise the highest standards of corporate governance," he said.

Nilekani is hopeful that the challenges Infosys faces are transient.

"One thing I have learnt from my time earlier at Infosys and at Aadhaar, and now, is that if you are able to deliver, everything else is insignificant," he said.

This is the second time a founder has returned to Infosys to sort out its mess after Murthy came back in 2013 to reboot confidence among employees and customers, before he handed over the baton to Sikka in 2014.

That seemed to be a short-lived experiment due to culture clash and the subsequent concerns over governance standards.

Nilekani did not give a time frame for his second stint at Infosys.
---
Vishal Sikka blames Narayana Murthy's 'sniping' for his exit


Former Infosys CEO Vishal Sikka has hit out at his predecessor N R Narayana Murthy, blaming 'sniping' from the co-founder of India's second-largest information technology services company for his abrupt resignation.

In an interview with the Financial Times, Sikka said his efforts to reshape the company would have been 'difficult if everybody was supporting it, but if the founder goes up against that then it becomes impossible.'

FT quoted Sikka as saying that he felt undermined by criticism from Murthy, who had complained of an erosion in Infosys' values of transparency and humility.

Sikka wondered what one could do if an iconic founder was questioning governance and questioning the value system in the wrong way. He added that the lesson he learnt at Infosys was that the founder's influence was very strong.
---
Nilekani at Infosys: Half the battle won, say analysts

Vishal Chhabria & Ujjval Jauhari report from Mumbai and New Delhi
The Street has taken Nandan Nilekani's appointment as Infosys' new non-executive chairman positively.

Talk of Nilekani re-joining Infosys was doing the rounds and reflected on the stock, which closed 2 per cent higher at Rs 912.50 on Friday, August 25, on the BSE.

Nilekani's appointment, experts said, was positive as it would help reduce uncertainties that had arisen due to the tussle between former board members and co-founder N R Narayana Murthy.

Nilekani, also a co-founder and former CEO, is seen as having strong understanding of Infosys and deep insights into the global IT services industry.

"Milekani joining the Infosys board is positive for the company in the near-term as the move will pacify concerns that would have erupted if an outsider were appointed," G Chokkalingam, founder and managing director, Equinomics Research and Advisory, said.

"Resolution of issues will be faster and will lead to a smoother transition as and when a new CEO joins."

"Finally, there is some positive news flow for Infosys with Nilekani's joining leading to near-term benefits," A K Prabhakar, head of research, IDBI Capital, said. "He will be able to resolve the differences between the board and the founders."

But that is only half the battle, say experts.

The bigger challenge is to bring in a new CEO who will drive the business and turn the firm into a leader it once was.

"With the sweeping changes that have taken place in Infosys' board, one can expect a cessation of hostilities between the founders and the board. However, Nilekani's return is in a non-executive role and he needs to expedite the search for a CEO whose command over emerging technological trends equals that of Sikka," said Ajay Bodke, CEO and chief portfolio manager, portfolio management services, Prabhudas Lilladher.

The Infosys brand has suffered in the recent past due to the public tussle between some board members and Murthy.

Nilekani has a tough job on hand of restoring confidence of stakeholders and getting the business on the fast track.

"The damage that has been afflicted on the brand can only be restored if the company introspects and makes genuine attempts to regain its place in the Indian corporate world," Bodke said.

A new CEO would hold the key to growth in new tech, which was necessary for the firm to get back to industry growth rates, Prabhakar added.
---
B G Srinivas, 3 others in fray for Infosys top job

Ayan Pramanik reports from Bengaluru.
Former Infosys executive B G Srinivas, interim Managing Director and Chief Executive Officer U B Pravin Rao, Deputy Chief Operating Officer Ravi Kumar S, and head of BFSI (banking, financial services and insurance), health care and life sciences Mohit Joshi could be candidates for Infosys CEO, said people familiar with the development.

Srinivas, who was in the reckoning for the top job before Vishal Sikka took over as the first non-founder chief executive of Infosys, is group managing director at PCCW Group, the holding company of Hong Kong Telecom. He left Infosys in 2014 as president, global markets.

Nandan Nilekani, Infosys co-founder who returned to the company as chairman, said the board could look at internal and external candidates and Infosys alumni for the next CEO.
Infosys has appointed executive recruitment firm Egon Zehnder to work with the nominations and remunerations committee to identify the right candidate.

Analysts said the Indian information technology services major would have to wait to attract external candidates until it had a strong board and there was clarity on the founders' feud with the board.

Nilekani, who joined the as the non-executive and non-independent chairman of the board, claimed he had been consensually invited by the founders and investors. This arguably gives the company a good start for the CEO search.

A person familiar with the developments added Anand Swaminathan, senior vice-president and head, high-tech, Infosys, could be elevated to a role similar to that of Ravi Kumar S or Mohit Joshi.

Nilekani said bringing stability and looking for a CEO were his two key priorities.
"We are confident that we will have a large pool of internal and external candidates. In the last few hours I have received many mails and we are looking for the right candidate," Nilekani said.

With Infosys' experiment with an external CEO mired by cultural differences, two former Infosys executives said "reaching out to alumni could be a better option at this juncture."
---
Nilekani to build confidence, say employees
Ayan Pramanik reports from Bengaluru.
Employees have lauded co-founder Nandan Nilekani's appointment as chairman of the company's board.

Many employees said even though work processes would not see any major difference, Nilekani's taking over provided them peace of mind.

Employees across all levels said what mattered were the bigger tasks of implementing client ideas.

Nilekani said he would hold discussions with customers, employees and stakeholders.

"I see my role as a holistic one," he added.

"Once the management issues are sorted out and Nilekani brings stability, we expect to hear good news on increments and variable benefits. It will not make much of a difference in terms of work," said a senior Infosys employee.

Infosys has taken up a few initiatives to boost employee morale.

Pravin Rao, the interim chief executive officer, wrote to employees seeking support to continue the company's transformation.

Infosys also posted a video on Facebook carrying messages of employees.

Some said it was business as usual and one message said, 'If they focus on deliverables we have a better tomorrow.'

'Nilekani's return will bring back confidence across all levels and on the client front. His leadership should strengthen things,' another senior employee said.

"I was praying that Nilekani comes back. He is probably one of the most intelligent leaders I have interacted with during my stint at Infosys. He has a remarkable track record with Aadhaar and many other things," said George Varghese, chief executive, ET Marlabs.
IMAGE: Nandan Nilekani, left, with Bill Gates.