Young Indian entrepreneurs hope to share some of the limelight too at the Hyderabad event.
B Dasarath Reddy reports.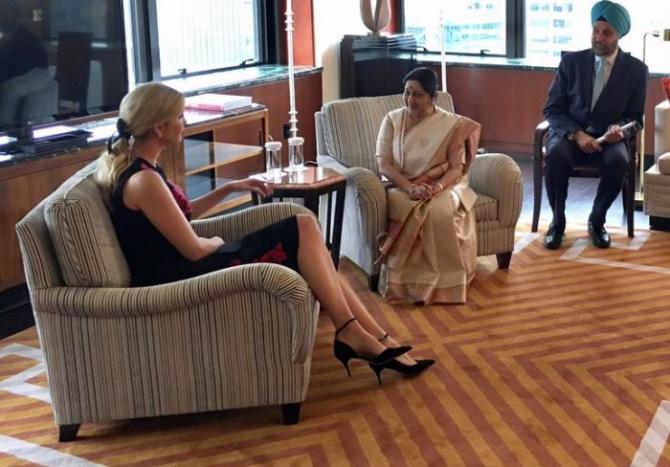 New-age entrepreneurs, from Flipkart Executive Chairman Sachin Bansal to MobiKwik Co-founder Upasana Taku will join their global counterparts and investors to discuss the pursuit of business innovation at the three-day Global Entrepreneurship Summit 2017 in Hyderabad.
While the opening day of the summit on Tuesday, November 28, has a grand inaugural session, to be addressed by Prime Minister Narendra D Modi and Ivanka Trump, US President's elder daughter and senior White House adviser, the next two days of the event are packed with dozens of discussions and workshops on topics relevant to enterprise building such as access to capital, leveraging technology and finding new business opportunities.
Ivanka, who is heading a contingent of over 400 delegates from the United States, will take part in the summit's plenary session which will discuss innovations in workforce development and skills on Wednesday.
She is also expected to participate in the 'Networking and Global Innovations through Science and Technology' catalyst pitch competition soon after the plenary session.
The catalyst pitch competition is expected to provide featured start-ups from India, the US and other countries an opportunity to elevate their business.
The discussions on themes including attracting private equity, future of cinema, investing in health care start-ups, mentoring and networking, business of winning at sports entrepreneurship are going to be part of the Day 2 proceedings of the summit.
Speakers include Boeing President Steven Nordlund, Goldman Sachs, Japan, Managing Director Ankur Sahu, Dell Asia Pacific President Amit Midha and PayPal Vice-President Lisa Mather.
On the third and the final day, the summit organisers have lined up discussions and short sessions on topics such as alternatives to conventional financing, investment opportunities in the emerging markets, linking global e-commerce businesses and women-owned businesses, securing the cashless society, how artificial intelligence was going to shape the future, the enterprise of 'space' among other things.
Panel discussions will be predominantly comprise Indian speakers.
Serum Institute of India's Natasha Poonawalla, Kirloskar Systems Chairman Gitanjali Kirloskar, KRBL Limited Director Priyanka Mittal, Practo Founder Shashank Navlikar Dattatreya, OLA Co-founder and CEO Bhavish Agarwal are among the young entrepreneurs who will take part in various discussions.
Other prominent Indian participants include Essel group Chairman Subhash Chandra, Delhi high court Judge Pratibha Singh, cricket legend Sunil Gavaskar, actresses Aditi Rao Hydari and Sonam Kapoor, tennis player Sania Mirza, and Miss World 2017 Manushi Chhillar.
Among the private equity and venture capital firms KKR India CEO Sanjay Nayar, Kalari Capital Managing Director Vani Kola, Carlyle India Managing Director Neeraj Bharadwaj are also speakers at various discussions.
IMAGE: External Affairs Minister Sushma Swaraj met Ivanka Trump on the sidelines of the United Nations General Assembly in September where they discussed Ivanka's visit to India.
Also in the photograph, Navtej Sarna, India's ambassador to the US, who was granted a year's extension in his current assignment on November 25.
Ambassador Sarna was to have retired from the Indian Foreign Service on November 30.
Photograph: @IndianEmbassyUS/Twitter