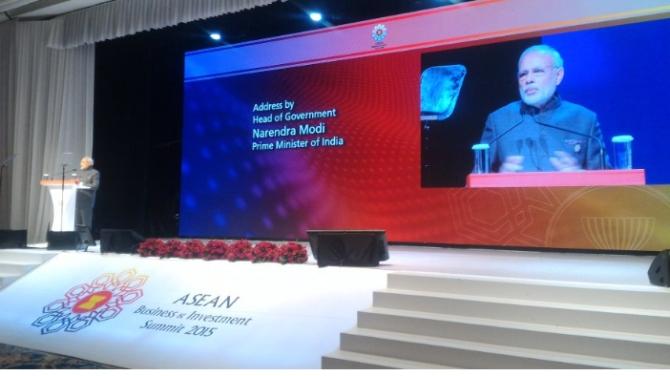 Prime Minister Narendra Modi on Saturday pitched for economic reforms saying they must be brought not only to bring changes on measured GDP but to transform India.
"My government took office nearly 18 months ago. The Indian economy faced serious challenges, a fiscal deficit, and a high current account deficit. A large number of stalled infrastructural projects, and a persistent inflation were among them. It was obvious that reforms were needed. We asked ourselves the question reforms for what? What is the aim of reform? My answer is clear: we must reform to transform," Modi said while addressing the Indian diaspora at the hotel Shangri La's ball room in Kuala Lumpur.
He stressed that reform for him was just a way station on the long journey to the destination and the destination is the transformation of India.
"We have begun institutional and structural reforms -- in agriculture, housing, transport, financial inclusion, investment. The GDP is up, inflation is down, FDI is up, current account deficit is down, interest rates are down and tax revenues are up, & rupee is stable. Even while cutting the fiscal deficit, we have substantially increased productive public investment," he said.
Modi insisted that this was made possible in two ways. Firstly, by increasing carbon taxes on fossil fuels, by taking bold steps of de-controlling diesel prices and thereby eliminated energy subsidies, and imposing taxes on fossil fuels.
"The world economy isn't doing well. But the success of Indian economy is a result of series of well thought out policies. There is an increased confidence within and outside India. Macro-economic stability is good. But to transform India, much more needs to be done. We have begun a series of concerted steps," said Prime Minister Modi.
During his address, he also called India and ASEAN as 'natural partners', whose relationship goes back to 'ancient times'.
"I congratulate you for this achievement. I also congratulate you on the creation of one ASEAN community which are going to sign up tomorrow. India and ASEAN are natural partners. Our ties date back to ancient times," Prime Minister Modi said.
"I have been saying that the 21st century belongs to Asia. I say this because of the track record of ASEAN countries. I feel honoured to address this privilege gathering of the elders who have transformed South East Asia into one of the most dynamic region of the world," he added.