Shares of SpiceJet have dropped 10 per cent since the 'Big Bull' invested in it on November 28.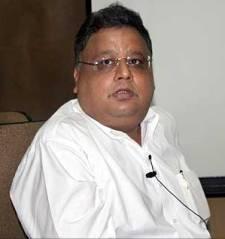 The entry of 'Big Bull' Rakesh Jhunjhunwala usually leads to a spike in a company's share price.
However, shares of SpiceJet have dropped 10 per cent since he invested in it on November 28.
On the other hand, bigger rival Jet Airways' stock price has gained nearly 50 per cent during this period.

The market is abuzz about how the fabled investor got it wrong.
Perhaps this quote to a TV channel sums it well, "Generally, I play test matches, (but) sometimes I also play T-20.
"I wanted to buy Jet Airways.
"It was on freeze that day (20 per cent upper circuit). So, I bought SpiceJet."

Nifty or Shanghai -- which will finish first?

Market players believe the Shanghai Composite Index and the Nifty are set for a photo finish in 2014.
The Chinese benchmark index has risen 38 per cent during the year, while the Indian 50-share benchmark index is up 31 per cent.

Interestingly, till August-end, the Shanghai Composite Index was way behind the Nifty, having risen only five per cent vis-à-vis the Nifty's 26 per cent.
Since then, it has caught up, rising sharply by 32 per cent, while the rise in the Nifty has been sluggish at three per cent.

Sensex slides, bonds rally

The BSE's Sensitive Index, or Sensex, has corrected five per cent since hitting an all-time high of 28,693 on November 28.

However, during the same period, the 10-year benchmark security has rallied around five per cent, with yields softening from 8.2 to 7.83 on Friday.
With rate cuts expected, many experts say, the debt and equity market returns would converge in the first half of 2015.
Image: Rakesh Jhunjhunwala; Photograph: Reuben NV/Rediff.com