For a first-generation entrepreneur, it didn't take Juneja too long to make it big from the time the idea to launch a hair oil brand struck him.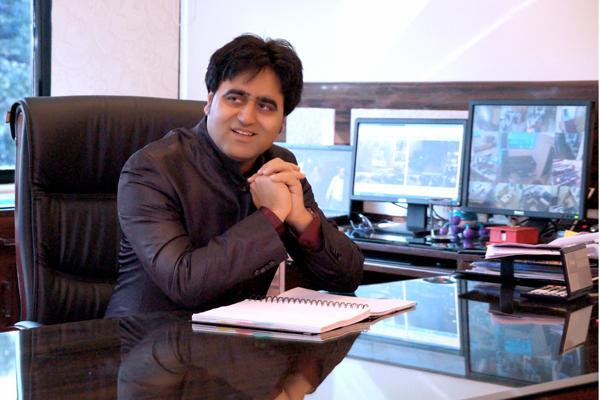 Image: Sanjeev Juneja, promoter of SBS Biotech. Photograph: Courtesy, SBS Biotech
If 38-year-old Sanjeev Juneja, promoter of SBS Biotech, had his way, the blockbuster deal for Kesh King, his ayurvedic hair oil brand, would not have happened.
Few know that Juneja had actually called off talks to sell the brand this February after putting it on the block last year.
It was due to sheer exasperation at not getting what he wanted. Juneja had quoted a figure of over Rs 2,200 crore or Rs 22 billion for Kesh King.
For a brand that has an annual turnover of Rs 300 crore or Rs 3 billion, the asking price meant the buyer had to fork out seven times its sales.
The most that any buyer, including Emami, was willing to pay was Rs 1,700-1,800 crore or Rs 17-18 billion.
Such offers didn't excite Juneja and he decided to call off the sale in February. But, as it turned out, Kolkata-based Emami, which was the front-runner from the start, persevered.
"Acquiring this brand made perfect sense for us. It gels with our personal care and healthcare focus," says Harsh Agarwal, director, Emami.
In the end, Emami bought it for 5.5 times the sales value.
"Given the promoter's original demands, the sales as well as operating margins (close to 50 per cent) of the brand, the price at which it has been acquired is reasonable," says Navroz Mahudawala, founder & managing director of investment advisory firm Candle Partners.
For a first-generation entrepreneur, it didn't take Juneja too long to make it big from the time the idea to launch a hair oil brand struck him.
The son of an ayurveda doctor, he launched Kesh King in Ambala in 2009, a decade after his father passed away.
The formulation was developed by his father but he died unexpectedly before it could be sold on a commercial scale. Juneja, though not a doctor himself, got interested in Ayurveda as he watched his father practise from his small clinic in Mohali.
The first two years of the business were tough as convincing retailers to stock the product required him to go from shop to shop and interact with consumers.
But soon things started to pick up. Juneja, who likes to call himself a "regular guy", credits his advisors, especially Deloitte's Senior Director Kalpana Jain and Senior Manager Ruchi Sarna, for making the deal happen. "Had the two not been there, this deal would not have been possible," he says.
It is the two Deloitte executives who are believed to have convinced Juneja to lower his asking price, even as Emami waited patiently.
Following the deal, the brand's ownership moves to Emami along with all related assets and liabilities.
The transaction will be completed in a month's time, after which SBS will act as a third-party manufacturer, producing Kesh King for Emami.
Emami, meanwhile, has big plans for Kesh King.
The first is to take Kesh King, whose pocket burroughs include the north and the west, to the east and the south.
"The eastern belt is a region where we are strong. The south is a region where we have wanted to go. Ayurveda products do well in the south. Kesh King should help us make inroads there," says Agarwal.
Juneja, on the other hand, is sketching out plans to grow other products in his portfolio which includes ayurvedic skin cream Roop Mantra, and joint pain reliever Dr Ortho.
Kesh King is in safe hands, he says, adding that "we are known for creating brands. I will focus my attention on that."