This is the largest single dose of equity infusion into the joint venture since its launch in January 2015.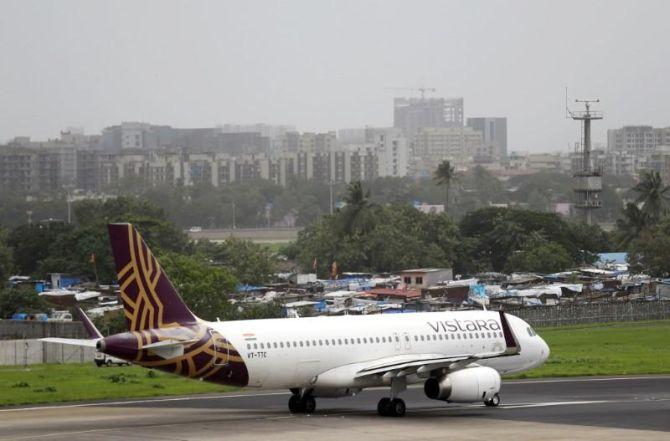 Tata Sons and Singapore Airlines have pumped Rs 20 billion into Vistara as the airline charts its expansion plan.
This is the largest single dose of equity infusion into the joint venture (JV) since its launch in January 2015.
It will help Vistara finance its $3.1 billion (around Rs 220 billion) aircraft order.
The airline's board passed a resolution for issuing capital in August. Fresh shares were issued to the two promoters earlier this month, filings with the corporate affairs ministry show.
The investment signals the Tata group's ambition to propel its aviation business.
This comes amid firming of its control in AirAsia India and talks with Jet Airways to buy a stake in the latter.
Vistara plans to induct 56 aircraft between 2019 and 2023.
It has placed a firm order for 13 Airbus A320neos and six Boeing 787-9 planes. Nearly 37 A320neos will also be taken on lease.
The fund infusion will help in pre-delivery payments to Airbus and Boeing.
It will also help its plans of international expansion, sources said.
At present, the airline has 22 Airbus A320s and deliveries of new planes will begin next April.
Vistara did not comment on the fund infusion.
With this infusion, Tatas and Singapore Airlines have invested over Rs 38 billion in equity into the JV to date.
Aided by cost control and 57 per cent revenue growth, Vistara has seen a 16.8 per cent decline in net loss in 2017-18 (FY18), from Rs 518 crore in the previous year to Rs 431 crore.
Total revenue for FY18 was Rs 2,228 crore. In the last financial year, Vistara launched two new destinations - Ranchi and Chennai - and resumed services to Varanasi.
"Vistara invests in short-term and long-term initiatives to be more cost-competitive. We have digitised some of our internal processes and leveraged technology.
"Our new aircraft order, with deliveries starting from next year, comprises fuel-efficient aircraft.
"We will continue to keep a close watch on our expenses as we expand our wings," the airline said.
International operations will boost profitability as it will earn more in foreign exchange, but plans remain stuck as the civil aviation ministry is yet to grant approval.
The airline had applied for an approval in June.
The government is going slow on its proposal because of the ongoing corruption probe on AirAsia India.
In an earlier interaction, the airline's Chief Executive Officer Leslie Thng said the aircraft order would provide a fillip for profitable operations, as it would enable the airline to make its network denser and operate on more profitable international routes.
"We will use the A320 and A321 to boost our domestic network as well as to launch international destinations from Delhi.
"The Boeing 787 Dreamliners will be used on the medium- and long-haul international routes," Thng said in July.
Photograph: Francis Mascarenhas/Reuters