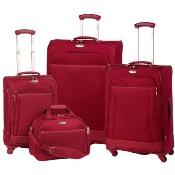 The Rs 1,500-crore (Rs 15 billion) ladies handbag market will see some major action this year, with luggage makers V.I.P and Samsonite contemplating entry soon.
Dilip Piramal, chairman of the Rakesh Jhunjhunwala-backed V.I.P Industries, confirmed his company was putting a business plan in place for an entry into the market in about six months from now.

Samsonite will launch its collection next month, said the chief operating officer, Subrata Dutta" "We are launching a casual bag range for both men and women next month. This will include a collection of ladies handbags as well," he said.


Piramal declined to indicate the pricing and positioning of V.I.P's collection. Datta said his range would be mid-priced, beginning from Rs 2,500 a piece. The range will be called Samsonite Red, he said.


The interest that luggage makers are showing in the competitive ladies handbag market is not without reason.

Growing at 15 per cent per annum, this is far more than the growth the organised luggage market is seeing, at about 11 per cent yearly, said Purnendu Kumar, associate vice-president at retail consultancy Technopak.


V.I.P has close to 60 per cent share in the Rs 1,300-crore (Rs 13 billion) organised or branded luggage market; archrival Samsonite has close to 30 per cent.

The total luggage market is pegged at Rs 2,700 crore (Rs 27 billion), with both organised and unorganised at 50 per cent each. The ladies handbag market, on the other hand, is style-driven, with collections undergoing a change every so often.

Some of the key players include Hidesign and Baggit. Being a fashion accessory, most apparel makers also dabble in ladies handbags, Kumar said.


According to Piramal, a foray into ladies handbags will give it a more well-rounded presence. "We were traditionally strong in briefcases. With the decline of hard luggage, we began focusing aggressively on soft luggage, a key component of our business today. Ladies handbags would be another important area for us," he said.


For Samsonite, the entry into ladies handbags complements the work done by its sister concern, Bagzone. The latter is promoted by Ramesh Tainwala, the Indian joint venture partner in Samsonite.


In 2010, Bagzone, which manufactures and retails bags, launched an in-house brand called Lavie. "This brand is targeted at the ladies handbag market," said Sandeep Goenka, business head, Bagzone.
Lavie products are priced between Rs 1,600 to Rs 3,000 a piece. Plans are afoot to launch exclusive Lavie stores, Goenka said.