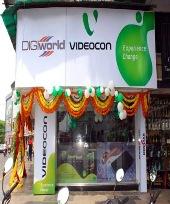 It is curtains for yet another large-scale project in West Bengal.

The Videocon group on Tuesday said it was unlikely to go ahead with its Rs 20,000-crore (Rs 200-billion) steel and power plant project at Jamuria.

There were speculations that the consumer electronics major might relocate the project amid land acquisition hurdles. The minimum land requirement for the project is about 1,800-2,000 acres.

"We will not be able to go ahead with the project at present.

"However, if the state government wants the project, it has to come up with some assurance regarding coal linkage.

"Then we can consider it in later stages," Videocon managing director Rajkumar N Dhoot said on the sidelines of an industry event here.

The company had signed a memorandum of understanding with the former Left Front government for setting up the 3-million-tonne integrated steel plant and a 1,200-megawatt power plant in October 2007.

While there were issues related to coal linkage, Coal India Ltd, the state-run coal miner, had also raised objections stating that the project area in Jamuria has coal reserves.

"We are not sitting
on any land here and had neither acquired any. If required there is enough land to be acquired there," Dhoot said.
The group director, Anirudh Dhoot, in a recent visit to the state, had even sought the state government's intervention in acquiring land.
However, according to the land acquisition policy of the Mamata Banerjee government, the state will not intervene in the process of land acquisition for industrial projects.
The state government was also against allotment of special economic zones in the state.
The Videocon Group had approached the Centre to withdraw its proposed information technology SEZ project in Jalpaiguri, citing the "business outlook".
This will add to the list of projects that have gone out of West Bengal in the recent past, including the Rs 2,000-crore (Rs 20-billion) Tata Nano plant, Rs 96,000-crore (Rs 960-billion) chemical hub at Nayachar and Rs 70,000-crore (Rs 700-billion) nuclear power plant at Haripur.
The state's industrial image was further hurt by the pull-out of ABG Haldia Bulk Terminals from its operations at Haldia Dock complex on October 31.
More than 650 workers lost their jobs following the HBT decision, which was triggered by political interventions in Haldia.