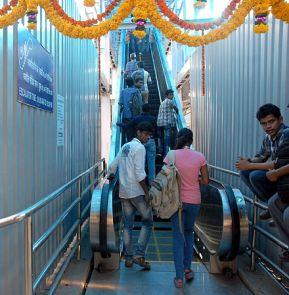 In a bid to make the Indian Railways passenger friendly, the government has proposed a number of amenities in the Railway Budget 2014-15.
Sparing passengers from a further hike in fares, Railway Minister Sadanand Gowda promised better facilities to make rail travel a better experience for people.

Besides introducing 58 new trains, the government also plans to develop 10 world-class railway stations.

The Railways will offer computer workstations on select trains upon payment and revamp the passenger reservation facility by transforming it into a next generation e-ticketing system.
Giving utmost priority to cleanliness, the budget allocation has been hiked to 40 per cent.

Automatic closing of doors in suburban and outstation trains on a pilot basis, foot over bridges, escalators at all major stations, platform shelters and toilets at major stations are other big initiatives.
The Railways plans to introduce a bullet train in Mumbai- Ahmedabad sector and plans to set up a Diamond Quadrilateral network of high speed rail connecting major metros and growth centres.
Are you happy with Railway Budget 2014-15?

Did this Railway Budget meet your expectations?

If you were the Railway Minister, what would you have done?

Share your views on the Railway Budget.

Rate the Budget on a scale of 1 to 10.
Please click here for the Complete Coverage of Budget 2014 -15