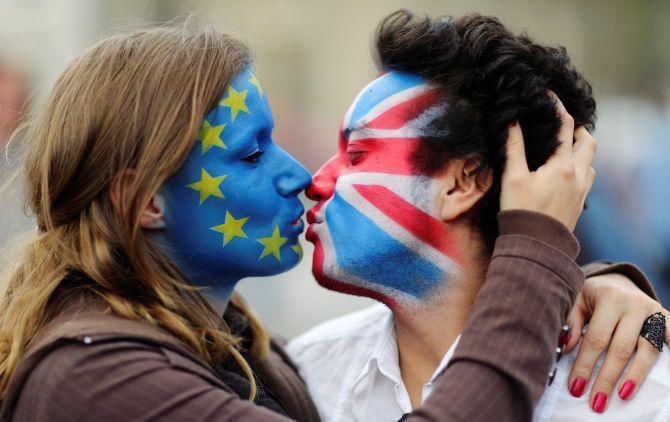 Bankers fear that a 'Leave' vote could lead to the most volatile markets in decades
The financial markets in the UK are bracing for a feared 'freeze' in the event of 'Brexit' or Britain's exit from the 28-nation European Union in Thursday's historic referendum.
Bankers fear that a 'Leave' vote could lead to the most volatile markets in decades, especially in currency markets but also in bonds, derivatives and equities.
Senior executive at all major banks, including Citigroup, JPMorgan, Goldman Sachs and Morgan Stanley, are expected to be on an overnight vigil in their London offices to monitor the developments.
A vote in favour of the UK withdrawing from the 28-nation economic bloc could mean that the pound sterling's exchange rate would fall "perhaps sharply", the Bank of England's monetary policy committee recently said.
The bank remains on high alert to intervene if markets freeze, according to The Times.
Banks based in the City of London, the financial hub of the British capital, including UBS, HSBC, Morgan Stanley and Bank of America Merrill Lynch, have written to clients telling them to prepare for disruption tomorrow once the EU referendum result is declared.
UBS analysts warned that 350 billion pounds could be wiped off the value of leading companies as the FTSE 100 goes into free fall.
HSBC told clients, "This is an important event which will most likely impact financial markets through increased price volatility or lower market liquidity.
"Given our previous experience of events with significant market impact, we are writing to our clients to alert you to the risk of disruption to services as a consequence".
The banks are believed to have issued the client notes because they fear a re-run of the panic in January, 2015, when the Swiss National Bank unexpectedly abandoned its currency peg with the Euro.
In only 20 minutes, the Swiss franc appreciated by 28 per cent and banks found themselves unable to cope.
The financial world has been in favour of a "Remain" vote to ensure the UK retains as much of its access to the single market as possible.
Meanwhile, the pound rose on polling day itself though trading remained weak. European stock markets were also mostly higher today morning, although there were no big moves.
Investors and traders are expecting moves in currency markets after 10 pm when polls close and some privately commissioned exit polls by hedge funds start pouring in.
The Bank of England has emphasised that it is ready to ensure markets function after a Brexit vote.
IMAGE: Two activists with the EU flag and Union Jack painted on their faces kiss each other in front of Brandenburg Gate to protest against the British exit from the European Union. Photograph: Hannibal Hanschke/Reuters